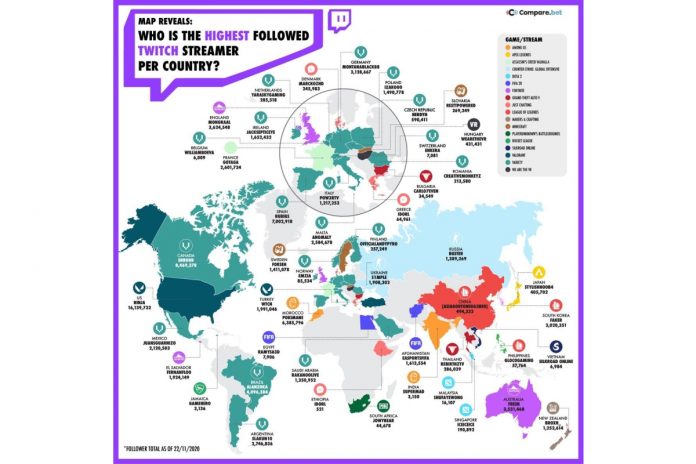 Reading Time:
2
minutes
Ninja, the USA's favourite streamer, currently has the highest Twitch following at 16,139,732!
Mongraal takes the number one spot for England, with 3,624,548 followers
Rubius is the highest followed Twitch streamer in Spain with 7,002,918 followers
Mexican gamer juansguarnizo potentially earns the most per stream at an estimated £255,697
Coming in second and third place for highest paid are Buster (Russia) and Shroud (Canada) with potential earnings of $333,344 (£249,429) and $293,330 (£219,488)
With 15 million streamers worldwide and an average growth of 18% from 2018 to 2019, it is clear to see why Twitch is the number one live streaming platform.
This led Compare.bet/en-au/ to wonder who the most successful Twitch streamers are in each country? Utilising TwitchMetrics, Influencer Marketing Hub's Twitch Money Calculator and IGFace Twitch Calculator; they were able to find the most popular streamer in 50 countries and calculate how much they could potentially be earning through their streams.
The Twitch streamer with the most followers, and top in the USA, is Ninja who currently has 16,139,732 followers. Born Tyler Blevins, originally from Michigan, he predominantly focuses on the game Valorant and is predicted to earn $79,815 (£59,821) per live stream, according to the Influencer Marketing Hub.
Shroud, AKA, Mike Grzesiek, comes in at number one place for Canada with a total of 8,469,378 Twitch followers. The 26-year-old Twitch star, from Mississauga, Ontario, is known on the platform for covering a variety of different genres. It is estimated that Shroud could potentially earn a whopping $293,330 (£219,852) per stream due to his current number of live streaming hours at 223.
Rubius is the most followed Twitch streamer from Spain, with 7,002,918 followers. His actual name is Rubén Gundersen and his estimated earnings are projected at $12,843 (£9,625) per live stream.
Pokimane takes the top spot for Morocco with 6,385,796 followers. The Twitch superstar's real name is Imane. It is estimated that Pokimane could potentially be earning $61,555 (£46, 135) per live stream.
Taking the top spot for Brazil is Alanzoka, with 4,128,195 followers and an estimated potential earning of $3,003 (£2,250). His full name is Alan Ferreira and he is currently based in São Paulo.
Mongraal takes the number one spot for England, with 3,624,548 followers. The professional Fortnite player named Kyle Jackson, from Kent began to play competitively from a very young age. It is estimated that Mongraal could potentially be earning $16,095 (£12,063) per stream.
The number one spot for Australian streamers goes to Fresh with 3,531,468 followers and counting. Predominantly streaming Fortnite, it is estimated Fresh could be earning $15,568 (£11, 668) with each stream upload.
MontanaBlack88 is the number one streamer in Germany, with 3,128,667 current followers on Twitch. He is very well known for his YouTube channel MontanaBlack.
Top of the board for South Korea is Faker, with the total number of followers being 3,020,351. Better known as Lee Sang-hyeok, he is mainly specialising in League of Legends. It is estimated that Faker could be earning $36,378 (£27,265) per stream.
SLAKUN10 holds the number one spot for Argentina, with 2,746,836 followers. It is estimated that SLAKUN10 may have earned $4,036 (£3,025) per a stream.
Powered by WPeMatico