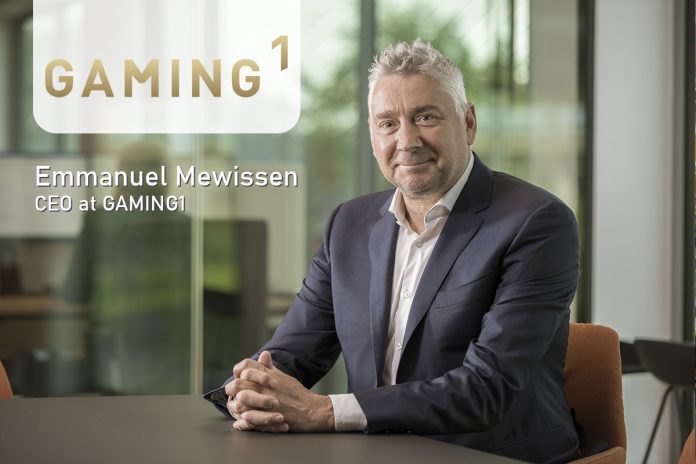 Reading Time:
6
minutes
In anticipation of the Belgian Royal Decree coming into effect on 1 July, we sat down with Emmanuel Mewissen, CEO at GAMING1, to talk about the operator's commitment to responsible gaming, how it will be retaining customers in a 'limitless' digital landscape – as well as the company's exciting future plans.
As one of Belgium, the Netherlands and France's most exciting operators, can you tell us a bit about your business there and how are your brands Circus and 777 performing?
Thank you! Belgium, the Netherlands, France and Switzerland are our core markets – all of which offer some of Europe's best opportunities. We want to focus on the areas in which we are currently present and see what we need to do to improve in these areas. Our mission is always to offer the best possible experience and for our customers to have fun and enjoy themselves in a responsible and controlled way.
Starting with land-based, our network across all three markets is very consistent. We own 12 casinos in Belgium, France and Switzerland. In Belgium, we have recently inaugurated our first resort, the Circus Casino Resort in Namur. This innovative formula combines casino activities with a wellness centre, restaurant, hotel and areas for receptions and conferences.
Of course, Circus and 777 are part of our multi-brand approach and they're performing very well. In line with that, we are always looking to improve our service even more on the digital front, 777 is present in four countries (BE, CH, SP, NL) and Circus online in two countries (BE, NL). With Circus, we aim to offer a 360-degree customer experience with the combination of both our terrestrial and digital offerings.
As part of our approach to responsible gaming – which is a core brand ethos that we are truly committed to, we focus on the countries in which we are already present to solidify our value proposition. For a brand to perform well in a country, it's like a mathematical equation. Setting up a local sales unit in the market where you are offering enables you to develop your local knowledge. This helps you to build a solid network and properly develop the business based on customer habits and needs.
With the advent of markedly strict advertising regulation coming into place in Belgium via the Royal Decree, how is GAMING1 preparing for such a major shift in market conditions?
Regulated Belgian operators like us agree with the desire to limit excessive advertising, but we must ensure that this decision does not drive players into the illegal industry – which is a real risk. We live in a limitless and ever-expanding digital world. As a result, independently to this Royal Decree, only legal operators will follow the law and, in doing so, they risk becoming weak and invisible, with the digital space offering plenty of opportunity for players to go offshore.
How can we protect consumers from illegal operators who do not respect these rules? It's easy to observe illegal operators engaging in influence marketing on social media by promoting poker tournaments and celebrities with thousands of followers. This diverts the attention of players who go and play on unregulated sites. This is why visibility and competitiveness are important for a legal operator. The facts and figures will show in the future that these bans on marketing visibility will have the opposite effect, and that prevention will suffer as a result.
We, at GAMING1, didn't wait for the Royal Decree to come into force to work actively on prevention and player protection. Prevention and protection are part of our corporate strategy. Years ago, we decided to develop a tool based on artificial intelligence that detects changes or risky behaviour at an early stage.
The detection tool is now operational and is based on indicators that were identified thanks to our collaboration with experts and university scientists specialising in addictive behaviour. In addition, we comply with legal measures such as the EPIS list, which is a legal protection list that bans certain types of customers (on the basis of certain functions, minors, debt mediation, etc.).
At a group level and for all our brands and partnered brands, we adopt a global approach to prevent addiction and make sure we only operate on regulated markets. In addition, we now comply with the Belgian Royal Decree, and we have adapted our websites, platforms, and marketing accordingly for our Belgian brands. This decree comes into force on 1st July 2023.
How do you believe this new set of regulations will affect the operating environment for local brands? Do you see it affecting the playing field significantly?
If you radically restrict advertising, including sponsorship, and lock the country into a narrow regulatory space, you will probably fail to see the desired result because you are out of touch with digital and international realities. Legal operators will become invisible with the next level of prohibition, and this will pave the way for the illegal market with all the risks associated with the absence of control. We can already see that 20% of Belgian players visit such sites.
This new law also tackles sponsorship. As far as this part is concerned, we have been sponsoring various associations, teams and sporting events for many years. This goes well beyond a commercial positioning and allows us, among other things, to convey messages about responsible play, as shown by our latest messages with the EGR-Award winning 'Time To Play Responsibly' campaign with former footballer Ronaldinho during the 2022 Qatar World Cup. The Royal Decree provides for a total ban on sports sponsorship from 2028 and we believe sports clubs, medias and events in Belgium will suffer as a result of this measure.
In short, I see the royal decree as a real obstacle for Belgium's regulated private operators because, with these drastic constraints and restrictions, we will lack visibility and competitiveness compared to illegal operators who will continue to capture Belgian customers.
It's also a bad political decision, because it completely misses the real challenge, which is customer protection. The debate is not about banning advertising as such, but about how to protect players and, above all, what to protect them against. The people who want to play will always find out a way to play.
This is why the worst dangers are illegal operators who have no regulation or form of prevention. This royal decree does not take account of the economic and digital reality of our modern consumption patterns, and this observation is independent of our industry since it is a general and societal fact.
Onto one very exciting area to keep an eye on – there's talk of France regulating online casino for the first time. What's your take on this possibility and will you have big plans for the market if this becomes a reality?
Developing our CIRCUS brand in France almost six years ago was obviously with some hope that one day, France would finally adapt its casino law to address the digital challenges. We have eight operations in France – seven casinos and one club in Paris. Our club in Paris performs well and is one of the poker market leaders in France. Having our origin outside France, we felt proud in 2019 to be granted a licence to operate in Paris. It demonstrates that we are very serious about accepting our responsibilities as a business.
Nevertheless, we're surprised France does not to allow online casinos despite being Europe's largest market. As a consequence, France has become a huge casino black market – and this is detrimental to player protection of course, but also to the country's economy and employment opportunities. Giving that unfair competition, this is also detrimental to the existing casinos and the budget of the numerous localities that host these regulated land-based casinos.
Last but not least, with six months to go in 2023, what are GAMING1's upcoming plans and what can we look forward to?
To look forward to – we will continue improving our responsible gambling software and prevention tools which will ensure we are in a position that meets the regulator's request in terms of customers' protection. Responsible gaming has always been a core part of our philosophy, and one we take great pride in.
With that – we want to appear trustworthy to regulators so that we can showcase that we truly believe in a safe and responsible entertainment experience. With that, we also want to show that the legal sector is an expert and is also the solution to create prevention. Also, as a work in progress, we want the customer journey to be a unique omnichannel experience in the next two years.
Last but not least, our plan will always be to ensure that our customers have fun and enjoy their experience, as after all, we must always remember that this is the entertainment industry. We consider our activities in a sustainable way, and this will continue to shape a large part of our approach.