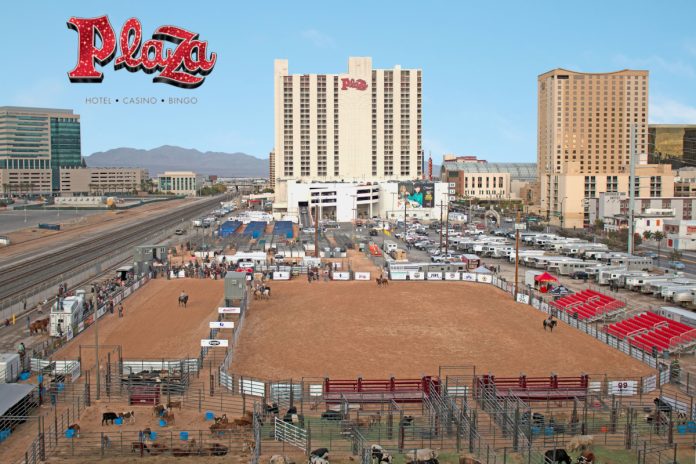 Rodeo to include historical exhibits, Whiskerino and Mutton Busting events
The Plaza Hotel & Casino in downtown Las Vegas will again host the Las Vegas Days Rodeo at its outdoor equestrian center, the CORE Arena, on Friday and Saturday, November 10 to 11, starting at 6pm (gates open at 5pm). Sponsored in partnership with the Commission for the Las Vegas Centennial, the event celebrates the history of Las Vegas with the rodeo as well as historical exhibits, a Whiskerino contest and Mutton Busting.
The Las Vegas Days rodeo will feature bull riding, barrel racing, team roping, tie-down roping, steer wrestling, saddle bronc riding, breakaway and bareback riding with prize purses totaling $45,000. The rodeo events are fully sanctioned by the Professional Rodeo Cowboys Association and the Women's Professional Rodeo Association. Admission is free but RSVP is recommended online.
Adjacent to the rodeo arena, the Plaza Hotel & Casino will have a 'Then & Now' display of photos of downtown Las Vegas along with western-themed exhibits in a tented educational pavilion open to the public.
A Whiskerino contest will also be held offering prizes in multiple categories including longest beard, longest mustache, best natural beard, worst beard and most unique. Participants are encouraged to dress in Western attire or pioneer costumes and must be present at the rodeo to win.
The Las Vegas Day Rodeo will also feature Mutton Busting for future cowboys and cowgirls. The sheep riding competition is open to children aged four to ten who weigh less than 60 pounds. The winner gets a commemorative buckle.
Overall, the mission of the Las Vegas Day Rodeo is to bring the community together to celebrate the spirit of Old Las Vegas including those who shaped the city's history and those who are working to preserve the western lifestyle while looking towards our future. To support this mission and the rodeo events, the Plaza Hotel & Casino has various partnership opportunities available for local businesses and individuals.
More details about the Las Vegas Days rodeo, associated events and sponsorships is available at https:// PlazaHotelCasino .com/Entertainment/Las-Vegas-Days_Rodeo/.