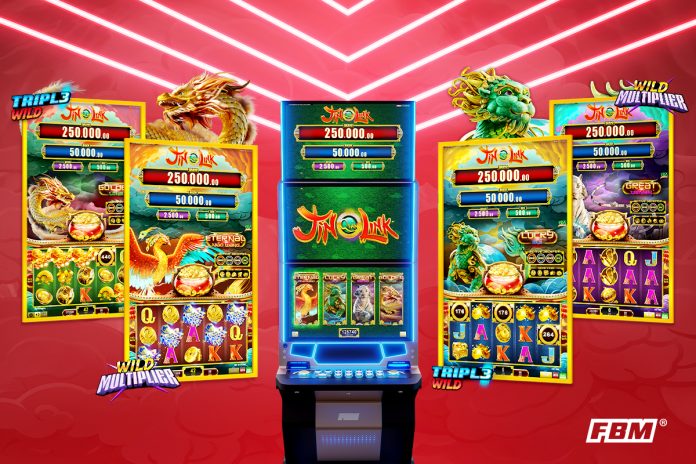 Jin Qian Link is the ultimate product created by FBM for Mexican slots fans. This Asian inspired product contains four games with mystical creatures and brings golden wealth with four jackpot levels and a special bonus prize. Available in a special configuration of the Galaxy II cabinet, this product is already providing unforgettable wins in over 50 casinos across Mexico.
The pagoda is full of coins and fortune is about to arrive with Jin Qian Link. Eternal Niao Wang, Golden Long, Great Weiyan and Lucky Gui are the four slots included in this product forged in the deepest roots of the Asian culture. The impressive graphics and immersive sounds of these games take players on a mystical trip to the Oriental culture with a flaming phoenix, a powerful dragon, a brave tiger and a wise turtle.
"Jin Qian Link is an incredible thematic product that combines a clear cultural identity with involving gameplay," said Renato Almeida, Director at FBM. "The four wonderful creatures of the games and the four progressive jackpots together with the special prize of Jin Qian Link bonus bring a unique gaming experience with phenomenal prizes to collect."
Four creatures, three features and infinite fortune
Jin Qian Link is a gaming experience designed for a special configuration of the Galaxy II cabinet built with astonishing 27-inch screens. It includes mini, minor, major and grand jackpots that players can conquer inside the Jin Qian Link bonus.
In this product, players can access the bonus mode by incrementing the pagoda. The special prize of the Jin Qian Link bonus is attributed each time they cover all the positions in the five reels during this game mode. On these occasions, players get double the value of the prizes collected.
Luck Has Arrived is the common feature of this pack that also includes Triple Wild as the game feature for Golden Long and Lucky Gui and Wild Multiplier as the game feature for Great Weiyan and Eternal Niao Wang.
Up until now, Jin Qian Link is enchanting players in over 50 Mexican casinos and keeps expanding. FBM to take the golden wealth and fantastic creatures of this slot product to markets in Asia, America and Europe under the same name or exploring other options connected to the Asian roots.