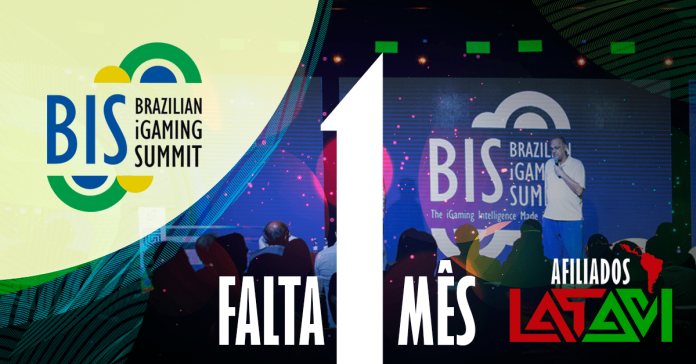 With only 1 month to go until the next Brazilian iGaming Summit (BIS) – The iGaming Intelligence Made in Brazil – with the booths all reserved, and more than 50% of the speakers confirmed, the event's organization can only taste the anticipation for the second edition. The die are cast!
On the 28th and 29th of June, at Espaço Boulevard JK, in São Paulo, the iGaming industry will meet and reconnect in one of the unmissable events of the annual calendar of world fairs.
With a wide and packed agenda, BiS 2022 incorporates this year a third day of event, with an unmissable novelty: LATAM Affiliates, which is a meeting that will promote the exchange of experts in the affiliation area. And it will also have the presence of important companies in the sector, speakers and digital media in general, in addition to hundreds of affiliates to form a perfect networking environment.
November and December are the months of the World Cup, June is the month of iGaming in Brazil. Bets are boiling in the air, waiting for the long-awaited legislation that will make Brazil once and for all the regional power of Sports Betting and Lotteries.
It is worth mentioning that on the night of the 28th, the Brazilian iGaming Awards will take place for the second time. This event is also highly anticipated by the participants, as it is a stimulus and recognition of the talent of national and international iGaming.
The intention is to continue honoring and honoring the brands and professionals who have stood out throughout this year with awards provided through free and online voting.
Afiliados Latam
Afiliados Latam 2022 will be the great novelty of the second edition, taking place in parallel, on June 30th. This will be the first exclusive event in the iGaming affiliate industry, including casino games, lotteries and sports betting. Afiliados Latam is an initiative of Jericho Eventos, organizer of the Brazilian iGaming Summit.
This special event will receive relevant groups from the segment, experienced speakers in affiliate marketing and digital media in general, as well as numerous affiliates, forming an environment of intense networking.
Powered by WPeMatico