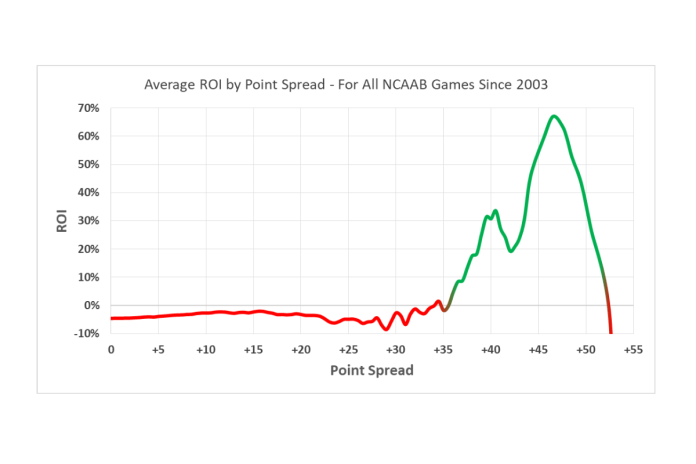 Nineteen years of data suggests a positive return on investment when blindly betting on underdogs of greater than 35 points in NCAA basketball matchups
According to research conducted by BestOdds.com, a sports betting and education platform dedicated to helping bettors find the best odds available and maximize the value of their bets, there is significant oversight in bookmakers' odds when a college basketball spread is greater than 35 points. The total number of 35+ spreads since 2003 peaked in 2021 with 26, and has since risen steadily over the time included in the study.
This data, spanning back to 2003 and covering more than 73,000 games, shows a bettor's return on an underdog first becomes profitable at 35.5-points or more and is maximized in games when the point spread is 39.5 or more. The model shows a slight dip to a 62 percent cover rate when the line is +42 or more, but then takes a substantial leap to close to a 90 percent cover rate when a team is a more than a 45-point underdog.
"Bettors are conditioned to back the superior team in a lopsided matchup, but the data shows bookmakers are forcing them to pay a premium on the favorite in those instances," said Will Armitage, CEO of BestOdds.com. "Overcoming the house edge is a tall order across all forms of gambling, which speaks to why it's imperative that bettors equip themselves with the best information available, and properly leverage it on the rare occasion that a window of opportunity presents itself."
Notable games this season (2021–22) when this phenomenon of underdogs covering the spread was observed:
Matchup                                             Final Score                Spread
Baylor vs. Northwestern State            104–68                        Baylor -39
Gonzaga vs. Dixie State                     97–63                          Gonzaga -40
Gonzaga vs. Alcorn State                   84–57                          Gonzaga -40
UConn vs. Coppin State                     89–54                          UConn -41.5
UConn vs. Maryland Eastern Shore   72–63                          UConn -35
Powered by WPeMatico