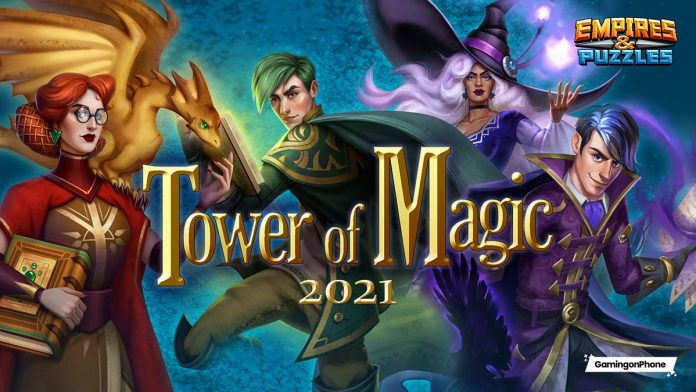 On September 15, Small Giant Games, a subsidiary of Zynga Inc., a global leader in interactive entertainment, will launch "Tower of Magic", an entrancing new in-game event in its popular Empires & Puzzles mobile game. Part of Zynga's diverse games portfolio, Empires & Puzzles successfully blends approachable match-3 battles with deeper gameplay elements including hero collection, base building and social alliances.
Tower of Magic will embrace danger and mystery by bringing together a family of wizards, sorcerers, clerics and druids in a tower stronghold. Players complete different floors of the tower by clearing puzzle challenges. With each completion, players are granted unique enhancements, such as strength from boosted attacks or fortified defenses. In addition to 25 standard floors to master, there are an additional 50 "extreme" floors with greater difficulty to challenge advanced players.
With gems or special Tower coins, players can summon 10 new heroes, including Nadezhda the Tower Headmaster, Anastasia the Apprentice Summoner and Milena the Teacher of the Arcane Arts. Each magical hero is granted new class-specific skills, such as summoning magical minions or healing team members.
The new Tower of Magic event in Empires & Puzzles will run from September 15 through 20.
Since its launch in 2017, Empires & Puzzles has reached the #1 grossing games position in over 70 countries on the App Store and over 30 countries on Google Play.
Empires & Puzzles is available to download for free on iOS and Android.
To view the supporting assets, please click here.
Quote
"Tower of Magic evolves the Empires & Puzzles gameplay concept first introduced in our Ninja Tower event by transporting players to an enchanted fortification with 75 floors of increasing challenge," said Jose Saarniniemi, Managing Director of Small Giant Games. "This new event empowers players to unleash magical new heroes and powers, taking them to the next level of match-3 gameplay."
who
Zynga is a global leader in interactive entertainment with a mission to connect the world through games. With massive global reach in more than 175 countries and regions, Zynga has a diverse portfolio of popular game franchises that have been downloaded more than four billion times on mobile including CSR Racing, Hair Challenge, High Heels!, Merge Magic!, Toon Blast, Words With Friends. With Chartboost, a leading mobile advertising and monetization platform, Zynga is an industry-leading next-generation platform with the ability to optimize programmatic advertising and yields at scale. Founded in 2007, Zynga is headquartered in California with locations in North America, Europe and Asia.
Powered by WPeMatico