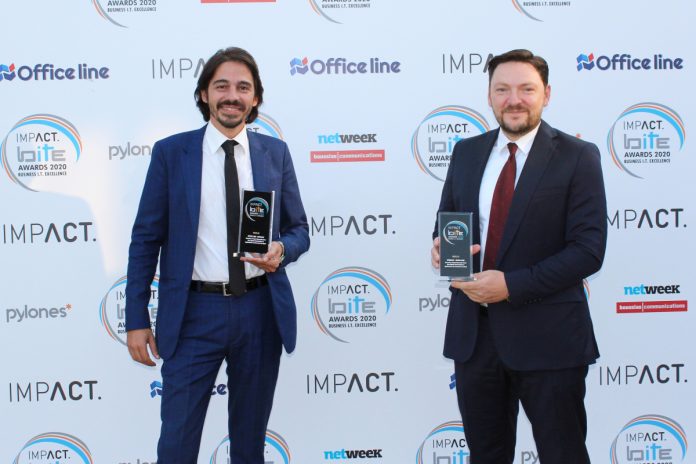 Reading Time:
2
minutes
The Gold award for Technology Excellence has been presented to INTRALOT and Office Line in the category "New Technology Trends in Cloud Applications and Services" during the awards ceremony of the Impact BITE Awards 2020, held on 23rd September. The awards recognize innovation and business excellence that shape the companies' competitive advantage in the era of the 4th industrial revolution.
The Gold distinction has been awarded to the two companies for their partnership in succeeding a major project of INTRALOT's digital transformation. The project focused on the digital advancement of the company's important information technology and application management with innovative Cloud solutions, aiming at flexibility, scalability, and accessibility of applications to Group's subsidiaries and customers around the world. The know-how and experience of Office Line, in collaboration with INTRALOT's IT engineers, resulted on the successful implementation of the project, achieving the seamless operation and secure transition of the company's applications in the innovative Microsoft Azure Cloud environment.
For the distinction and collaboration of the two companies, Dr. Chris Dimitriadis, INTRALOT Group CEO, said: "We are delighted to have won such a distinguished award on Cloud adoption. I would like to congratulate our engineers for their focus and commitment in executing our strategy. I would like to thank our partners, Office Line and Microsoft for supporting us in this digital journey."
On behalf of Office Line S.A., Panagiotis Kouris, CEO receiving the award said: "It is a great pleasure and honor for us to win this important distinction for a project that brings us to the forefront of technology innovation. The pleasure is twofold, as we share this award with INTRALOT, our valued and significant customer, with whom we successfully completed the migration of its critical infrastructure to Azure, providing them with all the necessary solutions and services to move to the secure Cloud environment, accelerating their digital transformation into the future. Such projects are a compass for the entire industry and it is imperative to be recognized as best practices and initiatives that strengthen collaborations between enterprises."
Receiving the award, Dimitris Kalpaxis, VP, Cloud Infrastructure & Corporate IT at INTRALOT, said: "We are proud to receive this award. Our partnership with Office Line successfully delivered the seamless migration of INTRALOT's critical applications and services to Microsoft Azure Cloud. The cloud is a fundamental element of our technology strategy that targets at unlocking value out of data."
Impact Bite Awards are organized by the Netweek magazine of Boussias Communications and ELTRUN, the E-Business Research Center of the Athens University of Economics and Business (AUEB), under the auspices of the Federation of Hellenic ICT Enterprises – SEPE.  It is a reputable initiative dedicated to highlight best practices and innovation of the leading companies in the ICT sector.
Powered by WPeMatico