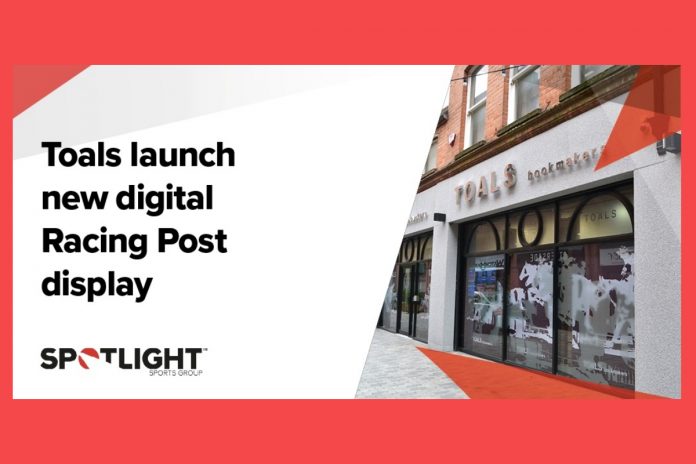 Reading Time:
2
minutes
Toals have accelerated their print-to-digital transition with the launch of new interactive Racing Post Digital Betting Shop Display (BSD) screens across their retail estate in Northern Ireland. Toals, who boast the largest betting shop in the UK and Ireland, continue their digital-first approach to betting by installing the new state-of-the-art interactive horseracing screens.
The Racing Post BSD has been a mainstay for bookmakers since its launch more than 20 years ago and the new screens showcase the same great content in an interactive format. With the new touchscreens, Toals customers are able to compare the detailed form for horses side by side.
For more casual racing customers, the new interactive touchscreens contain key Racing Post content, including Verdicts and the Predictor so they can make informed betting decisions.
The new screens were rolled out to three shops in Ballymena, Portadown and the flagship store in Belfast.
At the launch of the digital display, Toals CEO Gary Toal spoke about the advancement of the tech approach they have always taken in store.
He said "At Toals we pride ourselves on our tech-led approach and we're delighted to join Racing Post on their print-to-digital transition. We've always considered ourselves leaders in tech-led betting shops and we're excited to roll out these new Racing Post screens for horseracing punters.''
Toal went on to discuss how vital it was that Racing Post was included in the tech transition.
"The Racing Post Betting Shop Display has been on every betting shop wall across the UK and Ireland for well over 20 years. It's a key cog in the horseracing betting decision. It is vital for our customers to see Racing Post content available in our shops as we know just how valuable it is. Their content is just as good on the new screens as it was in the paper and I'm looking forward to introducing customers to it over the coming weeks."
Alan Pepperell, Retail Director of Racing Post, expressed his excitement at the continued roll-out of the Racing Post Digital Betting Shop Display.
"The past few years have seen a shift in focus for the overall retail landscape. If you look at the high street, most stores are now becoming tech-driven and we know bookmakers are no different. Our newspaper and Betting Shop Display have been staples for bookmakers over the past 20 years and we are delighted now to be at the forefront of this digital transition with our new interactive screens. As always, Gary and his team at Toals are leading the tech race with the displays they already have in store. We're delighted to be rolling out our number one product in his new stores."
On the advancing tech behind the Racing Post display, he added: "The tech in the displays is second to none and we now offer customers more content than ever before. We used lockdown to update our tech using new Raspberry Pi technology which allows customers to set it and forget it to make our screens quicker and more cost-effective for our partners. Being able to give full form, and verdicts on all UK and Irish racing as well as international racing, greyhound and virtuals in-store, at the touch of a button means punters are armed with the best information to help make their selection."
Powered by WPeMatico