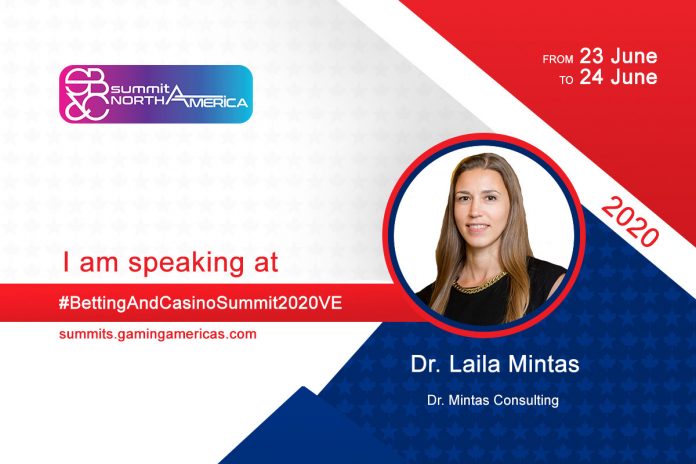 Reading Time:
3
minutes
The Sports Betting & Casino Summit North America (Virtual Conference) will open its virtual doors between 23-24 June and we are taking time to introduce you to the experts that will be joining the panel discussion.
The top industry companies have all confirmed their interest and you need to be there too! The virtual seats are limited, so hurry and register now to secure your seat(s)! REGISTER HERE
We are honored to announce that Dr. Laila Mintas (Advisor and C-Level Executive at Dr. Mintas Consulting) is going to be among the speakers that will share the insights at our first conference in the North American region!
Dr. Mintas is a C-Level Executive and serves as an independent advisor in the sports and technology industry, including the sports betting, digital sports, and fan engagement sector. Her focus is on the use of emerging technologies and developments and how those are changing sports, society, and consumer behavior and lead to new revenue streams.
She is a global thought leader on sports data, sports betting legislation, regulation, and sports integrity with speaker engagements around the world including Europe, Australia, North America, Central America, and Asia. She published more than 100+ legal publications in the top academic and professional journals about sports betting and sports law. She serves as Guest Professor at several Universities such as Columbia University NYC, St John's University NYC, the University of New Hampshire, and Humboldt University Berlin/Germany on topics such as Sports Law and Sports Integrity.
Dr. Mintas received for her personal achievements the Leaders in Sports U 40 Award, the SBJ Game Changers Award, and the International Award for Women in the Gaming Industry – Inspiration of the Year 2018. She was named one of 25 executives to watch in 2019 by the Global Gaming Business GBB magazine, selected as SBJ´s Power Player Sports Betting 2019 and Business Insider´s Leaders of the Sports Betting Industry 2019.
Dr. Mintas is a lawyer by trade. Over the last years, she served as the Deputy President of Sportradar US, the global technology company that is the leader in analyzing and leveraging the power of sports data. She managed 350+ employees with offices in New York, Minneapolis, Menlo Park, and San Francisco. During that time, Sportradar was valued at $2.4 Bn USD. Sportradar applies technologies such as machine learning and artificial intelligence to drive data insights on a variety of business verticals for the creation of unique experiences across platforms in real-time.
She is experienced in managing high-level relationships with league partners in the US such as NFL, NBA, NHL, MLB, NASCAR, MLS, CONCACAF, and several others on a global level including FIFA and UEFA and with clients such as Google, Facebook, Twitter, ESPN, Sports Illustrated, AP, Yahoo, Deutsche Bank, Allianz, DraftKings, FanDuel, etc.
Dr. Mintas previously worked several years at the international law firm White & Case LLP in Berlin, Germany, and specialized i.a. in Sports Law, Gambling Law, Compliance, and Litigation. She wrote her Ph.D. in Betting via the Internet in Europe which became a well-recognized book in its field. Previously, she was the Head of Legal and Head of International Development for FIFA's Early Warning System (FIFA EWS) in Zurich, Switzerland and the first Director of Sports Integrity at CONCACAF, the governing body for Soccer in North America, Central America, and the Caribbean is responsible for all 41-member countries including the US, Canada, and Mexico. In both positions, at FIFA and at CONCACAF, Dr. Mintas used data to prevent, detect, investigate, and sanction match manipulations in sports that are linked to sports betting.
Powered by WPeMatico