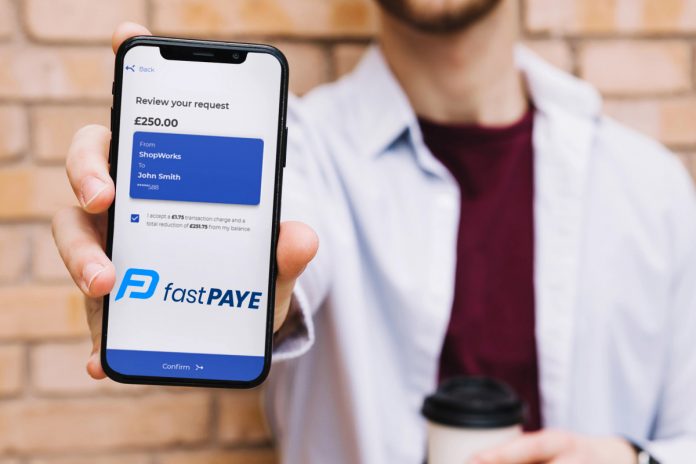 'Game-changing' zero interest application lets staff drawdown salary early to ease financial pressures; service boosts staff satisfaction for gaming industry employers
fastPAYE, the flexible wage application for the modern workforce, has launched to provide a ground-breaking salary drawdown service that enables gaming businesses to pay staff what they've earned early.
Backed by staff scheduling solution ShopWorks, which supplies Grosvenor Casinos, Mecca, Betfred and Paddy Power, and whose chairman is gaming industry veteran Ian Hogg, fastPAYE provides a transparent wage management system that significantly improves employee satisfaction and loyalty.
The initial funding round involved high-profile industry investors, including Mark Blandford, founder of SportingBet, 888 Holding's chairman Brian Mattingley and the Racing Post's chief executive and chief editor Alan Byrne, as well as business heavyweights Sir Terry Leahy and Bill Currie.
Unlike other providers on the fast-growing "wage-on-demand" market, employers don't need credit to pay staff early. fastPAYE's unique model enables businesses to offer drawdowns before payday based on hours worked via a dedicated safeguard account with Starling Bank, facilitating instant fund transfers and maximum cashflow management with no impact on existing payroll.
fastPAYE research shows that 78% of employees struggle to make funds stretch over the month, particularly in January when those paid before Christmas experience the longest pay gap of the year. When unexpected living expenses arise, many are forced to rely on payday loan, overdraft and credit card alternatives that costs households thousands in interest payments. In 2018, 10 million pay day loans were taken in the UK.
fastPAYE is designed to give staff greater control over their salaries when they need it most to ease money-related stress. With sister company ShopWorks, which has a proven expertise in creating effective workplace technologies utilised by over 150,000 users, fastPAYE is uniquely positioned to take the gaming industry by storm with its cost efficient and flexible model.
Commenting on the launch of fastPAYE, Ian Hogg, chairman of fastPAYE, said: "Through years of experience working with major gaming industry brands as clients of ShopWorks, we understand the pressures caused by the outdated monthly wage system on the sector and how it needs to change.
"Attracting investment from industry stalwarts such as Mark Blandford, Brian Mattingley and Alan Byrne is testament to the value fastPAYE brings to casino and betting businesses and their staff, providing a system that is easy to adopt for all parties and that boosts employee retention.
"We're letting people access what they're owed, while at the same time providing employers with a wage management tool that is fast and easy to integrate, and that makes their business a more attractive place to work."