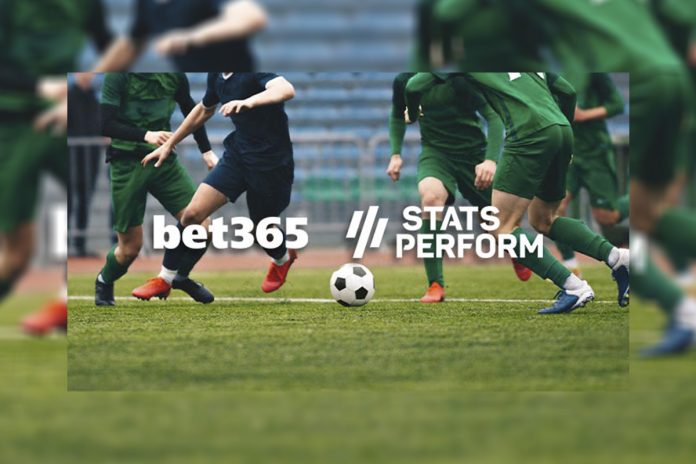 Reading Time:
2
minutes
Bet365 is to meet demand from bettors by offering Opta-powered player and team stats bets across additional elite football competitions from Europe, Asia and Latin America.
The increased competition coverage is made possible by an expansion in supplier Stats Perform's award-winning, premium Opta data feed, which is specifically built for trusted player and team stats betting. It is now available to power stats bets for a further 19 elite competitions, covering over 3000 additional matches per year.
The upgrade means licensed sportsbooks can now offer Opta-powered player and team stats markets for nearly double the previous coverage, reaching more than 7000+ matches per year in total, helping them drive further growth and thrill bettors with every shot, pass and tackle.
Stats markets have revitalised football betting in recent years, driven by Opta's investment and uniquely trusted brand, and feature heavily in popular betting experiences like same-game multis.
Andrew Ashenden, Chief Betting Officer at Stats Perform, said: "Collecting and supplying Opta data for an additional 3,000 new matches to the standard required for frictionless, trusted player stats betting experiences is the culmination of months of work from our expert teams. This effort reinforces our commitment to helping operators innovate and create compelling, personalised products that their customers love. We are delighted that this ambition has been recognised by bet365, who have added these new competitions to their offering at the earliest opportunity."
Alongside the expanded Opta data feed coverage, Stats Perform has added other key tools to enable more entertaining and trusted betting and more confident trading. The Opta Trading Viewer helps sportsbook trading teams optimise their trading, pricing and settlement workflows for stats markets, further improving customer experiences. The Same Game Multi Assistant, a fully hosted application inside Stats Perform's Content Player Pro, helps bettors find in-form players across more than 15+ stats categories, for 250+ global leagues. This product gives bettors vital information before and during matches to help them more easily make betting decisions on stats markets, including those connected to same game multis, bet builders and pre-canned multis.
Stats Perform's Ashenden said: "Our trusted, premium Opta player and team data has helped inject material growth into a mature football betting experience, in a way few believed possible. It has helped sportsbook operators to unlock new customer segments, reinvent betting entertainment and contribute significantly to margin, whilst creating trusted betting experiences that are phenomenally popular with users. All leading global sportsbooks choose Opta data to model, manage and trade these markets, help bettors track them in-running on their front end, and for settlement. We're proud to be at the forefront of such innovation, grateful to our teams for their consistently high-quality work and to our licensed sportsbook partners like bet365 for their creativity and support. What's more, this is still only the beginning of our ambitions to grow the space even further."