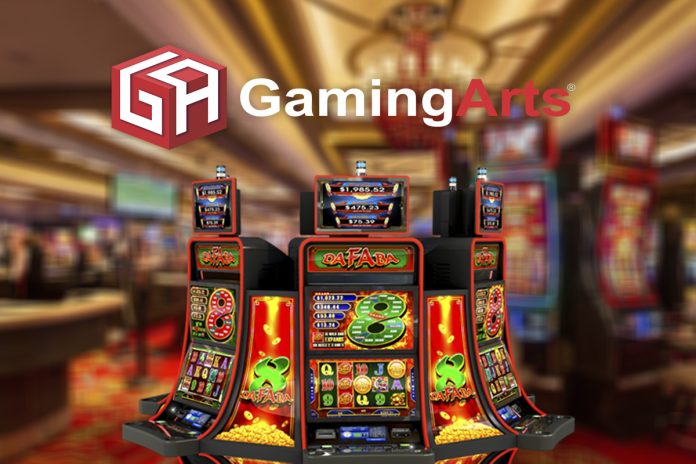 Gaming Arts, in partnership with Banijay Brands, the commercial arm of media and entertainment powerhouse Banijay, announced that DEAL OR NO DEAL slot games will premier in Q4, 2023. This exciting new product line will launch with two complementary themes, Golden Briefcase and Briefcase Breaker, released on the beautiful 49″ portrait VertX Grand cabinet.
These games will revitalize the familiar DEAL OR NO DEAL brand on casino floors with fresh content and exciting gameplay. Players will be put in the hot seat in the Deal or No Deal Briefcase Feature, experiencing the same pulse-racing excitement as the hit television game show. The players' fate is truly in their own hands, whether they choose to take a generous banker's offer or push their luck until the end.
The games also include dynamic free games, a dramatic jackpot feature, and linked progressive prizes to keep the excitement sky high. A player-selectable multi-denomination screen allows the player to choose a denom and bet that is comfortable for their bankroll.
For players that crave only the action of the Deal or No Deal Briefcase Feature, the Buy-A-Feature option allows the player to instantaneously win the bonus without the need to play through the base game. This Buy-a-Feature option can have additional multipliers up to 10x, multiplying the potential prizes to huge amounts.
Banijay format Deal or no Deal first launched in the Netherlands in 2002. It has been commissioned in over 80 territories worldwide with more than 350 productions.
Mike Dreitzer, CEO of Gaming Arts, said: "We couldn't be prouder of these great games! Gaming Arts is confident that our new DEAL OR NO DEAL games will soon be amongst the most popular and top performing games on casino floors across North America. These games are the whole package, complete with incredibly exciting and innovative game play offered with a beloved brand that is recognized and followed by millions."
Jean Venneman, Chief Operating Officer at Gaming Arts, said: "Banijay Brands has been a terrific partner and whose insight and assistance helped lead our game development team to produce these truly remarkable games. These games are a great follow on to our recently launched, Thor's Thunder which is taking the country be storm, coast to coast."
Mark Woollard, Banijay Brands Director of Gaming and Gambling, said: "This partnership demonstrates our commitment to bringing flagship brands like Deal or No Deal to life in engaging ways. Through this partnership with Gaming Arts, we are set to deliver another fantastic gaming experience."