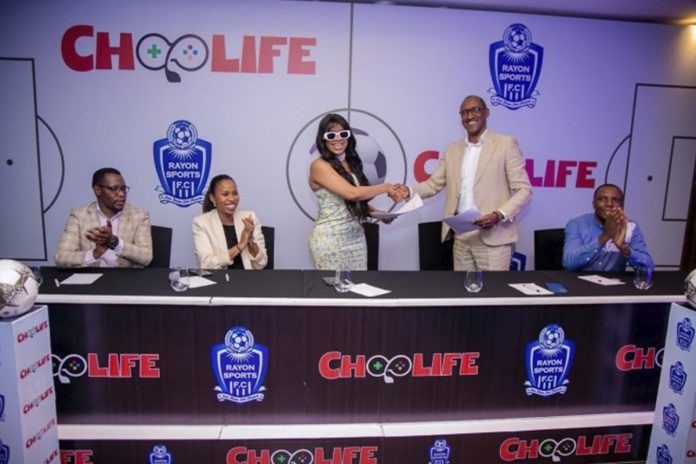 Reading Time:
2
minutes
The synergies between sports, entertainment and gaming are increasing daily, and the recent partnerships by Choplife Gaming, a leading online sports betting platform, exemplifies this convergence.
In a strategic move aimed at empowering African communities through sustainable investments, Choplife Gaming, owned by the musician Mr Eazi, announced strategic partnerships in Rwanda and Tanzania, solidifying its commitment to fostering sustainable growth and empowerment in these regions.
In Rwanda, Choplife Gaming has joined forces with Rayon Sports Football Club, the country's most prominent football club. As part of this collaboration, Choplife Gaming will prominently feature on the left sleeve of Rayon Sports FC jerseys during the upcoming season of the Rwanda National Football League. However, the partnership goes beyond mere sponsorship, as it encompasses a comprehensive investment plan aimed at promoting the Rayon Sports brand locally and internationally. Additionally, funds will be allocated to talent acquisition and management, ensuring a thriving future for Rwandan football.
"We are delighted and grateful for the support that Choplife has shown by signing as Rayon Sports FC's sleeve sponsor. We are thrilled that this sponsorship will foster a strong relationship as we embark on two exciting seasons ahead," Jean Fidèle, President of the club, said.
"As a regulator of the gaming sector, we ensure that companies operating in Rwanda comply with applicable laws, but beyond this, we are very supportive of responsible development initiatives such as this, particularly in the gambling industry," Evalde MulindinKaka, A.G Director General of the Ministry of Trade and Industry, said.
Meanwhile, in Tanzania, Choplife Gaming has embarked on a collaborative journey with Tanzanian music icon Nandy. The celebrated singer, songwriter and actress will serve as Choplife Gaming's first-ever brand ambassador. In this role, Nandy will play a pivotal role in selecting, supporting, and activating sustainable community investment programmes across Africa. By leveraging her influence and artistic prowess, Nandy will contribute to initiatives that have a positive social and economic impact on the communities where Choplife Gaming operates.
Choplife Gaming's expansion into Rwanda and Tanzania is part of its strategic vision to represent trusted gaming brands across Africa.
"As part of the sustainable community investment program, we partner with organisations that have a positive social and economic impact on the communities we operate in," said Mrs Aimee P. Cyuzuzo, Country Manager at Choplife Gaming.
These strategic partnerships reflect Choplife Gaming's dedication to making a meaningful difference in the regions it operates. By collaborating with esteemed organisations such as Rayon Sports FC and influential figures like Nandy, Choplife Gaming aims to uplift local communities, foster talent development, and promote sustainable socio-economic growth.