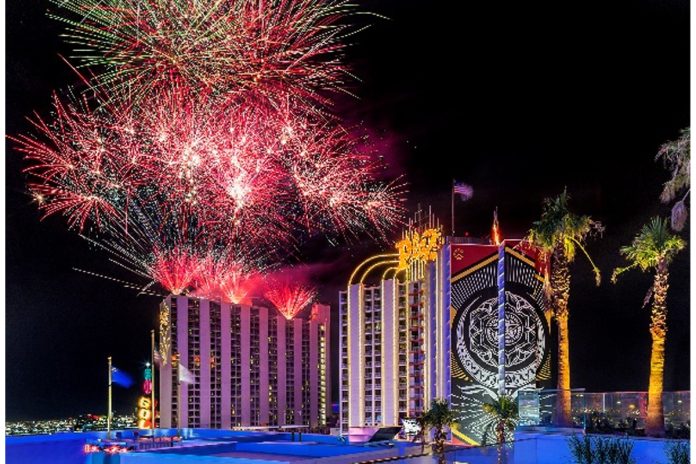 The Plaza Hotel & Casino will again celebrate the 4th of July with its annual fireworks show – the only one in downtown Las Vegas – lighting up the sky on Tuesday, July 4 at 9 p.m.
Customers looking to stay at the Plaza for the holiday weekend can book online and save 20 percent on prevailing room rates. Hotel guests will get to exclusive opportunity to watch the fireworks from the Plaza's rooftop pool deck with doors opening at 7:30 p.m.
The other week, the Plaza celebrated the grand opening of its Main Street Reimagination that transformed its iconic Main Street façade with the opening of Carousel Bar and Pinkbox Doughnuts, both of which will be popular hot spots for the holiday.
The Plaza's new Carousel Bar will celebrate the holiday by featuring its Amalfi Swing drink which has its own special "pop" thanks to a garnish of Pop Rocks popping candy to a summery cocktail made with Skyy Citrus vodka, Luxardo Limoncello, Campari, Ruffino Moscato d'Asti, lemon juice. Pinkbox Doughnuts will feature a special line of 4th of July creations as well.
Staged from multiple locations on the Plaza's roofs and towers, the fireworks will be an amazing show for people downtown and visible for miles beyond. To allow for prime viewing of the fireworks and increased pedestrian traffic, Main Street will be closed to vehicular traffic for a limited time from Carson Avenue to Ogden Avenue.