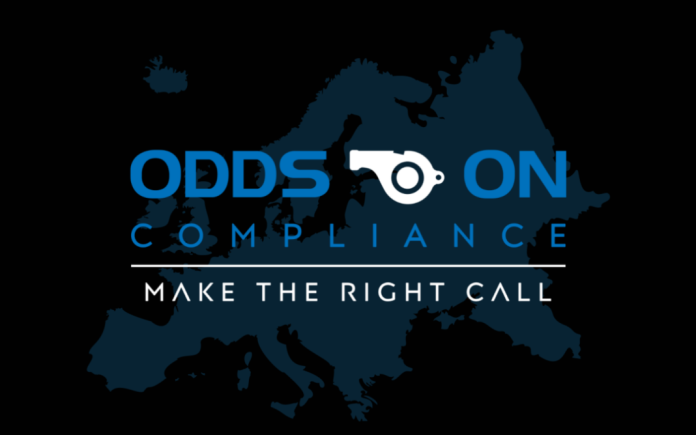 The ground-breaking platform will provide the industry with unmatched global regulatory and compliance data in partnership with leading law firms across Europe
MIAMI, Fla. (MAY 31, 2023) – 
Odds On Compliance
, the industry-leading technology and consultancy firm specializing in sports betting, iGaming, and gambling regulatory compliance, is pleased to announce the launch of Playbook Europe. Playbook provides the most comprehensive overview of the sports betting, iGaming, daily fantasy sports, land-based, and iLottery regulatory environment.
Beginning today, Playbook users can access gaming regulatory information from 21 European territories, with more jurisdictions to be added in the future. Odds On Compliance has partnered with leading law firms across Europe to build out the industry's most comprehensive database of regulatory information, including Wiggin LLP (UK), Asensi Abogados SLP (Spain), Nordic Gambling (Denmark and Sweden), and OKA Avocats (France).
"This is another step forward in the evolution of our technology," commented Eric Frank, CEO and Co-Founder of Odds On Compliance. "This is an opportunity to bring our innovative solutions to a wider audience. We understand the unique regulatory landscape of Europe, and we're excited to navigate these compliance complexities and provide cutting-edge technology to the industry in partnership with some of the leading law firms in the industry."
"We are thrilled to expand Playbook into the European market," added Cheryl Jones, Odds On Compliance President, Europe. "This expansion is the next step in delivering the highest level of trust and transparency to our clients while supporting the growth and success of their businesses."
Odds On Compliance is committed to providing the most comprehensive and up-to-date regulatory compliance solutions for the gaming industry. Playbook provides a virtual gateway to a comprehensive collection of regulatory documents globally for markets with legalized sports betting, daily fantasy sports, iGaming, land-based, and iLottery.
Playbook features carefully curated, managed, and updated statutes, regulations, and requirements that enable businesses to stay in step with the agencies that regulate them. The enhanced offering, PlaybookAI, includes integration with the latest model from OpenAI enhancing users' ability to search compliance questions and return responses quickly and efficiently.
Powered by WPeMatico