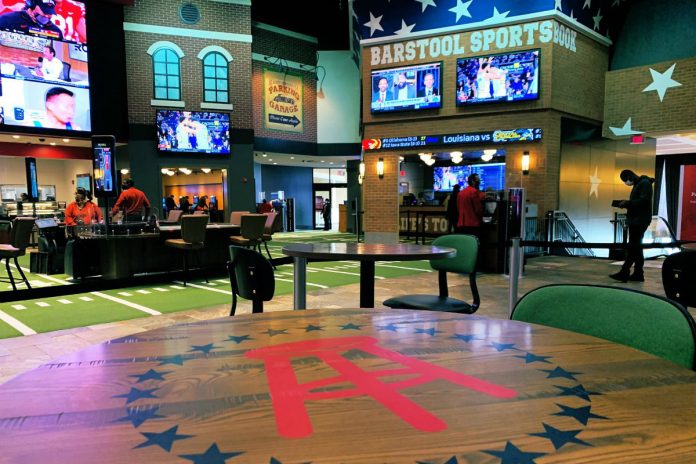 Barstool Sportsbook has announced plans to open the first physical sports betting facility at a NASCAR track. The amenity, which will be located at Kansas Speedway, aims to open as a temporary facility in early September, in time for the beginning of the NFL season, which represents the biggest period of the year for US sports betting.
The temporary sportsbooks will be under the Hollywood Casino's Turn 2 Sports Bar and Restaurant and will feature kiosks, betting windows, odd boards, TVs, and a temporary bar, allowing clients to wager on any sporting event underway during the race weekend.
The full-scale Barstool Sportsbook, set to be built in the former Epic Buffet location, will begin construction toward the end of August and will include a full restaurant, field house games, and accessibility to the giant outdoor patio that overlooks the speedway.
Rick Skinner, General Manager of the Hollywood Casino at Kansas Speedway, said: "This will be a great catalyst for the entire region. This year, Kansas saw fit to pass sports wagering and Missouri did not, which puts our property in an advantageous position to not only welcome our friends from across Kansas, but also across Missouri. It puts a highlight on the Kansas side of the state line because we'll have a monopoly on it until Missouri decides to act. This will boost not only the speedway and our casino but the Legends, Sporting KC and the entire area."
Lawmakers finally managed to pass sports gaming in the state after years of failed attempts through legislation that allows both mobile and retail betting at casinos. The law allows casinos to join forces with online betting platforms and offer in-person betting, including partnerships with a total of up to 50 retailers. Additionally, the legislation permits major league sports, including Sporting Kansas City and the speedway, to offer sports wagering.
"We're excited to be a part of this, because having a casino and a sportsbook overlooking Turn 2 — that's a pretty big deal. If this opens up for the NFL's opening game, there will be people coming in maybe for the first time who see the Speedway and want to come back for the weekend. This is just a great way to get new eyeballs on the sport, and that's really cool," said NASCAR spokesman Matt Humphreys.
Powered by WPeMatico