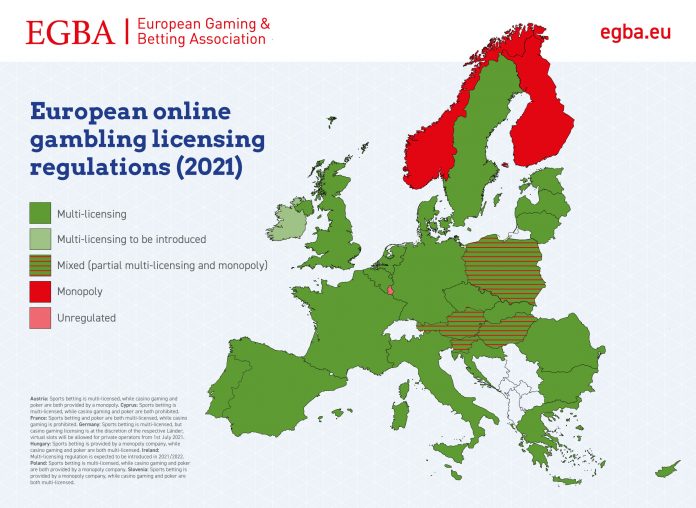 Reading Time:
2
minutes
According to a new opinion paper by Professor Konrad Raczkowski, Poland's former finance minister, replacing Poland's high turnover-based tax for online sports betting with a tax based on gross gaming revenue (GGR) would contribute to a more viable and attractive online gambling market for the country's sports bettors and raise more tax revenues for the state.
The EGBA supports changes to Poland's tax base for online sports betting and the introduction of a sensible GGR-based tax in the country.
Poland's current 12% turnover tax on online sports betting, equal to a 55-65% GGR tax, is one of the highest online sports betting taxes in the EU. According to Professor Raczkowski, only 2 out of the 20 companies which hold online sports betting licenses in the country turn a profit. As a result, over 20% of Polish bettors use websites which are neither licensed, regulated nor taxed in Poland, which is one of the lowest channelisation rates in Europe.
To correct this, Professor Rackowski recommends a GGR tax of around 20% to "achieve a real decrease in the size of the shadow economy [grey market] in Poland's bookmaking industry". The EGBA believes that such a GGR tax rate is sensible, in line with other European countries, would reduce offshore gambling, by providing Polish sports bettors with more choice locally and incentivising most of them to play with Poland's regulated sports betting websites, and consequently generate more tax revenues for the state.
Evidence from other European countries (and the US) shows that a sensible GGR-based tax of around 20% is a pre-requisite to ensure that an online gambling market is viable: that most of a country's bettors play within the regulated environment, on websites which are licensed in that country, and apply its consumer protection measures for online gambling. EGBA also believes that a multi-licensing regime for online casino and poker in Poland, which is currently provided by a monopoly, would also help better meet the needs and expectations of Poland's bettors.
"EGBA welcomes the ongoing discussions on the future of Poland's online gambling regulation and supports changes to the tax base for online sports betting. The current turnover tax is punitively high and not conducive to a viable online gambling market which meets the needs and expectations of Polish players. Poland is a large gambling market and has a great love for sports, and a sensible GGR-based tax would be an incentive for virtually all Polish players to play with regulated websites and for more of Europe's betting companies, including EGBA members, to consider applying for an online sports betting license. These companies would not only support Polish sports through sponsorships and other revenues, but also pay gaming taxes and contribute to a more viable market which is attractive to Polish bettors and offers them a safe and regulated environment to play in," Maarten Haijer, Secretary-General of EGBA, said.
Powered by WPeMatico