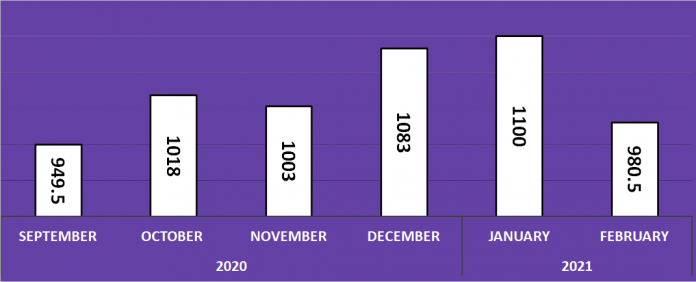 Twitch has emerged as the go-to platform for online streamers, with as many as 10M active streamers and over 120M hours of content consumed so far this year.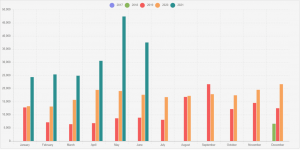 Twitch has channels for almost every video game imaginable, including FIFA, DOTA, Fortnite, and casino games such as roulette, blackjack and online poker.
Gambling related channels and categories continue to set new viewership records month after month – making the platform an affiliate marketer's dream..
Gamblers and affiliates stream on the platform in the hopes of winning big and growing an audience while gambling.
A June 2021 analysis of the Slots category on Twitch.tv using Twitch API data reveals the most popular slots streamers worldwide for the month of June, as well as key slots category statistics.
Peak viewership per month for Online Slots in June 2021 hit 226,886 – a new slots category record
Twitch – June Slots Category Insights
Slots was the 14th most watched category on Twitch in June (-1)
6,293 channels streamed slots in June (-2.3%)
26,980,639 hours of slots was watched in the Twitch Slots category (-23.49%)
119,038 hours of slots was streamed in the Twitch Slots category in June (-8.9%)
165 channels were streaming slots on average during the month (-5.7%)
Slots had 37,525 average viewers in June on Twitch(-20.99%)
Maximum viewers: 226,886 (+11%)
Average Channels Rank: 68th (+9)
Peak Viewers Rank: 18th (up 5)
Top Streamer: ROSHTEIN
Top streamer hours streamed: 196 hours
Viewer ratio: 226.7 (-16.09%)
The slots games streamers with the most viewers on Twitch.tv during June were as follows:
| Rank | Channel Name | Total Hours Watched | Hours Streamed | Peak Viewers | Average Viewers | Followers |
| --- | --- | --- | --- | --- | --- | --- |
| 1 | ROSHTEIN | 3,325,152 | 196 | 38,072 | 16,943 | 594,328 |
| 2 | Trainwreckstv | 2,483,472 | 79 | 51,062 | 31,337 | 1,421,872 |
| 3 | ClassyBeef | 1,710,219 | 564 | 8,159 | 3,034 | 173,064 |
| 4 | DeuceAce | 1,191,679 | 206 | 11,684 | 5,785 | 155,009 |
| 5 | Xposed | 1,109,889 | 169 | 16,878 | 6,587 | 361,928 |
| 6 | VonDice | 1,105,909 | 176 | 17,412 | 6,293 | 132,968 |
| 7 | CasinoDaddy | 737,406 | 509 | 3,236 | 1,448 | 156,405 |
| 8 | xQcOW | 645,745 | 6 | 115,189 | 103,319 | 5,909,034 |
| 9 | AyeZee | 565,658 | 116 | 14,217 | 4,887 | 82,422 |
| 10 | Yassuo | 546,339 | 56 | 18,468 | 9,756 | 2,010,120 |