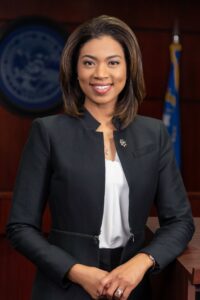 Sandra Douglass Morgan has resigned as chairwoman and executive director of the Nevada Gaming Control Board. She has served as the board's chair since January 2019.
Last Friday, Fidelity National Financial, the nation's largest title insurance company, announced that Douglass Morgan had been elected to its board of directors. Gov. Steve Sisolak announced her departure in a news release Thursday afternoon, noting that she is "resigning to pursue an exciting professional opportunity."
The governor praised Douglass Morgan as someone who has a "steady hand and unmatched leadership," especially during the turbulent last few months in the gaming industry.
Douglass Morgan's resignation from the gaming regulatory body is effective November 6 and no successor has been named yet.
Powered by WPeMatico