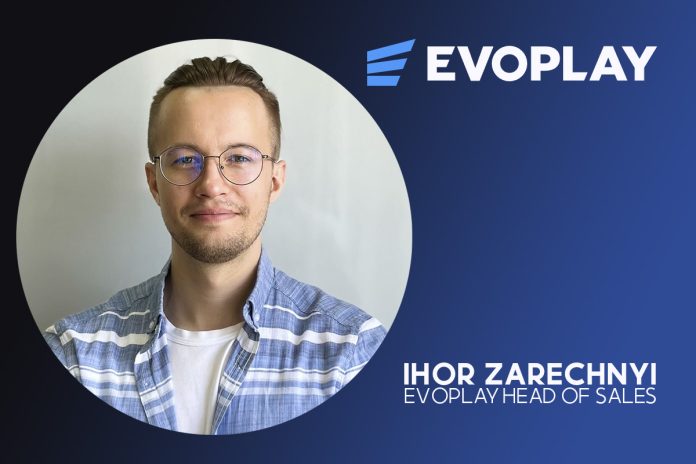 Evoplay has proven itself as one of LatAm and Europe's most innovative game studios in recent years, with a host of industry awards for its ground-breaking titles, including the RPG-based 'Dungeon: Immortal Evil' and the space-based shoot 'em up, 'Star Guardians.'
As the award-winning provider gears up for its first debut in North America, we sat down with Evoplay's Head of Sales, Ihor Zarechnyi to talk through the supplier's exciting launch in Canada's largest market, Ontario.
With Evoplay's Canadian debut getting closer and closer, can you tell us about your initial plans for the market?
We're very excited to be gearing up for our launch in Ontario. We have no doubt that Canada will be a major growth opportunity for us, with the market being one of the most favourable for iGaming businesses given its transparent and clear regulatory framework. We'll be putting a lot of effort  into our marketing efforts, including network promotions, and I'm very confident that our games will be incredibly well-received by Canadian players. I can certainly hint that we've got some big expectations with some of Canada's leading operators, so you'll have to watch this space!
I would also hope that our hard-earned reputation will precede us before our launch in the market – we're proud to be known as a studio that creates high-quality graphics, engaging gameplay and innovative features. We're also committed to providing a safe and secure gaming experience for all of our players, so I have no doubt that we have an excellent platform for success.
What potential do you see in the market and why have you and your commercial team earmarked the market as a key location for growth? Could it be a stepping-stone into the US?
As we've already touched on, we see a lot of potential here. As our first point of entry into North America as a whole. I have no doubt that Ontario will be a great platform for that expansion.
Taking our content into Canada's largest market will no doubt enable us to promote our brand and also establish trust with players – we can't wait to get started!
Looking at demographics, Canada is growing rapidly, and we want to tap into that. In total, the potential of online casino players is expected to reach 10 million by 2025 – which makes it a force to be reckoned with. iGaming is already a firmly entrenched form of entertainment, and we're very excited to be filling that demand.
On top of that, the Ontario regulator has a very progressive framework for regulation, which will be conducive to the market's continued growth.
As to future plans beyond Ontario, I can certainly hint that we're already talking with some of the largest players in the US market, so without a doubt, some very exciting times lie ahead.
Looking at your award-winning portfolio of games, do you have any particular titles in mind for entertaining Ontario players?
We have a number of highly engaging games in our armoury that we are incredibly excited to share with Ontario players.
Our Bonus Buy games have really resonated with players in the market, which gives them that bit more control over their experience. Sold It Bonus Buy is a particularly captivating title with this option and features an exciting Free Spins round that includes Sticky Wild multipliers which players can purchase with pre-added Wild symbols. Similarly, Redrose Sanctuary Bonus Buy gives players the chance to buy the Free Spins round with different multiplier amounts.
Fishing games are also incredibly popular on the market right now. When paired with Bonus Buy, it is no wonder why The Greatest Catch Bonus Buy is another top performer for us and one we anticipate a strong reaction from in Canada.
With North America's rich land-based casino history, a retro-themed game always goes down well. Our Hot Triple Sevens slot is a prime example of this, melding a traditional slot theme with innovative features. This is also seen in our classic instant lottery game Scratch Match consisting of simple, straightforward rules that make for a fast-paced and exciting gaming experience.
Your football-themed instant games have certainly made a splash across LatAm and Europe, does Evoplay have ice hockey-themed games in mind for Canadians?
Evoplay is always looking for new ways to entertain players, and of course we know all too well that ice hockey is Canada's most popular sport! So, in line with that, we've seen our football-themed instant games perform great where football is the most popular, so we'd no doubt look to repeat that for Canada.  In terms of development, it's definitely something we've got in the pipeline, as I have no doubt that repeating our instant games' success be incredibly well received! It's still in the early stages of development, but I have no doubt that it'll be live in the next year, and I'm sure it will prove to be a massive hit with Canadian players.
We're seeing plenty of interest in Esports among the latest generation of players, can that cross-over into casino?
Yes, there can be plenty of cross-over. Esports is a rapidly growing industry, and it is attracting an entirely new generation of gamers. Of course, it goes without that saying that they're tech-savvy and looking for new and exciting ways to play.
If we look at total market potential – estimates put the aggregated global player base for casino at $335 billion by 2025. So of course, within that, there's a significant portion available. As to what they're looking for, slots inspired by mechanics and themes one sees in video games certainly go a long way. A great example of this is our 2022 flagship slot, Star Guardians, which is heavily inspired by third-person shooters – set in space in the year 2777 in the midst of an interplanetary war.
In many ways, we're still in the early stages of cross-over, as it's still an emerging demographic, but I have no doubt that this is one to be watched and will likely continue to grow in the future. There's plenty of options to consider – from Esports teams partnering with casino operators to create new branded games and promotions, over to sponsorship of teams and even Esports events held at real casinos! Of course, we follow all these trends at Evoplay and it's certainly an audience that will be focusing hard on entertaining.