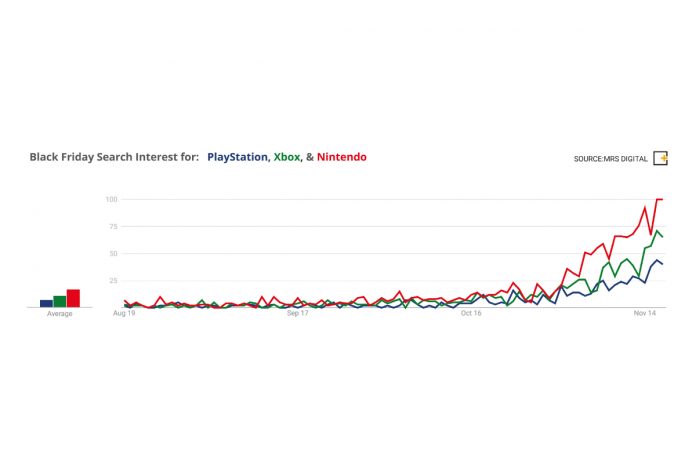 Reading Time:
2
minutes
New search data compiled by SEO agency, MRS Digital, reveals that Black Friday searches for PlayStation 5, PS5, and other variations have completely dropped off in the lead up to the international sale event – a time of year where gamers would be keen to pick up a deal on a console.
With stock being a struggle for Sony's long-term flagship console since its November 2020 release due to a semiconductor shortage, those trying to get their hands on the elusive PlayStation 5 are steadily giving up after a whole year of frustration, turmoil, and online queuing. Adding even more salt to the wound, competitors Xbox and Nintendo are generating significantly more search interest.
The Xbox Series X, the rival to the PlayStation 5, has 6.6x more searches relating to Black Friday in October than the elusive PlayStation 5, likely due to the fact that people can actually buy an Xbox. Although Sony's PlayStation has always been the better selling console, the price of an Xbox Series S (the competitor to the PlayStation 5 Digital Edition) is £100 less at RRP; a more tempting price point.
Despite the lack of search interest and the opportunity for Microsoft to convert wearied Sony fans on Black Friday weekend, the PlayStation 5 still trumps the Xbox on worldwide sales, with 13.8 million units sold since its launch, compared to 8 million Xbox Series X/S units in total. However, this is a 25% decrease from the 18.5 million opening year sales for the PlayStation 4, which is the best-selling PlayStation since the PlayStation 2, showing that Sony are likely disappointed by the PS5's sales performance and shortage of parts.
Best Opening Years for Games Consoles (Units Sold):
PlayStation 4 (2013): 18.5 million
Nintendo Switch (2017): 17.8 million
PlayStation 5 (2020): 13.4 million
Xbox Series X|S (2020): 8 million
Xbox One (2013): 10 million
Since the PlayStation 5's release, gamers have been keeping their eyes peeled as to where the rare console may be available, with rumours stirring that retailers may be getting a restock ahead of Black Friday, just in time for one of the biggest shopping events of the entire year, and potentially an opportunity to get the PS5 in time for Christmas. Be quick though, as the PS5 has a track record of selling out almost instantly.
END
Powered by WPeMatico