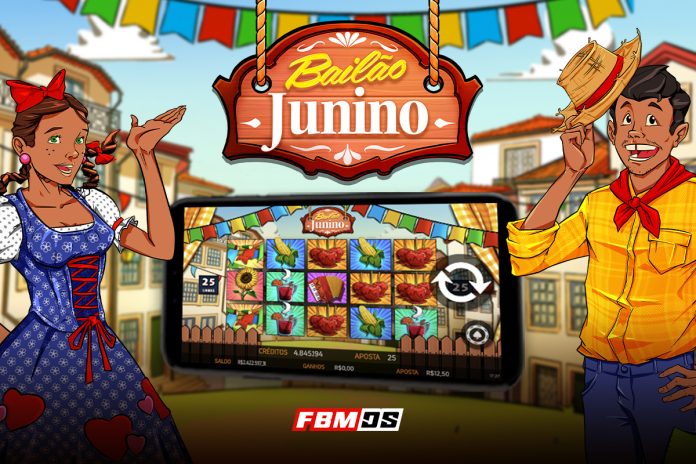 Reading Time:
2
minutes
FBMDS, the digital wing of FBM® providing cutting-edge iGaming solutions, is proud to announce the highly anticipated launch of their newest Bailão Junino™ online casino slots game, a vibrant experience infused with the energetic spirit of a traditional Brazilian festivity. LATAM market players can now indulge in the electrifying atmosphere of this product from the comfort of their own homes.
Inspired by the world-renowned June Brazilian festivities, the new online casino slots game from FBMDS is a passport to the heart of this exhilarating celebration, combining thrilling gameplay with the rich cultural heritage of Brazil. With stunning visuals, captivating sound effects, and an array of exciting features, this game guarantees an unforgettable slots experience for both newcomers and loyal players.
Key features of FBMDS' Bailão Junino™ slots game
The new game's authenticity is a direct result of the company's diligent research on Latin American (LATAM) traditions, specifically Brazilian festivities. Just like the Virá Festa™ slots game which was inspired by Portuguese parties, it was imperative to recognize the importance of cultural accuracy in the creation of this new product.
FBMDS dedicated extensive time and resources to deeply understand the essence of these celebrations, ensuring that players will be transported to the heart of Brazil's party atmosphere through an authentic and captivating gaming experience.
This 25-payment-line game is adorned with eye-catching graphics that capture the essence of a Brazilian celebration, featuring vibrant characters wearing traditional costumes, tasty treats, and colorful objects such as balloons, fireworks, and musical instruments. Players will be visually immersed in the joyful atmosphere, providing a truly genuine experience.
The lively beats of Baião and Forró, combined with the cheers of the crowd every time there is a win, create an energetic soundscape that complements the gameplay perfectly. The soundtrack enhances the excitement and adds an extra layer of authenticity to the game which was carefully thought out based on a localized approach to the LATAM market.
FBMDS has meticulously crafted an engaging gameplay experience, offering multiple payment lines, and bonus rounds. The Wild, Scatter and Stacked Wild features during Free Spins will make players embark on an exhilarating journey, unlocking various hidden surprises and rewards along the way.
Improved gameplay for a spotless gaming experience
Bailão Junino™ has been optimized for seamless gameplay across various devices, including desktops, smartphones, and tablets. This ensures that casino operators' players can enjoy the captivating experience anytime, anywhere.
Guilherme Graziani, Account Manager at FBMDS, expressed his excitement about the release, stating: "We are thrilled to unveil our latest creation, a bright Brazilian Party Festivity-themed online slots game which will connect to our LATAM target audiences. With its distinctive visuals, captivating sound effects, and innovative gameplay, we are confident that players will be immersed in the contagious atmosphere of Brazil's celebrations. Our team has put in tremendous effort to create an exceptional gaming experience, and we believe this release will further strengthen our position as a leading provider of high-quality online casino games".
FBMDS' newest product is now available on leading LATAM online casino platforms. Players can join the celebration and experience the thrill of one of Brazil's most iconic festivals first-hand.