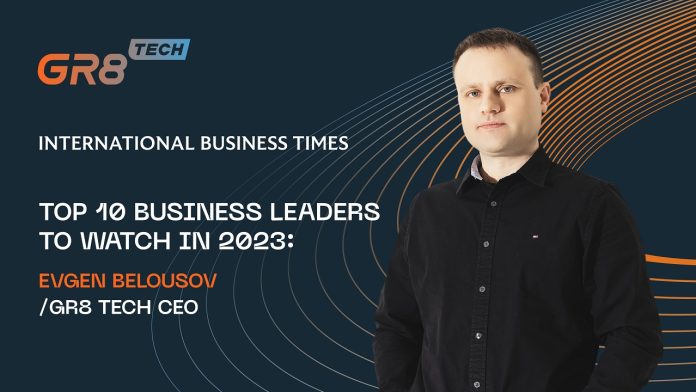 Reading Time:
2
minutes
International Business Times has recognised GR8 Tech's CEO, Evgen Belousov, as one of the "Top 10 Business Leaders to Watch in 2023". This tribute from a prestigious global news outlet underscores his pivotal role in shaping the iGaming industry's future.
Under the guidance of Evgen Belousov, whose insightful blend of technological know-how and business acumen is proving crucial, GR8 Tech is rapidly gaining traction within the global iGaming industry. Belousov's strategic vision focuses on digitalisation and revenue generation, driving the company's growth and creating ripples within the industry.
Belousov said, "Our mission at GR8 Tech is straightforward – to provide great gaming tech that satisfies even greater ambitions. We offer tools that assist iGaming companies in enhancing their operations, adapting to evolving markets, and securing lasting success. Our solutions are crafted with an understanding of the industry's dynamics and the growth trajectories of businesses within it."
Last month, GR8 Tech unveiled two novel solutions: iGaming Launch and iGaming Upgrade. These products, uniquely designed to meet operators' specific needs, change the one-size-fits-all approach often encountered in the B2B sector. The iGaming Launch solution is a comprehensive offering intended for those seeking to start new iGaming operations or enter new markets. iGaming Upgrade, on the other hand, caters to established players who desire custom solutions that can be integrated into their existing ecosystem, allowing them to focus on strategic growth.
Additionally, Evgen gave a hint about the upcoming offers from GR8 Tech. "We're soon to launch several standalone products. Unlike solutions that offer technology and services at a strategic level, products are focused on solving specific point-of-service needs of operators. As such, they will be an excellent tactical solution for enhancing existing ecosystems as quickly and easily as possible."
With Belousov steering the ship, GR8 Tech looks to the future with optimism, confident in its ability to continue innovating and positively impacting the iGaming industry.