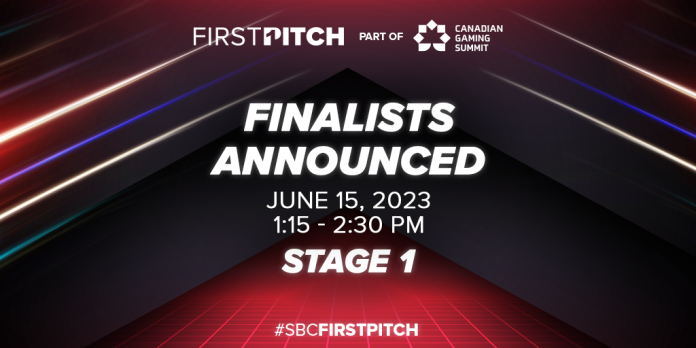 SBC has revealed the three industry start-up finalists of the inaugural edition of the Canadian Gaming Summit First Pitch competition.
In a remarkable demonstration of innovation and potential, these contenders have emerged from a pool of talent, embodying the promise of reshaping the sports betting and iGaming landscape with their forward-thinking solutions.
The highly successful startup competition for sports betting and iGaming companies has been held with great acclaim at the SBC Summit North America in New Jersey and the prestigious global flagship event, SBC Summit Barcelona.
As SBC takes charge of managing the Canadian Gaming Summit, the First Pitch competition will play a crucial role as part of the Growth and Leadership track on the event's second full day, scheduled for June 15th.
The three (3)  finalists of the SBC Summit North America First Pitch are:
Flex Fantasy: enables users to synchronize their season-long fantasy lineups and utilize them to compete against individuals across different platforms in diverse game formats for real-money rewards
Turnover Global: generates virtual sports betting content through sports simulation, which accurately reflects current and past game results. It ensures that the required Return to Player (RTP) percentage
 tolerances are consistently maintained for each bet line, as mandated by compliance labs
Linemate: aims to revolutionize research insights for novice sports bettors and establish itself as a lifestyle brand catering to these users by addressing the obstacles that hinder consumers from easily embracing and adopting new behavioral patterns
The chosen companies will have the chance to showcase their innovative products to industry leaders and investors. They will also compete for an exclusive prize package valued at over CA$ 70,000, specifically designed to assist in their future development and growth endeavors. The prize package includes:
A six-month subscription to Eilers & Krejcik Gaming's Sports & Emerging Verticals, a boutique research firm that specializes in providing comprehensive services to the gaming equipment, sports, and interactive gaming sectors within the global gaming industry. This subscription alone is worth CA$ 33,000.
An exclusive brand or web design package, valued at CA$ 3,700, from Vegas Kings, the premier iGaming design and development agency that has been trusted by leading brands such as Ladbrokes, Betfred, Spinomenal, BetConstruct, and more.
A comprehensive promotional package from SBC Media, including six months of advertising on either SBC Americas or Canadian Gaming Business, newsletter advertising, as well as two featured editorials promoting the winning business (valued at CA$ 16,000).
Two (2) drafted press releases at any time during 2023 with any news/product updates that the winner would like to share with the industry, distributed to all iGaming B2B media and the US via Business Wire (ensuring coverage on Bloomberg, Yahoo! Finance, etc.), a video interview produced and shared by GameOn, and two (2) additional thought leadership articles that would be placed within a media partner of SBC (valued at £2,950.00 or CA$ 4,900)
A Receptional Prize Pack – Valued at CA$ 13,000 (The Receptional team will collaborate with the winning company to provide a tailored digital marketing package).
The competition will be moderated by Jesse Learmonth, (Host of the Betting Startups Podcast) and judged by Benjie Cherniak (Principal at Avenue H Capital, LLC), Dani Lipkin (Managing Director of Global Innovation Sector TMX Group), Scott Secord (Partner, Cardinal Capital Sports), Emily McIlquham (Investment Analyst, Relay Ventures) and Mohit Kansal (Managing Director, Clarivest) who will work together to decide the winner after all finalists pitch their products.