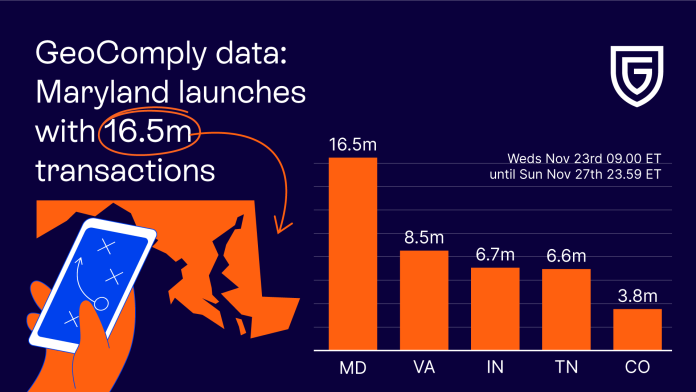 Maryland's education fund will receive a boost as the state greeted the opening of regulated online sports betting with record setting enthusiasm.
16.5m geolocation transactions were recorded over the course of the US Thanksgiving Holiday, according to data from geolocation and fraud specialist GeoComply.
GeoComply SVP Compliance Lindsay Slader commented: "A strong start for the regulated market delivers on the promise of new revenues and consumer protections. Marylanders will continue to ditch illegal offshore sportsbooks for the security of legal, regulated operators that provide player safeguards and tax dollars for the state, just as lawmakers intended."
When the law passed in 2021, policymakers cited mobile sports betting as an important component of revenues for the Blueprint for Maryland's Future Fund. In recent months, Governor Larry Hogan publicly urged for an expedited launch of mobile betting to bring tax dollars into the state's education fund and protect consumers.
GeoComply is the trusted geolocation and fraud-prevention solution for approved Maryland sports betting operators, and its data provides a unique view of the Maryland market since it launched on November 23.
From the moment Maryland launched, betting surged throughout Thanksgiving weekend with local NFL teams in action, big-time college football matchups, a full round of NBA and college basketball, plus the soccer World Cup in Qatar.
Maryland betting action from Wednesday until Sunday (November 23-27), based on GeoComply's data:
7 operators
477,365 unique accounts
16.5m geolocation transactions
3.7m geolocation transactions on Thanksgiving Day
Does a market launch outstrip a mature market? 
Geolocation traffic for Maryland's Thanksgiving launch was almost double neighboring Virginia and more than four times that of similarly-sized Colorado. Its 16.5m Thanksgiving transactions were also far in excess of Indiana and Tennessee, and not far off the 17.1m in the mature market of New Jersey, which has a far bigger population than Maryland.
GeoComply is supporting its customers through its Tier One Contractor license for geolocation and ID verification services. The license allows GeoComply to supply its leading geolocation, ID verification, and fraud detection and prevention services to Maryland's regulated sports betting operators.
GeoComply has a unique view of the US online sports betting market as the trusted geolocation supplier for the majority of the regulated online sports betting operators in the US.
Powered by WPeMatico