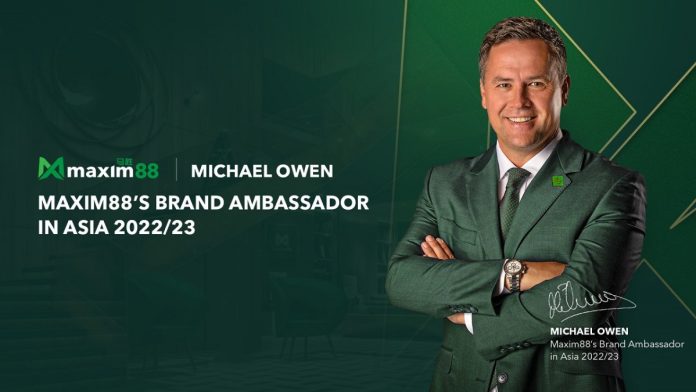 Reading Time:
2
minutes
Asia's leading online betting platform, Maxim88, has sealed a two-year partnership with legendary English striker and former Liverpool and Manchester United star Michael Owen, who will be representing the brand as official Brand Ambassador in Asia.
Michael Owen is one of the greatest English & Premier League strikers of his generation – with his signature great pace, instinctive finishes and agility. A prolific goal scorer, he had defenders quivering in fear but won the hearts of fans with his skills and astuteness on the field. He not only excelled in the regional leagues with the likes of Liverpool, Real Madrid, Manchester United and Newcastle, but also thrived on the international stage representing England.
The revered English striker will collaborate with Maxim88 to promote the brand across Asia ahead of the English Premier League kick-off on 6 August and conduct various digital marketing activations to further boost the brand's awareness across the region. This deal also signifies Maxim88's intent to strengthen its position as Asia's leading online betting platform and reinforce their commitment to provide only the best in terms of quality, choice and security to sports enthusiasts in Asia.
"I am delighted to join hands with Maxim88 for their marketing initiatives in Asia. As brand ambassador, I am looking forward to engaging with more sports fans and am committed to giving my absolute best in this partnership with Maxim88 to represent all the great qualities that Maxim88 stands for – outstanding, innovative and entertaining!" said Michael Owen.
"Maxim88 is dedicated to being a reliable and user-friendly platform that is always working on providing members the best there is. As a matter of fact, we have secured the partnership with Evolution Gaming to elevate members' gaming experience, and we hope that this new collaboration with Michael Owen will bring on something fresh and exciting. Michael Owen, who has proven himself to be a stalwart figure in the football scene throughout his career is just who we need to help achieve greater heights. We are honored to work with Michael and we look forward to engage with more sports enthusiasts in the region through our platform," said Adam Hong, Maxim88's spokesperson.
This ambassadorship was brokered by Outlast Sports Entertainment for Maxim88.
"We are thrilled to have played an integral part in connecting one of Asia's biggest online betting platforms with a respected name in football like Michael Owen. We are certain that this partnership has the dynamics to bring about valuable results and greater opportunities for the region. The hope is to replicate the good results Maxim88 has after partnering up with the well-known gaming provider, Evolution Gaming," said Outlast Sports CEO, Salauddin Sinnakandu.
Powered by WPeMatico