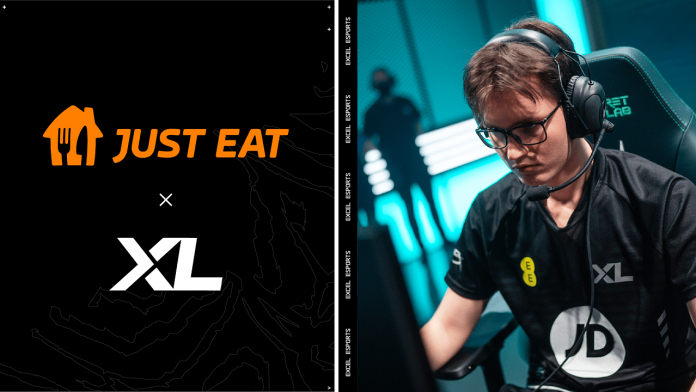 Reading Time:
2
minutes
British competitive gaming culture brand EXCEL ESPORTS is excited to announce Just Eat, the UK's largest food delivery platform, as its Official Food Delivery Partner. The partnership marks Just Eat's first major foray into the world of gaming and sees the union of two of the biggest brands from the gaming and the food delivery world. With a focus on authentic engagement, Just Eat and EXCEL will collaborate on content, experiences and events both virtually and physically.
Fans will have access to exclusive content which will include never-before-seen insights from EXCEL's roster of players. The partnership will also focus on creating experiences that support good causes and help bring the gaming community together. Throughout the year Just Eat and EXCEL will be creating innovative ways to connect with UK gamers at events across the country as well as be there to support them with a takeaway for game night. Just Eat is committed to providing gamers with content and experiences that they wouldn't otherwise be able to access.
The Just Eat logo will also appear on jerseys across all four of EXCEL's competitive titles including FIFA, Fortnite, League of Legends and VALORANT with the players championing the brand across some of the biggest tournaments in Europe.
Just Eat joins a string of high profile partners at EXCEL which include a recent landmark partnership with JD Sports and an ongoing collaboration with EE. EXCEL has also made several other exciting announcements this year which include the re-signing of ex-player Marc "Caedrel" Lamont as a Content Creator and the relaunch of XL.GG.
Just Eat UK Marketing Director, Matt Bushby commented: 'We are delighted to be working with XL to bring Just Eat into Gaming in a more meaningful and impactful way over the next 12 months. We look forward to working with them on a variety of Gaming first opportunities and providing millions of hungry gamers with experiences they can't get elsewhere'
EXCEL ESPORTS' Commercial Director, Mark Carter added: "We are thrilled to announce Just Eat as our Official Food Delivery Partner, in what is Just Eat's most significant gaming partnership to date. Sharing a vision to constantly create authentic engagement for our respective communities, we look forward to working closely together on exciting experiences and activations both virtually and at gaming events across the country!"
Powered by WPeMatico