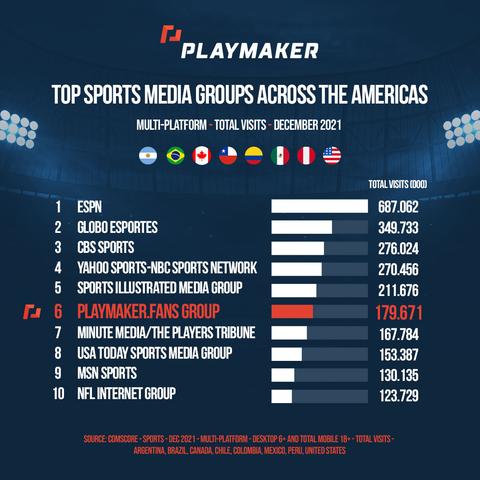 Playmaker, the digital sports media company that delivers authentic content experiences through its portfolio of sports media and technology brands, has been ranked by Comscore as the number one regional digital sports media group in Latin America and the sixth largest digital sports media group across the Americas with 179.6 million visits in the month of December 2021.
Multiplatform Total Visits in December 2021 (All Americas) (1)
ESPN – 687 million
Globo Esportes – 349 million
CBS Sports – 276 million
Yahoo Sports-NBC Sports Network – 270 million
Sports Illustrated Media Group – 211 million
Playmaker.Fans Group – 179 million
Minute Media / The Players' Tribune – 167 million
USA Today Sports Media Group – 153 million
MSN Sports – 130 million
NFL Internet Group – 123 million
Since last reporting it's Comscore rankings in July 2021, Playmaker has expanded its audience reach both through organic growth and M&A, including the acquisitions of Yardbarker (July – USA), The Nation Network (November – Canada and USA), VarskySports (November – Argentina), Grupo SuperPoker (November – Brazil), Futmarketing (January, 2022 – Brazil), and Cracks (January, 2022 – Mexico). Playmaker's acquisitions and integration efforts allow the company to deliver diversified and authentic content across multiple channels and geographies.
Playmaker now ranks as a top-25 digital sports media group in the U.S. after generating 18 million visits to its properties in the U.S. in December 2021. Additionally, Playmaker now ranks as the 15th most popular digital sports media group in Canada (2) with 4.2 million visits in Canada in December 2021, per Comscore's ratings.
Playmaker has also been once again ranked as the number one regional digital sports media group throughout Latin America for December 2021. Through it's market leading web properties such as Bolavip, Redgol, and Somos Fanaticos, as well as leading social media and video properties Cracks, VarskySports, and Fanaticos Por Futebol, Playmaker continues to deliver to its fans a complete multi-channel content experience across Brazil, Mexico, Colombia, Argentina, Peru, and Chile.
"We continue to focus on the Americas as our core market," commented Jordan Gnat, Playmaker CEO. "Strong organic growth year over year is the result of our teams executing each day and leveraging key centres of excellence that we have created. We have acquired great companies and we have helped turn them into market leaders."
Powered by WPeMatico