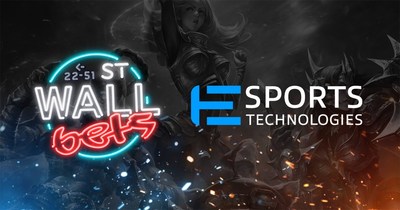 Esports Technologies, Inc., a leading global provider of advanced esports wagering products and technology, announced today that WallStreetBets founder Jaime Rogozinski is interviewing Esports Technologies CEO Aaron Speach on Wednesday, January 19, at 10 am ET. Tune into their live streaming conversation via WallStreetBets' Twitter and YouTube channels.
Speach will talk about Esports Technologies' recent $75.9 million acquisition of online sportsbook and casino brands Karamba, Hopa, Griffon Casino, BetTarget, Dansk777, GenerationVIP and Gogawi. These brands, which have over 1.25 million deposited customers in more than 15 countries, were acquired on November 29, 2021.
Speach will also discuss other pillars of Esports Technologies' growth strategy as the company seeks to offer more esports wagering opportunities and layer in its proprietary wagering odds modeling. The company is in a strong position to benefit from the skyrocketing popularity of esports, which now represents a $13 billion market opportunity.
WallStreetBets' movement for financial democracy started on Reddit and became a global phenomenon. The community gained attention in early 2021 when members highlighted heavily shorted stocks such as GameStop Corp., creating a trading frenzy and a voice for retail investors.
Aaron Speach, CEO, Esports Technologies, said, "This interview with Jaime Rogozinski is an early highlight for 2022. I look forward to connecting with the WallStreetBets founder and his colorful and dynamic community. I'm excited to tell their millions of followers about the great things happening with Esports Technologies."
Powered by WPeMatico