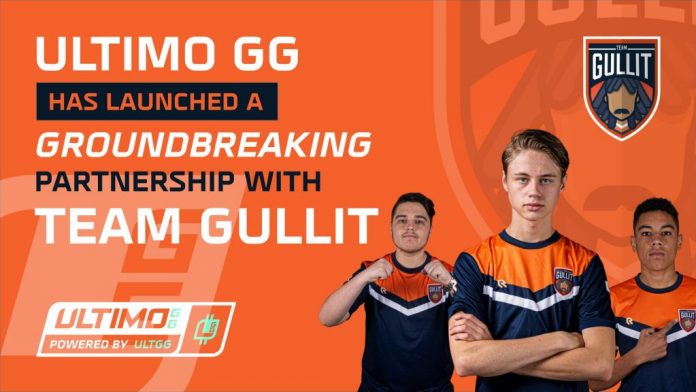 Reading Time:
2
minutes
Ultimo GG Becomes Official Partner with World-Class Netherlands-Based FIFA Academy 
Ultimo GG, which provides a platform that focuses on tournaments, streaming and video sharing, announced a new partnership with Team Gullit, the first professional and independent FIFA-academy in the world. Ultimo GG, the fully self-sustainable economy and ecosystem that rewards gamers and content creators for everything they do and with a fair chance to earn ULTGG, will team up with Team Gullit's talented esports players, who have proven themselves to be among the most promising talents in FIFA.  
As part of the partnership, Ultimo GG will serve as the exclusive cryptocurrency partner for Team Gullit, whose academy provides their talent with professional mentoring and training to help them take their game to the next level. Ultimo GG will activate this partnership through offering world-class pro team management, player scouting and academies to their football club partners. In addition, Ultimo GG will offer bootcamps and training to fans. They will also provide a full 360-degree offering from esports events to pro-team management, and the partnership will feature a variety of content across digital platforms.
"We are really excited to partner with Team Gullit," said Ultimo GG COO, Ben Husted. "Partnering with a world-class FIFA academy will help us give our various partners the best possible chance of success when it comes to player scouting, pro-team management and organisation of esports events. We look forward to collaborating on future projects with Team Gullit, and we are grateful to them for believing in our vision, spirit and endeavour."
Besides the FIFA-related coaching, Team Gullit helps its players with combining education and gaming and teaches them how to build a personal brand on social media. Through this new partnership, the Team Gullit talent will have the opportunity to prove their skills in tournaments that feature the most prominent gaming titles in the world, with prizes ranging from high-end hardware to monetary rewards.
"Team Gullit has the ambition to become the world's most renowned FIFA team. By partnering with Ultimo GG, we can further build on that vision," said Corné Dubelaar, Founder of Team Gullit. "Ultimo GG focuses on developing esports for their partnered professional football clubs, and we can support them by offering world-class scouting, training, and coaching. Over the past couple of years, we have won several major titles in FIFA, and we will be helping Ultimo and the partnered football clubs to find their way to success as well."
Beginning life as an esports events company, Ultimo GG has recently been placing greater focus on digital to unite diverse communities around the globe. In August 2021, Ultimo GG signed an esports partnership with EFL Championship football club Birmingham City F.C. to assemble a new esports team for the club, host tournaments, events, and boot camps. In July 2021, Ultimo GG made history by sending the first ever NFT into space along with their ULTGG tokens. Ultimo GG also has secured partnerships with Win GG, Elite Sports Marketing and CryptoLoja.
Powered by WPeMatico