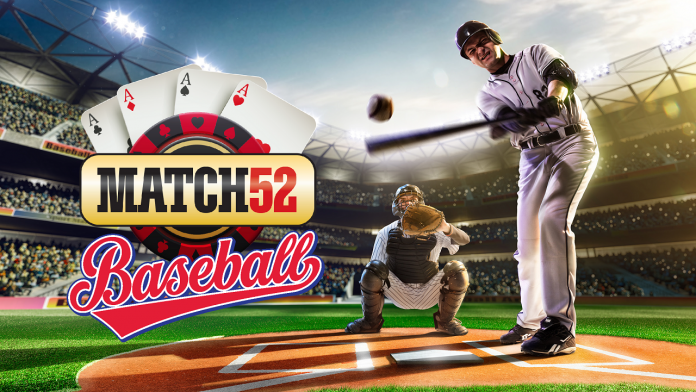 MATCH52 is a brand-new casino game franchise featuring an entirely new category of games – SPORTS CASINO GAMES! MATCH52's exclusive SPORTS CASINO GAMES are the intersection of iGaming and sports gambling! MATCH52's exclusive SPORTS CASINO GAMES include MATCH52 Baseball, Basketball, Boxing, Football, Hockey, Golf, Tennis, Soccer, Auto Racing and Horse Racing. MATCH52's game play is exciting and easy to learn. There are 6 ways to win and scores of potential wagers. Payouts go as high as 725 to 1.
Visit www.MATCH52.com to play our 10 Sports Casino Games and for more information!
MATCH52 offers different game themes on the same machine.  This allows the player to stay in one place longer. Instead of forcing the player to "walk around the casino" (physically or virtually) to play a different game, we offer a unique, customized, changeable experience in one "location". We call it "Player's Choice".
The underlying game is the same, so points carry over (there's no need to "Cash Out"). This amplifies MATCH52's player reach exponentially. Players can play the game they choose (e.g., MATCH52 BASEBALL) with other players who are playing different versions of the game (e.g., MATCH52 HOCKEY).
The base game is the same, so the competition is uninterrupted by these changes. We believe this is literally a GAME-CHANGER in interactive gambling.
𝐌𝐚𝐭𝐜𝐡𝟓𝟐: 𝐖𝐡𝐞𝐫𝐞 𝐒𝐩𝐨𝐫𝐭𝐬 𝐁𝐞𝐭𝐬 & 𝐂𝐚𝐬𝐢𝐧𝐨 𝐆𝐚𝐦𝐞𝐬 𝐓𝐄𝐀𝐌 𝐔𝐏
We have several other Match52 games in production including MATCH52 PLUS (Multiplayer) MATCH52 PLUS POKER, MATCH52 PLUS ACEY-DEUCEY, MATCH52 PLUS ROULETTE and many others. In these instances, the player is betting on two games at once (MATCH52 and a Poker hand, for example).
The MATCH52 Franchise is a Revolution in iGaming.
Several sports stars have endorsed MATCH52! Juwan Johnson (NFL), Jeremy Roenick (NHL) and Johnny Damon (MLB) are a just a few. Here is a link to the videos: https://youtube.com/playlist?list=PL7QQT2_vnaBgzEMs9WAxSHJ0LSh6bPeVm
New Orleans Saint Juwan Johnson and his wife Chanen had a great time playing in our Las Vegas Tournament of Champions – here is a link to the video: https://youtu.be/H3JO6f5avBI
A PERSONAL NOTE:
We invented MATCH52 as a tribute to our only sister, Michelle, who passed away 10 years ago this year, at 52, and our dad, Anthony ("Tony Mastro") who passed just a few years ago. Our family owns Mastro Vending, a video game, jukebox and pool table provider to many NYC locations. We have been in gaming all our lives and have many dear friends in the vending and gaming industries. My brother had an idea for a game to try to flip a deck of cards A-K four times without a "MATCH". Patrons and bartenders in NYC locations became obsessed! He insisted that "MATCH52 FLIP" could be the basis of a great casino game. I started working on iterations of a game board. We had terrific input from our family, especially Nick's sons Nicholas and Matthew, Pete's children Michael and Samantha, and Michelle's daughter Jennifer.
MATCH52 is THE KING of GAMES
Powered by WPeMatico