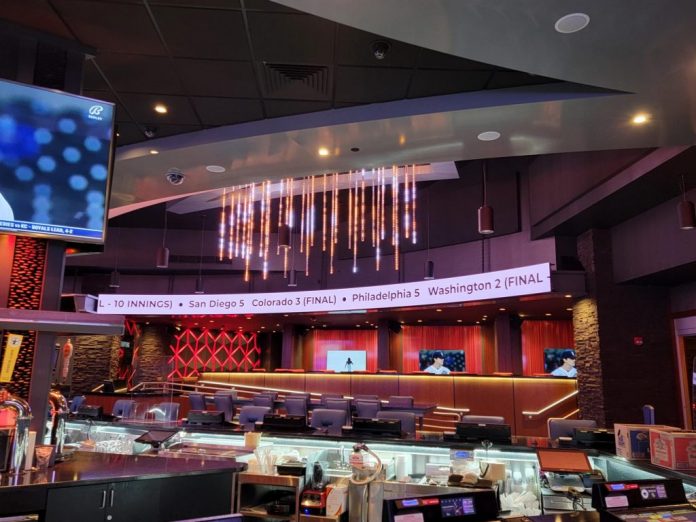 JCM Global® (JCM) and Soaring Eagle partnered to create an enthralling atmosphere for Soaring Eagle customers at the Ascend Sportsbook with a high-resolution LED sports ticker and LED commercial display installation that streams live sporting events and content for special events.
JCM installed a 40' x 1.75' MAX-R 2.6mm sports ticker curved solution with 36'9" radius, more than 20 TV monitors, and relocated an existing 16.5' x 6.5' MAX-S 2.6mm solution.
"Soaring Eagle wanted to further enhance their guests' experience by creating an expanded sports book atmosphere. The idea was to create a space where patrons could stay and watch multiple sporting events and enjoy the thrill and excitement only live sporting events can bring," said JCM SVP Sales, Marketing, & Operations Dave Kubajak. "We are pleased with the results and very happy to be continuing our partnership with Soaring Eagle."
This is the second installation of LED digital signage and LED commercial displays at Soaring Eagle. Previously, JCM installed a brilliant 16.5' x 8.2' ultra-high resolution digital sign on the casino floor to recognize players and reward them for their loyalty.
JCM's relationship with Soaring Eagle spans 22 years, and the property utilizes JCM's iVIZION® bill validators, GEN5®Thermal Printers, and ICB® Intelligent Cash Box System across the casino floor.
Powered by WPeMatico