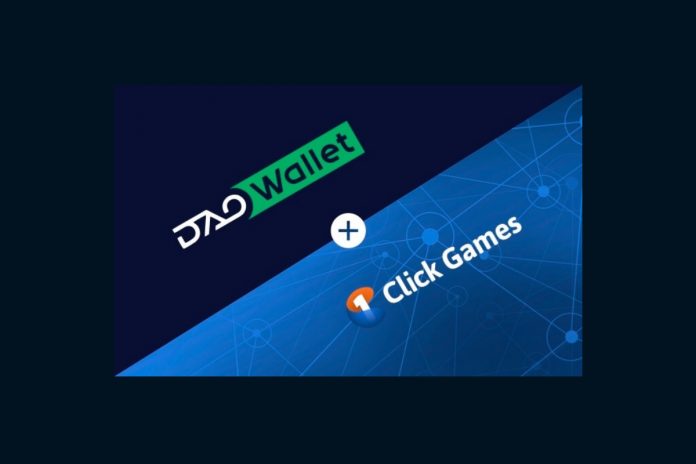 Reading Time:
2
minutes
Partnership sees 1Click Games debut the DAOWallet crypto payments solution
 DAOWallet, the B2B cryptocurrency-fiat gateway provider and partner in DAOGroup, has agreed to a full integration with igaming platform 1Click Games.
End-users of the platform will now be able to seamlessly deposit and withdraw cryptocurrencies at 1Click Games' partner brands without complex exchange requirements, with operators also protected against chargeback fraud.
DAOWallet supports player transactions in Bitcoin (BTC), Ethereum (ETH), a variety of stable coins, as well as DAOGroup's proprietary token BET. Player deposits can also be made via credit card, giving players full flexibility in their choice of payment, while operators are also supported with a range of fiat currency settlement options.
Secure crypto payments processing, fully protected against chargeback fraud and without any extra charges or complex processes, is key to attracting new casino players who want to take advantage of the benefits cryptocurrency delivers.
This new partnership with 1Click Games will allow its operators to easily support cryptocurrency deposits and withdrawals for their players across all markets and requirements.
Players and operators will both benefit from instant transactions at the best exchange rates, with operators also able to choose from a variety of invoice options and the ability to convert into fiat currency at any time.
DAOWallet will cover all KYC and AML procedures as part of its mandate; and will also allow 1Click Games to track the provenance of all cryptocurrencies coming into its wallet, allowing for casino management to identify incoming VIP players, as well as red flag any potentially problematic historical use of the coins.
Commenting on the integration, DAOGroup's CCO Glen Bullen, said: "Easy, secure crypto payments are demanded by a vast, unserved audience around the world, and integrations like this, with the innovative 1Click Games, can now give this market access to the best casino experiences around.
"1Click Games share our view that cryptocurrency payments are inevitably entering the mainstream, and we're very pleased to kick our partnership off and help deliver new revenue streams through this offering of our solution for their players."
Maxim Terehovich, CEO at 1Click Games, added: "This cooperation with payment solutions provider DAOWallet is very valuable for 1Click Games because we always focus on our clients and operators.
"Market trends research gave us a full insight into the rapid development of the cryptocurrency market and 1Click Games is glad to give our operators the possibility to reach a vast audience of cryptocurrency users who would have previously struggled to find a service in the traditional gaming and betting space.
"We now have a wide range of payment options for our operators and we now feel more flexible to adapt to market tendencies and our client's needs. This partnership helps us to be more competitive and now we can provide the best experience for those who are interested in Bitcoin casino operation."
DAOWallet is available immediately to all iGaming operators looking for a payment solution for the growing cryptocurrency market. For more information, visit https://daowallet.com/
Powered by WPeMatico