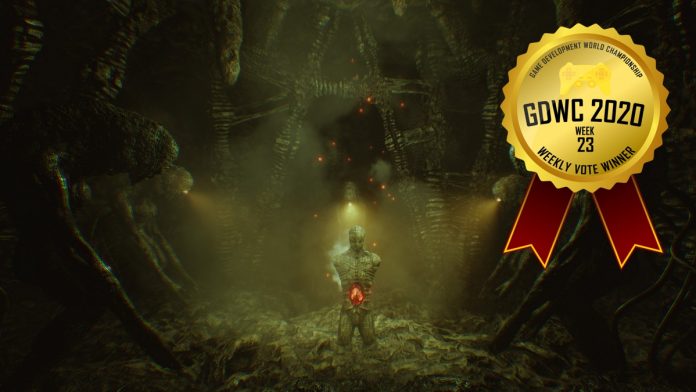 Reading Time:
2
minutes
Dark Fracture by Twisted II Studio, a newly established game studio from Israel has won the weekly voting on Game Development World Championship Fan Favourite category for the Horror Games Week. Dark Fracture will be available on Steam early next year.
"Dark Fracture is an indie psychological horror game played in first-person, targeted for early access release in 2021. Between reality and a nightmare. Sanity and madness. In Dark Fracture the player explores a world that's ever-changing. Face your character's inner turmoil and chaos. Walk the edge of madness in their shoes in this thrilling first-person psychological horror experience." Twisted II Studio describes Dark Fracture.
Twisted II Studio moves on to the next round of voting in the Fan Favourite category of the GDWC – Game Development World Championship and will meet other Weekly Vote winners in a battle for the crown at the end of the GDWC 2020 season.
2nd place was taken by Private Kitchen by Andrea Pignataro Productions from Italy: "Private Kitchen is a single player, first-person, and retro-inspired psychological horror adventure, featuring multiple chapters, alternative endings, original music, surreal setting, disturbing imagery, and environmental storytelling. "
3rd place went to Ikai by Endflame from Spain: "Fear and anxiety prevail after the darkest tales from Japanese folklore come to life in this first-person psychological horror game. Live the horror from the feudal era's beliefs as the priestess of a temple."
The GDWC team sends congratulations to the winning team and big thanks to all Nominees and voters. The weekly votes take place each week, from Monday to Saturday and there are always six new exciting games to check out and vote for. This week's vote is already live on the event website at thegdwc.com.
This week's voting theme is Strategy games and the nominees are:
– Final Upgrade by Final Upgrade, Russia
– Hundred Days – Winemaking Simulator by Broken Arms Games, Italy
– Moonfall by Zak Amana, France
– Rising Lords by Argonwood, Germany
– Rough Justice: '84 by Gamma Minus UG, Germany
– The Unexpected Quest by rionix, Russia
Powered by WPeMatico