Merkur Presents its Stunning New Look at G2E
At the G2E in Las Vegas, Merkur will be found in its traditional location, Booth 3353 of the Sands Expo Center, but with a stunning whole new appearance. The booth's ground floor level will be populated by product and hospitality displays from Merkur Gaming, GeWeTe, edict egaming and Bede Gaming while the upper level will be the location of the famous Merkur Bar, an area that – like the booth itself – will have an entirely different up-market look.
The Gauselmann subsidiary GeWeTe was founded in 1993, has its head office in Mechernich, Germany and its own subsidiaries in Spain, Italy, Bulgaria, Peru and the UK/Ireland. With more than 60,000 systems installed worldwide and an industry-wide unique product portfolio, GeWeTe is one of the world leaders in the cash handling area of the gaming industry and enjoys a very high reputation for its product innovations as well as its excellent sales and service capabilities.
Based in Hamburg, Germany, and founded in 1998 edict egaming GmbH operates in gaming's B2B segment and specializes in the sale of games for the online casino market. The company licenses games for numerous regulated gaming jurisdictions and unlocks them for various online platforms. Working independently, but side-by-side with edict, Bede Gaming was formed in 2011 as a leading supplier in the development and provision of online gaming platforms for casino, lottery, sports betting and bingo operators. Located in Newcastle Upon Tyne, UK and with additional offices in Sofia, Bulgaria and Toronto, Canada the company has been majority owned by the Gauselmann Group since 2020.
Merkur once again presents its latest portfolio highlights at G2E. As an industry leader in the development and supply of Linked Progressive Jackpots Merkur harnesses the customer appeal and success of its top-quality gaming cabinets to house an increasing range of jackpot titles. In Las Vegas the Avantgarde Max Trio cabinet will separately carry both Solar Link and Red Pocket Jackpot Systems while the Allegro Trio will feature the original Link Zone plus its latest evolution, Link Zone II, that features a scintillating range of brand new base games: Empress Zone, Captain Zone, Viking Zone and Hero Zone in either 25 or 50 lines configuration.
Being shown for the first time at G2E is Merkur's unique Zonic cabinet. Unique because it features interchangeable cabinet frames that allow operators to change the Zonic's appearance on demand. So Zonic can look great today and, by choice, even greater tomorrow. A classy innovation from Merkur and an attraction on any gaming floor.
Athanasios 'Sakis' Isaakidis, Merkur Gaming's Chief Executive, International stated: "We are all really looking forward to presenting our brand new booth design: that will be something really special. And we are also all very much looking forward to welcoming what is expected to be a large number of visitors from across Latin America. G2E is always a popular destination for Latin American visitors and of course, as Merkur is such a hugely popular and successful gaming brand across the region, we always feel that the show has a strong Latin American centric element for us. We once again anticipate a really great three show days and we invite everyone to visit our new booth, enjoy our hospitality and view our product innovations. We will all be ready to greet everyone and show our exceptional product range."
Merkur Celebrates Great G2E Success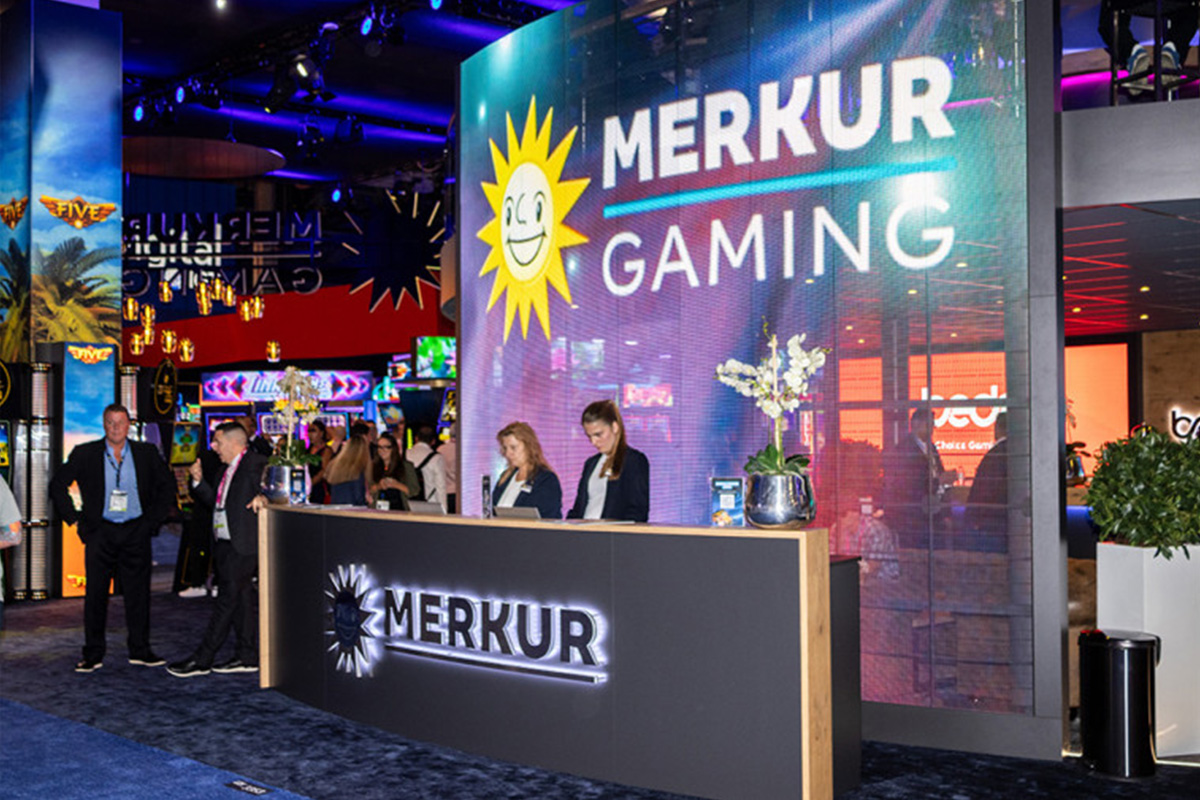 Merkur enjoyed another hugely successful edition of G2E from October 10 to 12 in Las Vegas with an overwhelmingly popular reaction to the brand new designed Merkur booth and its Top Level Merkur Bar.
Broadly similar in concept but far different in its finished form from its predecessor of recent years, the design and construction of the new booth proved to be an attraction in its own right. With a more open walk through design and its stunning appearance the booth presented an amazing background for its product contents and a great platform not only for Merkur but also for the supporting Group companies GeWeTe, edict egaming, and Bede Gaming.
Ahead of G2E it had been predicted by Merkur that this event would be of major importance in regard to its ongoing business development throughout Latin American markets. This absolutely proved to be the case as the executive teams from Merkur's LatAm subsidiary companies in Argentina, Colombia, Mexico, and Peru all combined to make this G2E a heavily LatAm-centric event as visitors from the region thronged the Merkur booth for all three show days.
There indeed was much for visitors to see. Merkur has rapidly become a major source of supply in the Linked Progressive Jackpot games category and G2E saw two more additions to this sector's portfolio. On display at G2E were two new products, both with Chinese themes, 88 Gems and Reign of Riches. Both products featured multiple new base games, stunning graphics, and outstanding sounds. With its 5 level jackpots and quadruple main characters 88 Gems also featured permanent Gems and also added Gems in its game play while Reign of Riches presented common symbols and incrementing multipliers as exciting new player attractions.
All four Merkur LatAm subsidiary companies reported large numbers of customers and visitors from their respective countries and beyond: Merkur Argentina, for example, saw customer visits from both its neighboring countries, Paraguay, and Uruguay.
"These have been a remarkable three show days. With a reported 25,000 visitors and a great atmosphere. Merkur fully played its part with a very strong team performance in our great new booth setting. If good things really do come along in multiples of three, then this year's G2E definitely provided the proof. I want to thank our entire team for all their hard work and dedication in making this an outstanding success and for raising the international brand value of Merkur once again," Merkur's Chief Executive, International, Athanasios "Sakis" Isaakidis, said.
Merkur Reported a Successful G2E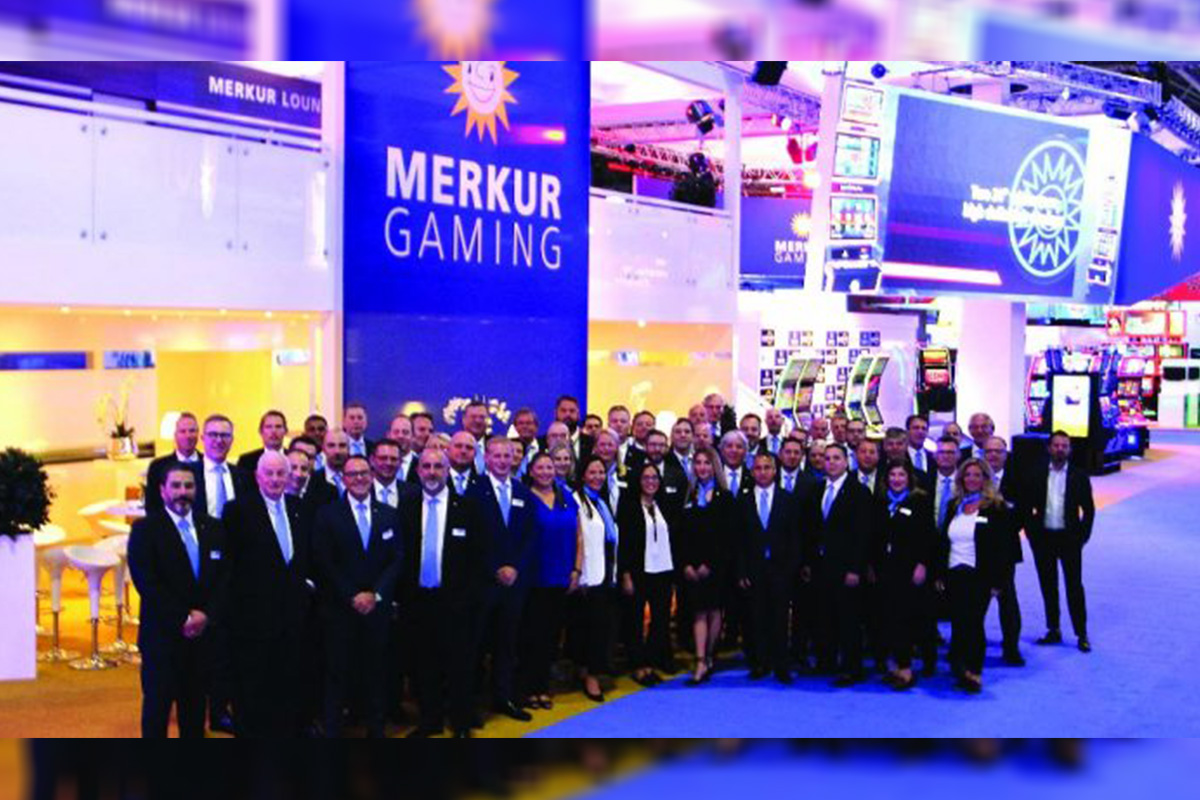 MERKUR has showcased its products at G2E with great success.
The MERKUR booth in Las Vegas highlighted an expanded range of Linked Progressive Jackpots: the already extremely successful Link Zone, Solar Link, and the recently released Red Pocket Jackpot now being joined by two brand new products: China Charms and the exciting Fortunes of Fulu Chen.
The return of G2E to its accustomed form was a huge attraction for many visitors from across the Latin American region. With an executive team from MERKUR's subsidiary companies in Argentina, Colombia, Mexico, and Peru on hand, everything was ready.
Those national teams, and the whole MERKUR team, were kept totally busy from the show's opening right through the three days until its close, in welcoming guests and dealing with enquiries.
Supporting MERKUR at G2E were its sister companies GeWeTe, the Group company responsible for cash handling solutions, MERKUR eSolutions, providing state-of-the-art omnichannel solutions that bridge the gap between the physical and the iGaming world, and edict eGaming GmbH who demonstrated their edict aggregator solution that provides the famous MERKUR slot titles into the online world.
All those companies individually recorded great results at G2E, creating new business opportunities as they made many new and exciting contacts.
MERKUR's chief executive, international, Athanasios "Sakis" Isaakidis said: "This has been a really great show for MERKUR. As you can see, we have been extremely busy, over all three days and from opening to closing. I can sum up our reaction with three comments.
"First, it was absolutely great just to be back in Las Vegas (the spiritual home of modern-day casino gaming) and to see an event that was just as good as any of G2E's previous editions.
"Second, it was such a pleasure to re-engage with customers, business partners and friends that we haven't been able to see face-to-face for so long.
"Finally, and most importantly, it was great to see the proof that, despite the many warnings that the pandemic would damage traditional land-based casino gaming irreparably, gaming is back, is in good health and is just as active and as vibrant as it was before Covid hit.
"I want to thank the G2E organisers for putting on such an exceptional 'back to business' show as well as thanking our own team here in Las Vegas for working incredibly hard and bringing in such great results."
He continued: "We move on now to BEGE in Sofia, Bulgaria to close out our 2022 show year and then we eagerly anticipate the return to a traditional ICE in London: the show that we are happy to regard as the home event for MERKUR."
Powered by WPeMatico
Merkur Gaming Reports Success at Peru Gaming Show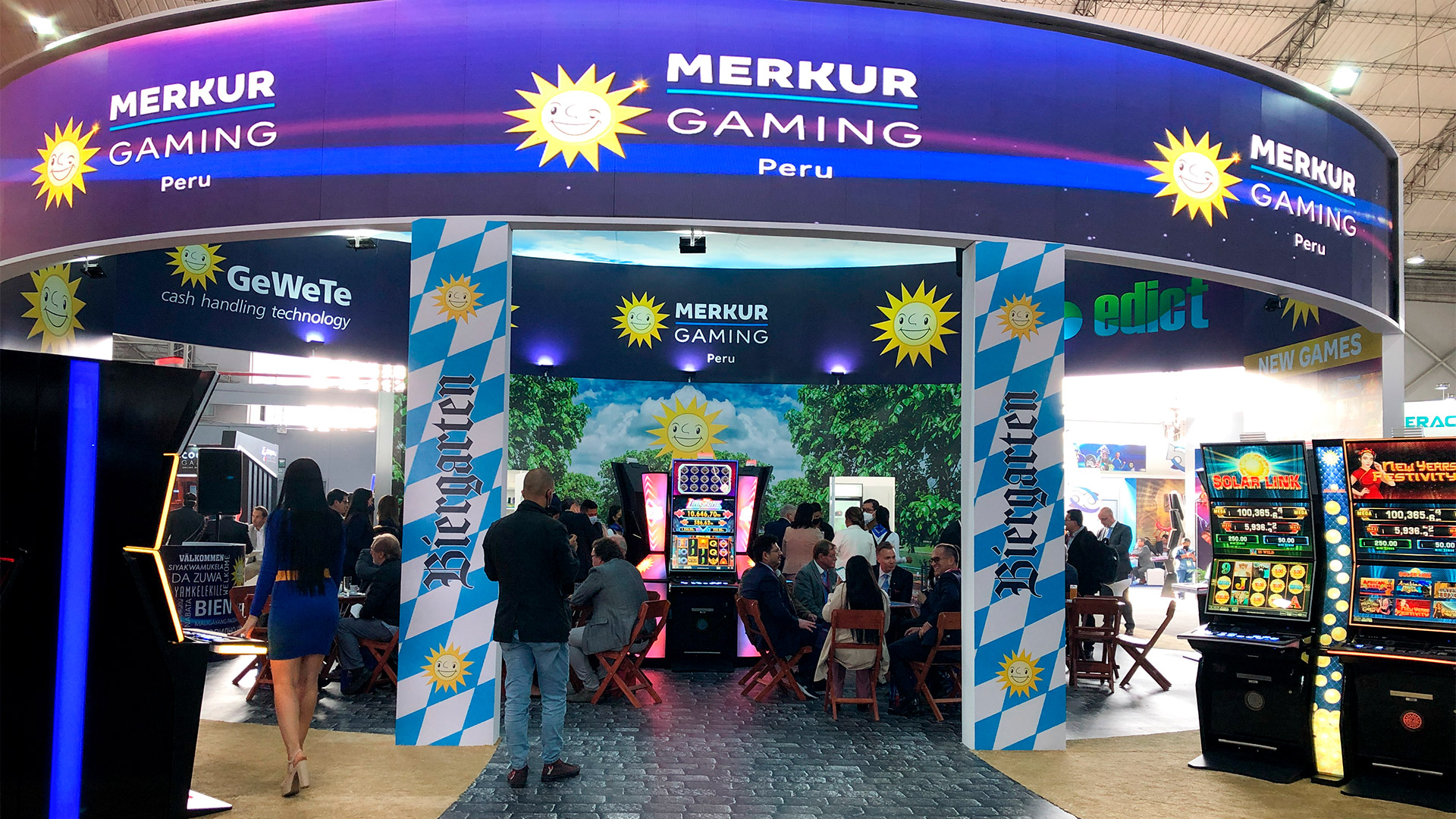 Returning to its traditional dates, June 15-16, and for its 19th edition expectations were at an all-time high for the Peru Gaming Show. Those expectations, by overwhelming strength of opinion from both exhibitors, regulators and visitors, were seen to be not just met, but by some margin, exceeded.
As the largest exhibiting company at PGS, MERKUR GAMING Peru (with strong international support) put on a magnificent display, highlighting its Link Zone and new Solar Link progressive jackpot solutions together with the eloquently named MERKUR Mystery feature link and a strong selection of top-class multigame machines that featured the latest and best game titles. Also presented on the MERKUR booth was the traditionally themed MERKUR Biergarten. This catering and hospitality area has been a MERKUR fixture over several past years and represents a chance for visitors and guests to take a "time out" from the crowded aisles, take a seat, relax for a while and enjoy the food and drink hospitality provided.
MERKUR's sister brands edict eGaming, presenting online gaming solutions plus cash handling technology experts GeWeTe were also present on the MERKUR booth and both also reported excellent levels of interest not just from Peru but also from right across the LatAm region.
Tomas Mieles, MERKUR's Sales Director for Latin America, said: "I am delighted with how well the show has gone for MERKUR. We are a major brand in Peru but PGS also brought in important contacts from right across the region. The work that every member of our Peru team has put in has been exceptional and the smooth running of every aspect of the show has been the very positive result."
Athanasios 'Sakis' Isaakidis, Chief Executive, International, said: "This has been an outstanding show for MERKUR. I was delighted that we were showing our latest Linked progressive Jackpot solutions, Link Zone and the brand new Solar Link at the show and that we were also able to visit some important casinos in Lima, see Link Zone in action and, most importantly, see players really enjoying the base games and the thrill of hitting jackpots."
He concluded: "I want to thank everyone in making PGS such a huge success. Our resident team in Lima, who worked with an almost military precision and our international colleagues who gave 100% support throughout. The PGS organisers deserve praise for the show that they presented. It makes me fully support the feeling that this will come to be known as the most important gaming B2B event in Latin America."
Powered by WPeMatico