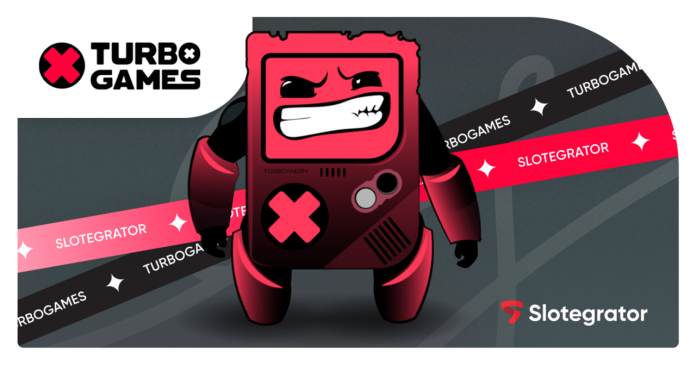 Reading Time:
4
minutes
A partnership between game developer Turbo Games and iGaming solution provider and aggregator Slotegrator began in November 2022 via the APIgrator game integration solution. Since then, the collaboration has been developing successfully — and now it's time to analyze what made it successful.
Turbo Games has noticed how the new technologies spreading throughout the industry can work for the good of brand transparency and player loyalty: "We can already see how blockchain technology has made it possible to make betting checks more accessible to players. All you need is a blockchain-hash and a decoder service. We think we will continue to move in this direction. Many traditional online casinos do not offer the possibility to check the bet. Sooner or later we all have to come to this. Perhaps the development of artificial intelligence will help here, because we are already seeing its involvement in all spheres of human life."
Turbo Games specializes in provably fair games. Provable fairness is a concept where players can verify their wins or losses using blockchain technology — the outcome of the game is dictated by a smart contract and is absolutely random, barring the possibility of any human involvement. Using cryptographic hashing algorithms, the gambling site and the player's device both generate seeds (random strings of numbers). Players receive a key that allows them to check the results; if the results are the same as the game round they witnessed, it proves that there was no foul play.
According to statistics from Turbo Games, the audience for provably fair games is mostly between 18 and 25 years old. However, there are also players aged 35-40 who prefer traditional games but would like to try something new, and have turned their attention to provably fair games.
There are good odds that the technology of provably fair games will become more popular, if not even commonplace, because it gives players a feeling of transparency and proves that the business is trustworthy without the need to search through dozens of reviews. Whereas many innovations in iGaming simply add entertainment, provable fairness addresses security concerns and reassures players that they're not being exploited, which is invaluable.
Provably fair games are beneficial for both players and online casinos. Vadim Potapenko, Head of Sales at Turbo Games, comments: "It often happens that the users are not satisfied with the result, because gambling is not only about big wins, but also possible losses. By allowing them to check the fairness of a bet, we make life easier for platforms and players. Of course, this allows us to communicate with partners and users that we work honestly and that's why they should trust our games."
Ayvar Gabidullin, Business Development Manager at Slotegrator, adds that "this type of game is now becoming more and more popular and has great potential for both players and game providers in the future. On the part of the player, the advantage is that the player can always be sure that his game is fair and he can independently check any of his bets. And for the game provider, this also simplifies the process of implementing casino games, since now it will not be necessary to obtain the appropriate certificates from independent laboratories before launching new games, they can immediately enter the market with these games and where anyone can check the result and make sure that that there is no cheating with players. Many game providers are starting to look towards this type of game. And as far as I see, many operators are starting to think about adding these games."
What do players in 2023 need? The iGaming industry is all about reputation and trust. Players have a huge number of platforms to choose from, making them pickier and pickier. There's an abundance of forums where players leave reviews, so if players view a brand as untrustworthy, there are plenty of places they can share their opinion. Provable fairness not only stops that from happening, it provides evidence to the contrary, giving players something else to talk about.
Slotegrator also recommends investing time and effort into localization and creating an effective and detailed marketing strategy — before trying provably fair technology players need to get to the platform, and there is no acquisition without marketing.
 ABOUT SLOTEGRATOR
Since 2012, Slotegrator has been one of the iGaming industry's leading software and business solution providers for online casino and sportsbook operators.
The company's main focus is software development and support for online casino platforms, as well as the integration of game content and payment systems.
The company works with licensed game developers and offers a vast portfolio of casino content: slots, live casino games, poker, virtual sports, table games, lotteries, casual games, and data feeds for betting.
Slotegrator also provides consulting services in gambling license acquisition and business incorporation.
More information: https://slotegrator.pro/
ABOUT TURBO GAMES
Turbo Games — a provably fair games provider that belongs to Turbo Stars company — has an ambitious goal to establish widespread recognition throughout the iGaming world. Even though it is young, the company consists of professionals who have been working on the brand for over five years and are even planning to introduce a new brand for a wider audience soon.
Turbo Games also works in Europe, India, and South Africa, where the company sees the most potential and expects the same "hype" as in Brazil.
The portfolio of Turbo Games consists of 21 titles, including well-known games like Mines, Crash X, DoubleRoll, Hi-Lo, and Plinko. The studio releases a game every month. However, not all games are developed from scratch. Wicket Blast and Spin Strike, the last two releases, are based on cricket and the Indian Premier League. Crash X remains the most popular fast game in the Turbo Games portfolio, and the studio reports that crash games enjoy stable levels of popularity. Overall, the main focus of the brand is provably fair games.
More information: https://turbogames.io/