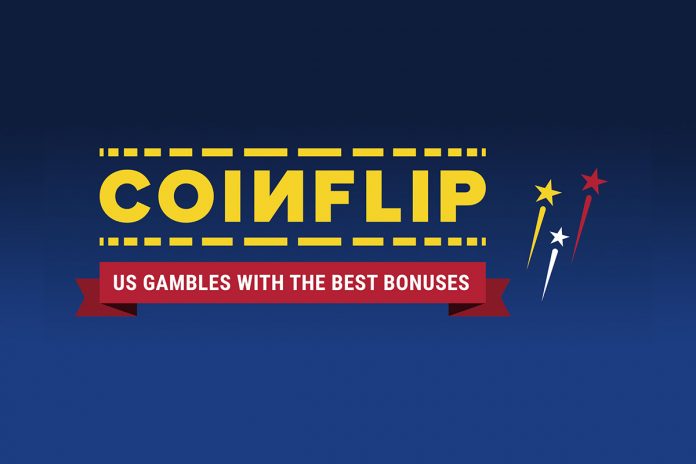 Licenced affiliate marketing website Coinflip.com has made a transformation from a poker news site to a handy gadget, and finally to a serious casino affiliate in the United States. As the online gambling market keeps growing, affiliates have to be able to renew themselves if they want to stay in the game.
Coinflip.com website has its roots in poker and gambling in the United States. It has also been offering gamblers a chance to flip heads or tales for ages. The site originally launched in 2013 and today the coin has been tossed over 3 million times. But not every gambler knows that Coinflip.com has a lot more to offer than just a coin flipping simulator.
For the last year or so, Coinflip.com has been part of the race to the top casino bonus and review sites in the U.S. Coinflip's mission is to make it easy for everyone to find the best – and legal – online casino and sportsbook bonuses in their home state. Coinflip also educates players about the gambling bonus options and how to best take advantage of them.
Since 2018, Coinflip.com has been run by a digital marketing company Good Luck Media that specializes in iGaming and SEO. In the first year, the coin flipping feature was honed to perfection and when the brand started to get more visibility, it was again time for a facelift.
In 2020 Coinflip's journey as an online casino and sportsbook bonus ambassador kicked off, and it started to promote online casinos and sport betting operators in the state of New Jersey. In early 2021 MGCB granted Good Luck Media a license to market online gambling operators in Michigan. And since that, Coinflip has steadily been adding new states on their selection; including Illinois, Iowa and Washington DC. 
As the Coinflip.com website has been growing, so has the list of gambling partners. Every casino and sportsbook has gotten an extensive review that includes not only general information about the site, but valuable details about their bonuses and promotions. 
Good Luck Media's CMO Toni Westerholm sums it up: "We have been excited to see how Coinflip.com has grown over the past couple of years. New state licenses are on the way and we are constantly seeking new partnerships to make Coinflip.com a staple in the industry."
Powered by WPeMatico