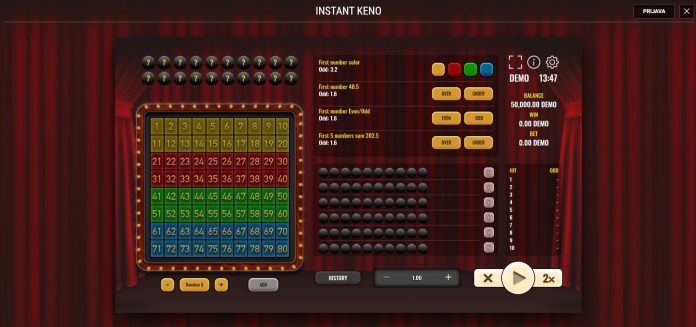 Reading Time:
2
minutes
Have you ever played keno? The fun lotto-like game is a real blast, especially when you add multipliers in the mix. That's what Expanse Studios was hoping for with Instant Keno, an instant fan-favorite that can pay wild sums of cash.
You can play the studio's newest hit game exclusively at Meridianbet casinos. This version comes with plenty of surprises in a familiar package keno players will love. With an RTP range between 96-96.71% and side bets, Instant Keno is the lottery game you've always wanted but could never find.
A Wild Lotto Ride
Expanse Studio's Instant Keno begins on a board with 80 numbers. They are divided into yellow, red, green, and blue colors (20 each). To start the game, you should place a bet. There's a whole range of options available, from 1 unit at the minimum, to a whopping 7,500 coins. Place whichever wager suits you best and hit the Play button.
You can either select single or multiple numbers (maximum of 10) or pick randomly from 2 to 9 numbers. You should then click on the Add button to put the numbers on the right side – just like on a lottery ticket. The next thing you should do is place the bet and run the numbers and wait for an eventual payout.
What makes Instant Keno different from the rest are the side bets and multipliers. From side bets, you can bet on the first number color, the sum of the first numbers, even/odd first number or a specific line for the first number. The odds for each side bet are displayed right next to it and will boost your winnings by that number.
The game will also assign a random multiplier (0.5, 1, or 2) to your wins before the numbers are drawn. Payouts are based on how many numbers are drawn and how many you hit. It is equal to your original wager multiplied by the coefficient and the single multiplier. The more numbers you pick, the higher the payout.
Add the side bets to the mix, and it becomes clear why Expanse's Instant Keno is the ultimate keno game online.
Available Exclusively at Meridianbet
All Expanse Studios games are available exclusively at Meridianbet casino and Instant Keno is no exception. You don't get to play it anywhere else. Meridianbet offers the game for free or real money and you'd be doing yourself a disservice by missing the fun it offers.
Besides Instant Keno, make sure to check out Meridianbet's full library. It features plenty of the studio's top releases and even more games for free or real money. The casino offers all the games you can hope for along with live dealer titles and a premium experience in a fully safe and secure environment.
You can also add fun promotions to the mix, so it becomes clear why Meridianbet is the favorite gaming site of thousands. Instant Keno is the latest addition in a fully-loaded library, so make sure not to miss it in this brilliant casino.
Powered by WPeMatico