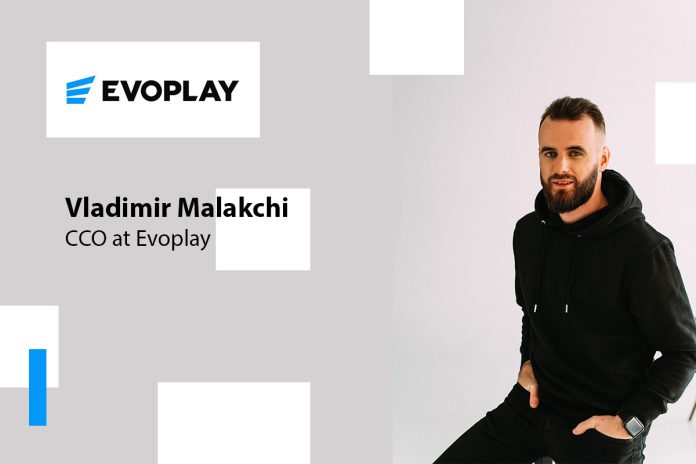 Reading Time:
3
minutes
Capping off an outstanding year for Evoplay with multiple industry awards and deals with major providers, including Relax Gaming, Bragg Gaming Group and Fortuna, we sat down with Evoplay's CCO, Vladimir Malakchi to talk through his plans for their Irish debut.
The burgeoning Irish market is one of the fastest-growing markets in the iGaming landscape, but what promise does it hold for Evoplay?
I would say that the Irish market's steady expansion stems from a crucial factor – a strong demand for iGaming. The latest research illustrates that Irish gamblers constitute one of the largest iGaming audiences across Europe. To be specific, around ​​59% of Ireland's population regularly gambles online, rendering it a particularly attractive jurisdiction for providers that are looking to expand into up-and-coming markets.
Our recently established partnership with Novibet has allowed us to unlock the Irish market and reach iGaming enthusiasts across the country with our highly sought-after titles, including 52 gamification-packed video slots and 10 instant games, featuring bestsellers such as our World Cup-inspired Penalty Shoot-out.
How are you looking to cater to Irish players' preferences, and how does that impact your game development strategy? 
Online casino is in good company amongst some of the most popular types of entertainment in Ireland, and our rich portfolio is more than suitable to provide its players with the experiences they desire. The people in Ireland are sociable, outgoing, entertaining, and enjoy participating in healthy competition thanks to the nation's rich heritage in sports.
Evoplay's games are well-known for their innovative and gamified elements, which are core tenets of the development process surrounding each product. For this reason, we can rest assured that the variety of content we provide caters to all demographics of Irish players, with titles stacked full of social features such as leaderboards, live chats, progress systems, and tournaments.
The inclusion of these features ensures maximum excitement for players, thanks to their support of social interaction and healthy competition between players, with the experiences further enhanced by strong betting features, customisation, and well-designed peripherals.
Is there a particular demographic of Irish player that your products have seen success with?
As our development strategy is to create products that capture the imaginations of a broad audience, our games are popular with a real variety of demographics, from conservative players all the way to the next generation. Those coming from a background of traditional casino games will find a lot of joy in our impressive selection of our retro slots, such as the Fruit Super Nova series, while next-gen players seeking something fresh and unique can dive into our collection of modern experiences, featuring innovative yet easy-to-understand titles stacked full of social elements.
With almost half of the Irish population being interested in football, supporting football clubs and consuming a spread of sports content, our renowned football-themed instant game – Penalty Shoot-out – has every chance to become the next big hit in the market during the World Cup and beyond.
How have your Irish-themed slots been received by players in the region?
We already have Irish-themed titles in our portfolio, and that's not only in regard to slots but instant games too, which have become the perfect accompaniment to Saint Patrick's Day and a portion of our more traditional content.
Ireland as a country has a very rich culture and supplies us with so many exciting opportunities to develop themes and plots to create leading experiences. I am sure that the distinctive charm and the local peculiarities of Irish culture will inspire us to develop more titles that feature elements of Irish heritage in the months ahead.
Having recently taken your sought-after games portfolio live with Novibet, do you have any other operator deals on the horizon?
Ireland is a high-potential market with an online casino vertical generating more than €200 million year on year. Establishing an agreement with an operator as respected as Novibet is the first step in reaching Irish customers and making a statement about what we do at Evoplay. We definitely see more partnerships within the jurisdiction on the horizon and welcome opportunities to further establish a solid footing in the region.
Powered by WPeMatico