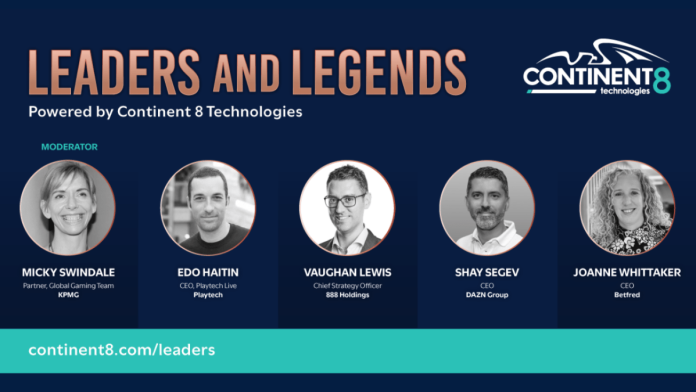 Reading Time:
8
minutes
The Continent 8 Leaders and Legends series has been running for several years now, bringing together some of the industry's biggest names to share their thoughts, insights and experiences on the hottest trends of the moment. The latest Leaders and Legends took place at the KPMG Gibraltar eSummit and saw heavyweights Shay Segev (Chief Executive Officer at DAZN), Joanne Whittaker (Chief Executive Officer at Betfred), Edo Haitin (Chief Executive Officer at Playtech Live) and Vaughan Lewis (Chief Strategy Officer at 888 Holdings) take to the stage to discuss a wide range of topics from the review of the UK Gambling Act to the future of retail in an increasingly digital world.
Moderator:
Micky Swindale – Partner, Global Gaming Team – KPMG
Panellists:
Edo Haitin – Chief Executive Officer – Playtech Live
Vaughan Lewis – Chief Strategy Officer – 888 Holdings
Shay Segev – Chief Executive Officer – DAZN
Joanne Whittaker – Chief Executive Officer – Betfred
MS: What changes do you expect to see as a result of the UK government's review of the Gambling Act? What impact might tighter restrictions have on the market and how are you preparing for them?
JW: We just need to know what is coming. The review is hanging over us and we just need to be able to move on as an industry. We are agile, we evolve. We have heard some of the expected changes around slot stake limits, enhanced affordability checks, the levy and so on but until we know exactly what changes are coming, it is hard to properly prepare. Of course, as a business, we are trying to get ready for what is to come. I think initially there was a bit of panic, but we have got passed that now. We had a significant hit on retail when the FOBT legislation came in a few years ago, but we survived that and when I talk to Fred, he always says these legislative changes come in cycles. So, we are watching, we will respond, and I hope that we are given time to implement the technology changes that will be required. But right now, it's just a case of wait and see.
VL: I think getting the line right as to where gambling tips over from personalisation, enjoyment and the promotion of great products and offers into something that becomes exploitative is the really challenging area that the review of the Gambling Act is trying to address. For us, we just want clarity about what are the standards that we need to meet. Once operators have that clarity, we then back ourselves to be able to provide a great player experience but with high levels of safety and within the standards set. At the moment, we are not clear on what standards we are trying to meet so our hope is that through the review process we get that clarity. Once any changes from the review have been implemented, we can then refocus on delivering the best player experience.
EH: Coming from the provider side, my perspective is perhaps a bit different. I believe that it is in the product to solve issues around responsible gambling and affordability and to deliver the right player experience. This also needs to be done in a way that the regulator can see that the player is doing so within their affordability. So, it is our responsibility as a provider to give our operators the products to do this. On the flip side, and especially as a big provider, I do feel for smaller businesses as the bar for entry into the market is being set even higher. So, regulators should bear in mind that there are companies making their first move that do need clarity and guidance as to what is expected of them.
ML: All jurisdictions, including Gibraltar, are having to quickly adapt to market changes. But what makes Gibraltar such an appealing jurisdiction to companies such as DAZN?
SS: We recently announced that DAZN would be going into betting with the launch of DAZN Bet and that we would be using Gibraltar as the hub for that. Having personally been based in Gibraltar for the last ten years I have found the jurisdiction to be amazing both in terms of the government's support for the industry and the infrastructure it has provided, as well as the ability to establish a business here. It is also highly respected in terms of its regulatory framework and standards, and the talent that can be accessed here is second to none. This made it a very easy decision for us to set up DAZN Bet in Gibraltar.
MS: As the industry continues to grow, we have seen a real wave of M&A activity crash over the sector. With no sign of these mega deals slowing down, is now the right time for smaller businesses to position themselves for a takeover? And what makes for an attractive acquisition target?
VL: We are not seeing any slowdown in the trend of mega transactions. We have been through multiple waves of M&A and deals just keep getting bigger and bigger. We just closed a £2bn transaction but that now seems relatively small. Just before Christmas, Flutter undertook a £2bn acquisition and didn't even have an investor call to explain it, it's kind of like a bolt-on for them now. And then a few weeks ago you have the MGM takeover of LeoVegas, which it called "bite-size". We are definitely in a new phase of the industry where these huge businesses have been created and significant value has been generated, and that is starting to really drive the M&A cycle.
At the medium and smaller end, we are still seeing a lot of activity. These transactions often have one or more characteristics that they share including unique products and content that you just can't get elsewhere or that you can't create quickly enough, market access, media convergence and other attributes that drive outsized value. This is where the future focus of M&A will be.
MS: The big four operators now account for more than 50% of the UK market share, so these companies can leverage the advantages of scale. But what impact does this have on consumer choice?
EH: We are an entertainment business, and the future of entertainment cannot be controlled by big companies. We see today that the biggest entertainers in the world are individuals that pick up their smartphones and cameras and stream videos on YouTube to tens of millions of followers. That makes them the big force in entertainment. I understand why companies undertake M&A and want to drive scale, but will this stop other businesses from entering the industry, I don't think so. The nature of entertainment is so fluid that what is popular now will be different in five years' time and we will most likely consume it differently. Once you work with video and content, you really pay attention to this and when we look at the market and what is in front of us, we see our immediate rivals but also those on the sidelines of the industry. Consolidation might block the immediate entry for some companies, but I do not believe that it will block the variety and versatility of the products that are offered to players.
SS: I think we might also see consolidation between industries with new experiences coming in. Where betting and gaming were perhaps seen as unethical just a few years ago, big businesses from outside of the sector are undoubtedly now looking at it. I think the US opening up has changed perceptions, too. For example, ESPN and Disney have indicated they are considering betting as a potential market for them to explore.
MS: The industry is expanding internationally with new jurisdictions embracing licensing and regulation all of the time. But with most taking a state-by-state or province-by-province approach, just how tough is it for operators to be truly global?
VL: If you were to ask all operators and suppliers if you could wave a magic wand and have harmonised rules across the world, I think the vast majority would say that is the dream scenario. It would enable us to really focus on product innovation and development, player protection and ultimately creating a much better consumer experience rather than having to spend time tailoring the platform for each market. We are one of the few operators that have a global, scalable platform that can run in multiple jurisdictions, but we have to tailor that to each market. If you look at the US, the investment we have to put into each state to meet the local tax and disclosure regulations sucks up a lot of time and diverts resources away from other areas that could be much more productive in terms of making great products and really looking after players. The more we can move towards standardised approaches, especially in the area of player protection, the better it will be for all stakeholders.
EH: Any company that wants to enter regulated markets such as the UK really needs to have a strong compliance team in place. This team is not there to scare you but to give you direction when it comes to developing products within the guidelines set. For us, one of the biggest challenges in the US is that we have to create a dedicated studio in each of the states that we enter based on the Wire Act of 1961. At the time I couldn't understand why we could not just build one studio, but now we are up and running I see it as a good barrier to the competition. Really, you need to embrace regulation and understand the meaning behind it, even if you do not agree with it. For us as a live casino provider business, having to create a studio in each of the states we target is not optimal. But if you can understand the playground you are in and cater to that culture, it is possible to succeed.
MS: In all of our talk about online, are we losing sight of the land-based punter? Is it true that once they have gone online, they will never come back to retail betting?
JW: During Covid, it was a real fear for our business. Our retail shops were forced to close which saw our online business grow significantly but now restrictions have been lifted we have seen retail fully bounce back. We are really pleased with how the high street is performing and we can see that our customers are enjoying the betting shop experience and especially the social element. Long may that continue.
SS: You can't ignore that betting shops are more part of the past than the future of the industry. I do think there is an opportunity to reinvent the betting shop experience, which some operators are doing with things like self-service betting terminals. There is something there but, clearly, it is not on the rise and consumers are transitioning to digital. That said, there is room to create something synergistic between retail and online.
JW: I agree there will not be new betting shops coming but at the turnover level customers are returning and they want to come to the shop. Our digital business has normalised, but we are in a much stronger position than we were pre-Covid. There is a place for the high street; I believe in SSBT and omnichannel but customers still want to come into the retail environment. We are also seeing this in other territories. In our US business, the retail performance is strong in the casinos where we have partnerships and in South Africa, we have a significant retail presence, too, although it is a very different retail offering with a much bigger footprint with 30-40 tills. I understand the importance of digital, but retail will survive.
VL: As an industry, we do not do a great job of standing up and talking about the value of the products we are selling. Retail is back to where it was post-pandemic because people love it, and they go to the shops because it is a fun thing to do. It is similar to the convergence of media and online, so long as we are providing something of value to consumers then that's great. I think we should be proud of the service and entertainment we provide and for me, retail betting still provides a huge amount of enjoyment for customers. Betting shops never really went away, they just had to close due to the pandemic and they remain a core part of the industry.
EH: I'm going to take the middle ground here. Retail is back and I think part of the reason why players are enjoying going to betting shops is that it was taken away from them for a long time. But I do agree with Shay that reinventing betting shops is an important thing. This includes self-service and other experiences that will drive people to retail as well as online. As a live provider, we are often asked if we are cannibalising land-based by my answer is always no. We are an extension of the business, and I don't believe we can really replace the experience of going to a casino.
Powered by WPeMatico