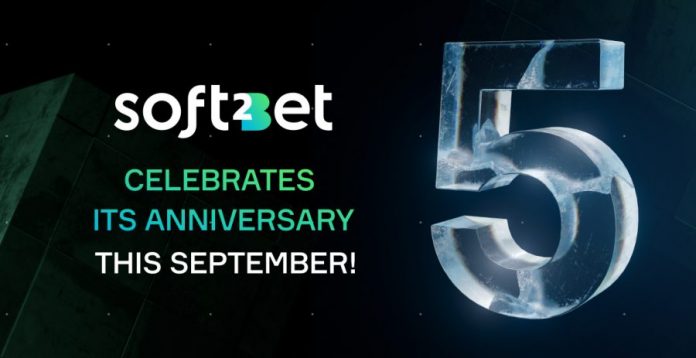 Reading Time:
< 1
minute
Leading casino and sportsbook platform provider Soft2Bet is celebrating its 5th anniversary. In a statement, the company stated the following:
"This September is a very special month for Soft2Bet! We just reached our 5-year milestone!
"We have had our share of success stories in this one year–the joys of building some of the best contemporary casino and sportsbook websites, the joys of forming successful partnerships with industry leaders, the joys of finding new customers every day, and much more!
"Reflecting on these five years, the company has been on a mission to bring unique experiences to clients from across the globe. That was done through developing more unique brands, adding extra features, and overall elevating the entire user journey. Step by step, day by day, month by month, Soft2Bet developed and grown steadily from just a couple of employees to over 700 highly talented professionals, with more added each week. Ever since the launch, Soft2Bet has opened three offices, acquired two leading iGaming licenses – MGA and SGA, and received various certificates for their hard work, efforts, and dedication.
"This period was favourable for developing several unique brands, aiming to deliver a better experience for customers each time! Our gratitude goes to all the clients and partners that are a part of our network. You have embarked on this journey with us, and in many ways, we have evolved together to reach new heights of success. For this reason, let's celebrate the occasion and continue to make glorious strides together. Cheers to another incredible year full of fantastic projects and partnerships!"
Powered by WPeMatico