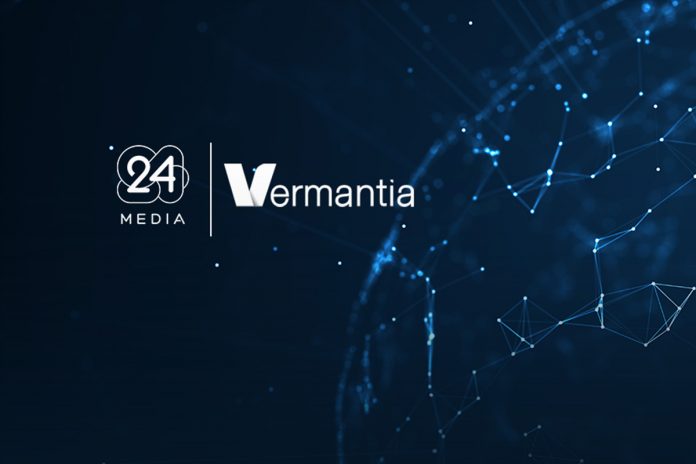 Reading Time:
< 1
minute
24 Media, the Greece-based digital publishing group, has entered into a partnership with Vermantia, a leader in omni-channel content solutions for lotteries, gaming and betting operators worldwide.
Within the context of strategically developing products and services in the field of video production, 24 Media created in collaboration with Vermantia a state-of-the-art studio for live broadcasts. From this specially designed studio, the popular sports shows of SPORT 24 called "Game Night" with Pantelis Vlachopoulos and the new daily broadcast "Show Must Go On" with Pantelis Diamantopoulos are broadcast, while other shows are scheduled to follow in the future.
Vermantia provided all the necessary state-of-the-art technical equipment for the creation and set-up of the innovative SPORT 24 studio, while at the same time offers the live, real-time streaming of the shows providing the highest picture quality to the audience.
"The continuous effort for prime content in all its forms is the key element that characterizes 24 MEDIA which was the first company within the Greek digital publishing market, that emphasized on high quality and strict specification content. The partnership with Vermantia makes us very happy, as it is a leader in technological and television services, giving us a guaranteed framework for the development of our common goals," Manos Michalos, COO of 24 Media, said.
"After our long-term experience in the production and delivery of content for the gaming sector in major markets abroad, our partnership with the leading digital publisher in the domestic market makes us very happy," Menelaos Ladopoulos, Technical Director of Vermantia, said.
"Specializing in innovation and technology, Vermantia's Broadcast Hub in Athens is setting a strong foundation for the development of integrated content and technology services, providing 24 Media viewers with the ultimate viewing experience in the new digital age we live in," Menelaos Ladopoulos added.
Powered by WPeMatico