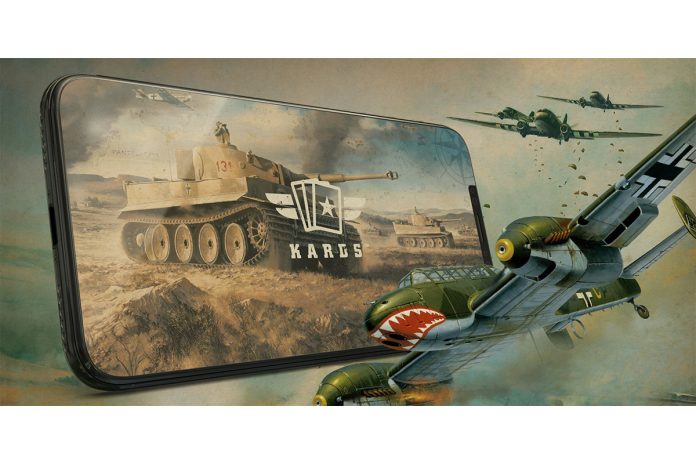 Reading Time:
2
minutes
KARDS, the biggest WW2 collectible-card game in the world, deployed on mobile today, allowing iOS and Android users to join the over 1 million KARDS players who have played the game on PC since its launch in 2019. Developer 1939 Games are also excited to reveal that crossplay will come to all versions of KARDS, allowing players to mobilize their forces and take the fight to the front across multiple devices. Later in the month, the fourth major expansion for KARDS – Brothers in Arms – arrives armed with new cards, features, and localization for Japan.
Remaining free-to-play, KARDS veterans and new recruits alike can step onto the battlefield of WW2, take command, and challenge other players in grand-scale warfare on the ground, air, or seas. Players construct their decks from a range of units, including tanks, artillery, infantry, and aircraft brought to life using artwork inspired by – or even from – the wartime period. Each unit has been designed using official documentation, specifications, and operational history to guide its play style.
Historical authenticity is balanced by the ability to reshape the course of history as players can combine US and Japanese units into their deck for an unholy alliance of the warring Pacific powers or see how powerful a German-British combination makes for control of Western Europe. With a deck constructed, the innovative frontline mechanics in-game allow players to protect support assets better and take the battle to the enemy. Rush enemies with Blitzkrieg tactics, gain air superiority, or dig in for defensive warfare until the enemy has been outproduced and outgunned.
Seamless cross-platform play awaits players no matter which device they choose to battle on and how they choose to wage war. Commanders can carry over their progress between devices through their KARDS account. An adaptive UI ensures the KARDS experience is at full military force, whether on a 4K gaming monitor or a smaller mobile screen. KARDS is free to download on PC through the KARDS website, Steam, and Epic. The game is also free to download on iOS and Android. KARDS is playable in English, Korean, Simplified Chinese, Traditional Chinese, French, German, Italian, Polish, Portuguese, Russian, and Spanish.