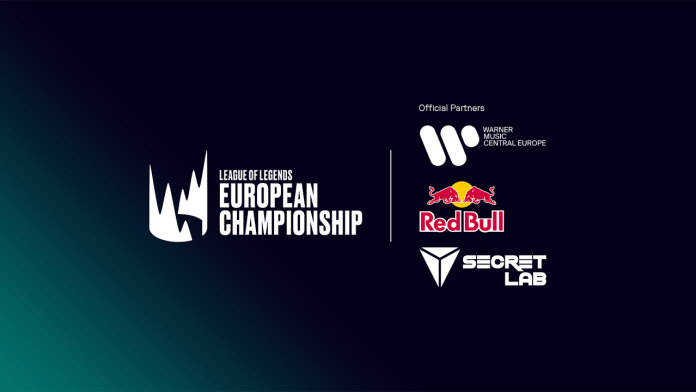 Reading Time:
2
minutes
We're thrilled to announce the return of three long-term partners for the LEC 2022 season.
As we prepare for the start of LEC Spring 2022, we've been working with our partners to ensure that we offer the best possible viewing experience for our fans around the world. Today, we're proud to announce that three of our long-term partners will be returning to support the 2022 season.
The first of these partnerships is our Official Energy Drink Supplier, Red Bull. This will be our fourth consecutive year working with Red Bull and we can't wait to build on our partnership throughout the year.
Red Bull will excite the LEC followership by creating content activations that will appear throughout LEC events and also promoting grassroots LoL esports over the next 12 months. Further, Red Bull Solo Q, the official 1v1 League of Legends tournament, in which fans can compete against each other, is returning for 2022.
Next, we are ecstatic to confirm that Warner Music will once again be joining us as an Official Music Partner for 2022. Over the four years we've been working with Warner, they've introduced some truly amazing artists to LEC fans and we can't wait to see what they've got in store for the year ahead.
Warner Music was instrumental in powering the 2022 LEC promotional video with Chrissy Constanza, and will be bringing a similar calibre of talent to LEC content going forward.
Finally, we're excited to confirm that Secretlab will be returning for a multi-year partnership as the Official Gaming Chair Partner for the LEC and EU Masters! From chairs inspired by K/DA's music releases and the Ruination event to the premiere of Arcane on Netflix, Secretlab has been a constant in the League of Legends universe, celebrating major League milestones since 2019. As the Official Gaming Chair at regional leagues and global tournaments including the World Championship, the Mid-Season Invitational, and All-Star, esports teams have gotten familiar with Secretlab chairs and we're delighted to have them return to support the LEC for the third year running with the new Secretlab TITAN Evo 2022.
Additionally, the exclusive Secretlab x League of Legends Tilted emote that was first dropped during Worlds 2021 will be making its return during LEC 2022 – stay tuned to Secretlab's social media pages to find out how you can get yours.
"LEC has constantly kept us on the edge of our seats with mind blowing plays each year. With the induction of increasingly younger talents across the league, following an action-packed year which made LEC 2021 the most watched season of all time, we're expecting even more epic faceoffs in the upcoming season and the teams can count on being supported by the world's best gaming chairs in their battle for a spot at Worlds," says Beatrice Wee, Senior Manager, Global Partnerships, Secretlab. "There's no compromise when it comes to equipping Europe's best."
With these amazing partners alongside us, we can't wait for what will no doubt be the most exciting year of LEC action yet. Will MAD Lions continue their reign at the top, or will old favourites G2 Esports or Fnatic rise back to the top spot with their refreshed rosters?
Powered by WPeMatico