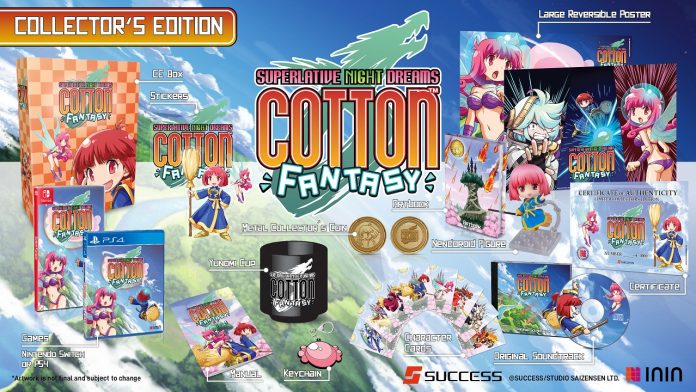 Reading Time:
2
minutes
ININ Games is proud to announce the continued partnership with SUCCESS, in the West, with an exciting brand new title, Cotton Fantasy for Nintendo Switch and PS4. Our partners at SUCCESS will release the game in Japan under the name "Cotton Rock 'n' Roll". ININ Games will handle both the digital and physical retail release of Cotton Fantasy in the West, with ININ pre-orders kicking off this winter, exact details to follow. Eager collectors can already pre-order a physical Limited or Collector's Edition from Strictly Limited Games, starting November 13th.
Cotton Fantasy:
Cotton Fantasy is a brand-new addition to the Cotton series that sees Cotton and Silk embark on another adventure, this time in HD graphics! The game adds several new shoot 'em up mechanics to the iconic Cotton playstyle, providing a modern gameplay experience, more precise than ever. Featuring 6 iconic playable characters, 16 colourful and varied scrolling stages, with vertical, horizontal and 3D movement, and an exhilarating soundtrack with iconic remastered tracks from past games, Cotton Fantasy offers a lot of variation and replayability on your hunt for the high score. Packaged with a light-hearted story full of charming, fun cutscenes, fully-voiced in Japanese, this is a great and accessible new shoot 'em up game for fans of the series and newcomers alike.
For Collectors:
Cotton fans looking for exclusive collectibles should consider grabbing a Limited or Collector's Edition, from the Strictly Limited Games Partner Store with pre-orders kicking off on Saturday 13th of November – 9 AM PST / 12 PM EST / 6 PM CET. Shipping of these unique editions with limited supply is expected for March 2022.
Check out the trailer for these editions, including some new gameplay footage here: https://youtu.be/qzb2hNovPl8
The Limited Edition will cost the same as the upcoming ININ retail version, at 39,99€ and with 3,000 Nintendo Switch and 1,500 Playstation 4 copies available.
Powered by WPeMatico