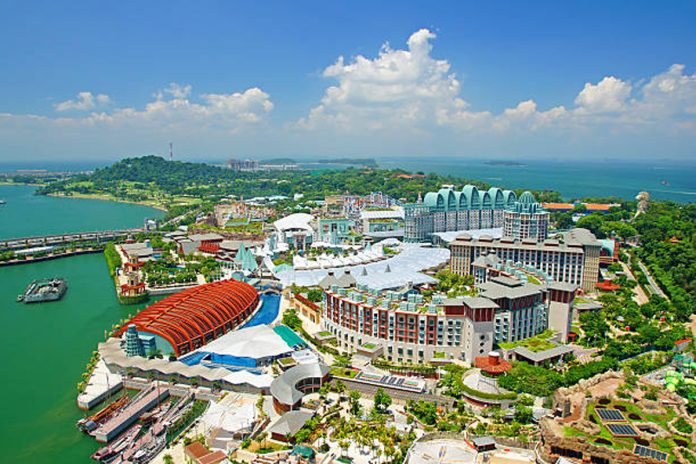 MGM Resorts International is an American hospitality and entertainment corporation that operates resorts in Las Vegas, New Jersey, Maryland, Massachusetts, and Mississippi. Their resorts include The MGM Grand, Bellagio, Park MGM, and Mandalay Bay.
MGM Resorts' History
The history of the corporation can be traced back to 1969, when airline and casino magnate Kirk Kerkorian purchased a majority share in the Metro-Goldwyn-Mayer (MGM) picture studio. This event is considered to be the beginning of the company.
Grand Name Company, the precursor to what is now known as MGM Resorts International, was established in 1986 by Kirk Kerkorian as a wholly owned subsidiary of Tracinda Corporation. It was rebranded as MGM Grand, Inc. in 1987. After purchasing Mirage Resorts in the year 2000, the corporation changed its name to MGM Mirage.
Despite the fact that the majority of the company's resorts are already in operation in the United States, the corporation has expressed a strong desire to expand into Asia, with China, Japan, and Singapore being its primary areas of focus.
MGM Resorts in Singapore
The establishment of a venue in Malaysia might be considered a significant milestone for MGM Resorts International. It has been confirmed by Bloomberg that the firm has already spoken with the Malaysian Lim family about the possibility of either taking over their Genting Singapore business or investing in the company. A consensus has not yet been not reached, but it seems probable that MGM will continue its pursuit of the firm in the future.
Singapore's city state has just two casino operators, Genting being one of them. Sentosa, an island off Singapore's southern coast, is home to the Resorts World Sentosa complex. According to a recent review by www.casinosnavi.com, the resort has more than 550 gaming tables and 2,400 slot machines, and other electronic games. Theme parks, aquariums, water parks, restaurants, and shopping round out the list of things to do at Universal Studios Singapore.
In addition, Genting Singapore was one of the few businesses owned by the Genting group that remained profitable throughout most of the COVID-19 pandemic. In the first quarter of 2022, Genting Singapore reported a 13 percent year-on-year increase in revenues to $225 million and a 17 percent increase in net profit to $29 million.
It's clear that a potential MGM takeover of the Genting Singapore presence would further strengthen the US casino giant in the Asian market. Not only that they would take over a profitable business with lots of potential for expansion, but they will penetrate another market that's not accessible to them at the moment. Should an agreement be reached, MGM will become a major player in the Asian market after adding Singapore to their portfolio.
MGM Resorts in Japan
MGM Resorts International also intends to construct a resort in Osaka, Japan, with a price tag of ten billion dollars. The city and prefecture of Osaka have decided to work with MGM, which has formed a partnership with the Japanese financial services giant ORIX. This will allow MGM to operate an integrated resort in the area.
Since Las Vegas Sands Corp., Wynn Resorts Ltd., and other Asian gambling businesses withdrew from developments in Osaka, only the MGM-Orix joint venture submitted a bid to the region's RFP process for establishing a casino.
This is MGM's first foray into the Japanese casinos business, and they hope it will be just the beginning. In a statement, MGM Resorts CEO and President Bill Hornbuckle said that "We couldn't be more excited for the opportunity to help enhance and grow Osaka's reputation as a world-class destination and gateway for the world to the wonders and rich history of Japan." 
MGM Resorts in China
MGM Macau and MGM Cotai are the two locations in China where the MGM brand is active. The MGM Macau was the first business that the corporation had in China, the second one being the MGM Cotai casino resort which officially opened its doors on February 13th, 2018.
1,390 rooms and suites make up the Cotai hotel. There is a 2,000-seat MGM Theater in the hotel as well. More than 2,000 different plant species are housed at Nature's Art, the world's biggest art garden. Among those species are many that had been thought to be extinct.
Moreover, the opening of MGM Shanghai looks to be part of MGM's strategy to increase its presence in the country. A hotel management agreement with Shanghai West Bund Development has been signed by Diaoyutai MGM Hospitality, a 2007 joint venture between MGM Resorts International and Diaoyutai State Guesthouse. This agreement will see Diaoyutai MGM Hospitality open its first MGM-branded hotel in Shanghai.
MGM Shanghai West Bund will include 161 guest rooms and 58 suites, as well as a range of food and beverage, entertainment, and other services, according to information supplied to the press. The hotel will provide a variety of Las Vegas-inspired entertainment activities, such as live performances by prominent artists and art exhibits, in an effort to attract wealthy tourists and residents alike.
Mr. Bill Hornbuckle, CEO and President of MGM Resorts, stated, "We're honored that the MGM brand and our China joint venture, Diaoyutai MGM Hospitality, were selected by West Bund Group to operate this premium property in such an iconic zone."
Final Thoughts
Already with a strong presence in the major Asian markets, MGM could strengthen its presence through a potential takeover in Singapore. Even though an agreement is far from being reached, the initial talks bring a lot of promise for the region.
It's certainly an interesting development for the resort industry in Asia and only time will tell if the negotiations will come to a positive result. In the meantime, tourists can rest assured that the resort era is far from coming to an end.
Powered by WPeMatico