Heaven Isn't So Far Away: AGS Opens its First-to-Market Rakin' Bacon-Inspired Slot Zone 'Hog Heaven'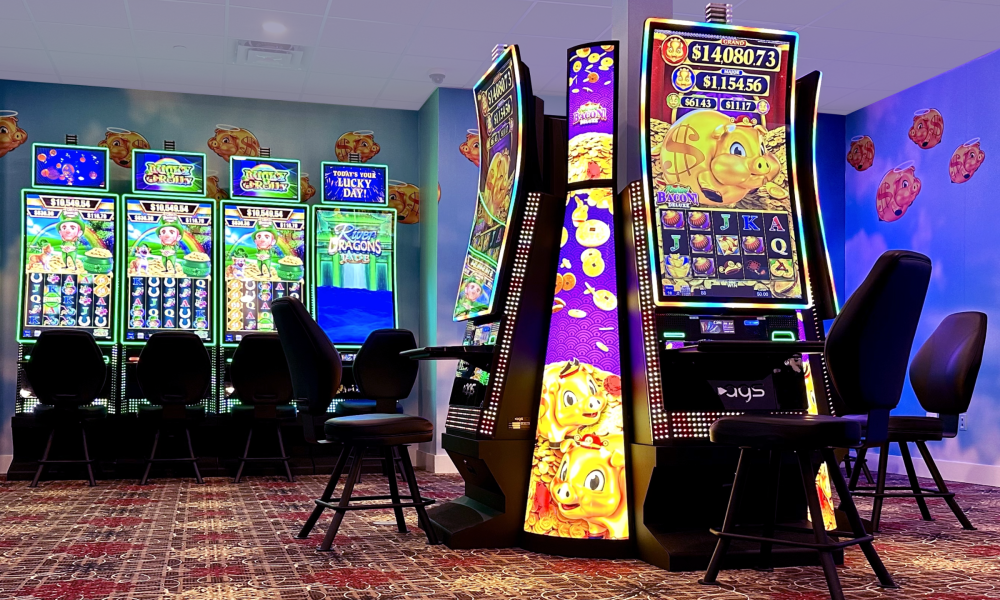 PlayAGS, Inc. (NYSE: AGS or "the Company"), a leading supplier of high-performing slot, table, and interactive products and services to the global gaming industry, unveiled its first-to-market branded slot room concept at Miccosukee Casino & Resort in Miami, Florida.
Mimicking the fun-loving, charismatic nature of Cornsquealius, the main pig character from AGS' fan-favorite slot game, Rakin' Bacon®, the space features an angelic neon selfie wall, a floor-to-ceiling mural with heavenly floating pigs, LED billboard-wrapped entrances, and 33 of AGS' top-performing titles, including Rakin' Bacon and Rakin' Bacon Deluxe® games.
"The idea behind 'Hog Heaven' was to create a fun environment for players at Miccosukee to enjoy their favorite games and introduce social elements like a selfie wall to keepsake and share their experience at the property," said Julia Boguslawski, AGS Chief Marketing Officer.
"We didn't want to just put a bunch of AGS games in a room; we wanted to be very intentional in creating a unique experience for players and immerse them into the games. From the first release of Rakin' Bacon in 2018, we found that players really enjoyed the game mechanics and immediately took a strong liking to the pig, Cornsquealius," Boguslawski explained. "As we continue to release more variations and brand extensions of Rakin' Bacon, we want to continue growing its fanbase and create new ways for players to interact with the game."
In addition to the Rakin' Bacon games, the room features AGS' chart-topping games including Long Bao Bao

 and Shamrock Fortunes® from the Triple Coin Treasures® game family, River Dragons Jade® and the supplier's first three-reel video game, Gold Inferno®.
"We are proud to partner with AGS to bring this innovative, fun, and first-to-market zone to South Florida," said Brad Rhines, General Manager of Miccosukee Casino & Resort. "The energy of the room and the excitement of the interactive AGS game themes have transformed an ordinary space into an extraordinary one, and our guests have responded overwhelmingly."
Rakin' Bacon has been a player-favorite since inception due to its character-driven game mechanics like the popular pot-collection bonus and five-of-a-kind pays, as well as the rich and vibrant artwork that helps elevate the pig's charm. With five variations of the game launched to date, AGS has installed approximately 3,100 Rakin' Bacon games worldwide.
Players can follow Rakin' Bacon and the adventures of its lovable pig on Instagram and TikTok at @rakin.bacon.