Inspired Partners With Caesars Digital to Develop a Range of Customized Hybrid Dealer® Products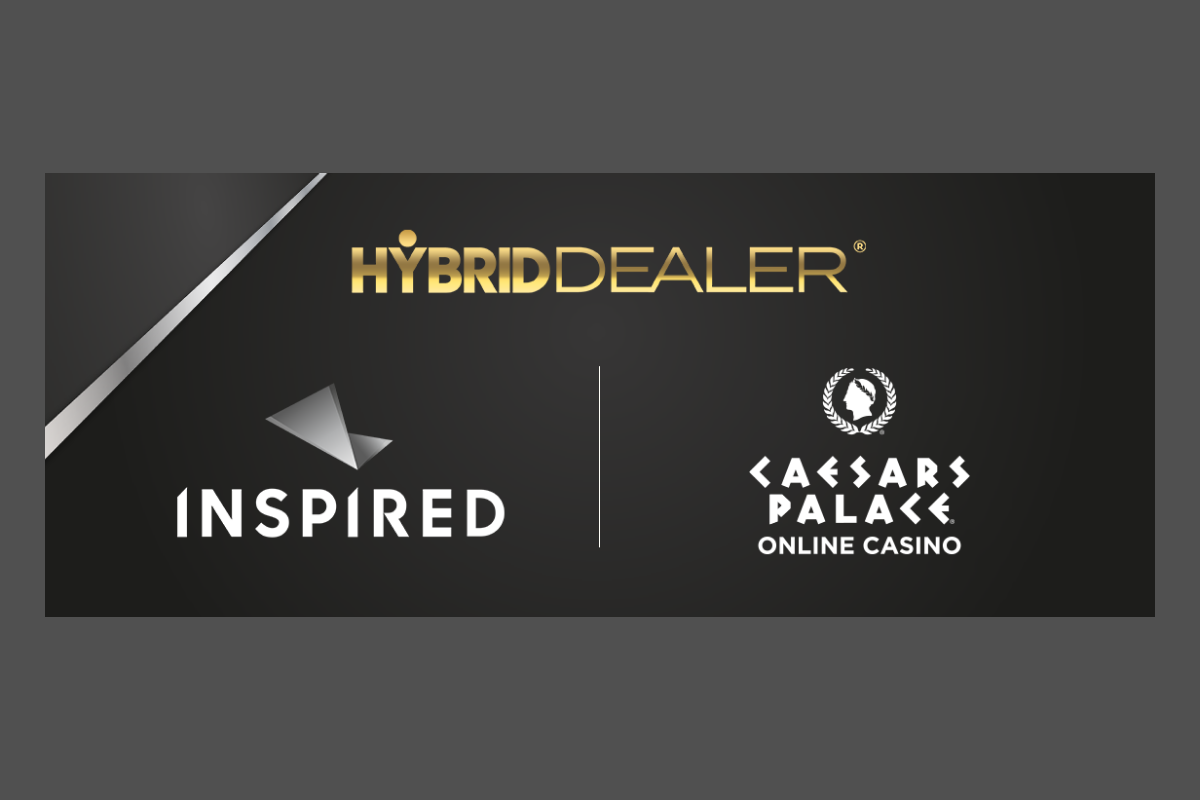 Inspired Entertainment, Inc., a leading B2B provider of gaming content, systems, and solutions, announced an agreement with Caesars Digital. The new partnership is centered around the creation of bespoke Hybrid Dealer products for Caesars Palace Online Casino and Caesars Sportsbook & Casino utilizing groundbreaking Inspired technology that seamlessly integrates Virtual CGI, green screen technology, and footage of real dealers to create an unparalleled gaming experience.
Hybrid Dealer is a new, patent-pending, game-changing product category that offers players branded casino and gameshow content without the challenges associated with live-dealer products. It seamlessly blends physical and digital elements in a way that offers operators unlimited branding and customizable possibilities that are unique from game to game. Hybrid Dealer games require no studios; instead, outcomes are RNG-generated. The scheduled action continues 24/7, with the hosts changing regularly to keep players engaged. The Hybrid Dealer technology empowers Inspired to develop and customize games for individual clients quickly and at comparatively lower cost, delivering unprecedented flexibility.
Inspired's customized gameshow and table game Hybrid Dealer products for Caesars Digital will transport players to the dazzling lights of the Las Vegas Strip and the Caesars flagship destinations, leveraging the flexibility of the Hybrid Dealer technology to deliver these branded games across multiple jurisdictions without the challenges of setting up individual studios.
Brooks Pierce, President and Chief Executive Officer of Inspired, said, "We are excited to be working with Caesars to bring these revolutionary Hybrid Dealer products to their players. Hybrid Dealer is a whole new category of games, and through our advanced technology, Caesars will be able to provide realistic experiences to their players without the expense and effort of dedicated studios and staffing."
Matt Sunderland, Senior Vice President and Head of iGaming at Caesars Digital, said, "We are always looking for new ways to enhance the player experience and for ways to keep our players engaged. Inspired's Hybrid Dealer technology provides a customizable gaming experience that is second to none and allows our players to enjoy the thrill of our iconic Caesars destinations in a whole new way. This partnership is a testament to our dedication to providing the best online casino experience for our players through cutting-edge offerings."