Tabcorp Forges New Long-Term Partnership with 1/ST CONTENT for Premium North American Racing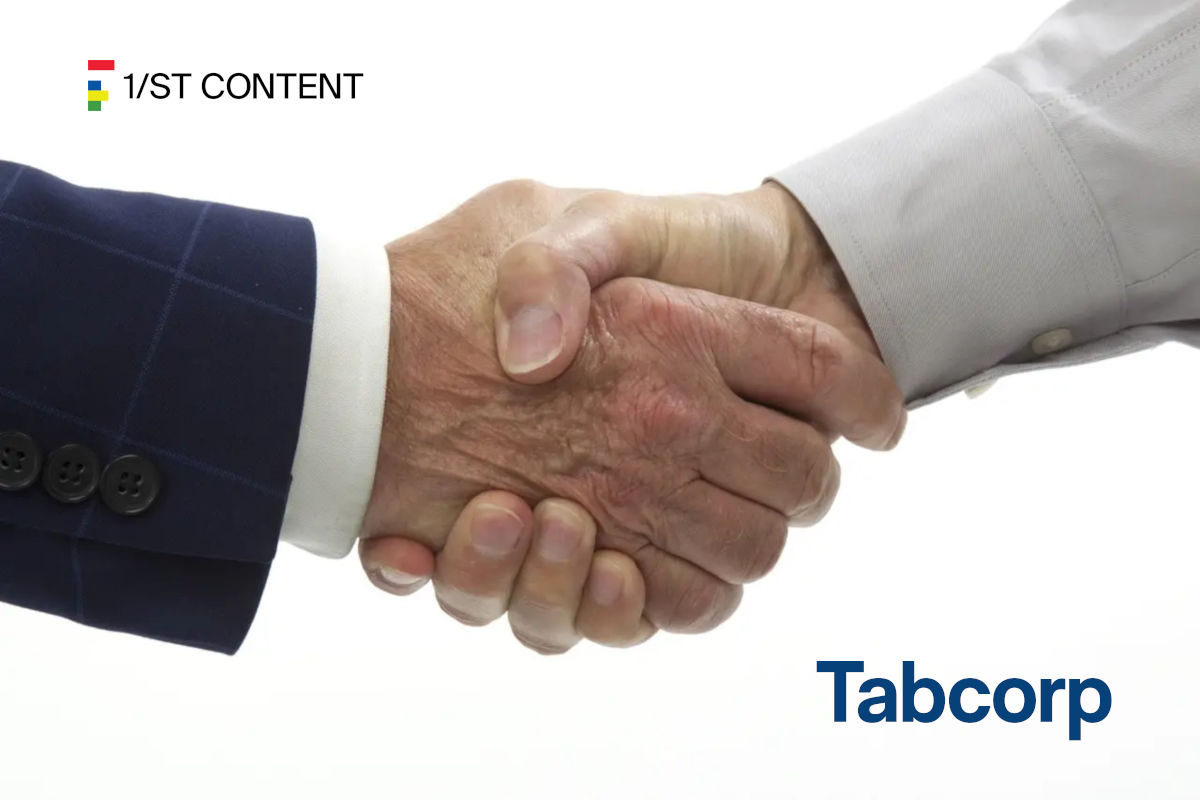 Progressive deal sees leading United States racing provider deliver fixed-odds and tote betting service on its dominant range of racetracks to the biggest entertainment company in Australia, ahead of Breeders' Cup World Championships weekend
1/ST CONTENT, the leading provider of premium content for North American horse racing, has broadened its dominant global footprint after the announcement of its latest long-term tier-1 operator partnership with Tabcorp, Australia's biggest wagering and entertainment company.
The deal is a multi-year agreement pertaining to tote betting into local pools as well as fixed-odds wagering on 1/ST CONTENT'S premier portfolio of racecourses.
It will enable greater coverage of North American horse racing via the TAB brand and the SKY Racing channel, a subsidiary of Tabcorp, with SKY Racing to continue its long support and promotion of international races throughout Australia and on its popular SKY Racing Active app.
1/ST CONTENT has now assembled an unrivalled network of over 70 tracks, managing more than 3,300 racing meetings every year from top North American circuits such as Gulfstream Park, Laurel Park, Pimlico, Belmont Park, Aqueduct and Saratoga alongside Del Mar, Keeneland, Tampa Bay Downs, Woodbine and Santa Anita, scene of this weekend's Breeders' Cup World Championships.
These high-profile venues equip international operators with a highly-flexible programming schedule, supported by a steady stream of rapid-cycling betting opportunities that are proven to increase digital dwell-time for new and existing customers.
1/ST CONTENT's acclaimed end-to-end solution, encompassing extensive content that maps approximately 90% of all United States thoroughbred racing, opens the door to many of the planet's most prestigious horse races. Highlights include every leg of the Triple Crown, the season's aforementioned flagship finale at the Breeders' Cup (November 3 to 4) and January's Pegasus World Cup.
This daily timetable of engaging action, whose chronology naturally complements international racing coverage across varied time zones from Europe to Australia, provides 1/ST CONTENT's global partners with a reliable source of fast-settling betting content at both primetime and off-peak viewing slots.
"Tabcorp prides itself on expanding its variety of premium international racing content and this wide-ranging deal with 1/ST CONTENT underscores that commitment," Adam Brownlee, General Manager, SKY Racing and International Media, said. "The strength of its data and wagering technology combined with a depth of broadcast and video streaming rights makes it the clear provider of choice to facilitate both fixed-odds and commingling into Australian pools, which will help drive growth and diversified revenues for the racing sector."
"1/ST CONTENT is delighted to announce our progressive partnership with Tabcorp, which is broadening the international appeal of North American thoroughbred racing," Simon Fraser, Senior Vice-President International at 1/ST CONTENT, said. "It's another key string to our bow in returning value to the genuine stakeholders in North American racing, ensuring they become the principal beneficiaries of revenues generated through international wagering, and safeguarding the domestic scene for the next generation of fan and bettor.
"Tabcorp naturally represents an incredibly strong partner for us in the Australian market, so it's a real validation to benefit from its support, scope and local expertise. Its distributional spread across digital and retail is staggering, while its development of products is enhancing our offering significantly. It's a great time to be growing our global audience ahead of the Breeders' Cup World Championships and a packed fall and winter schedule."
1/ST CONTENT expands its reach to add elite Moroccan racing to burgeoning international portfolio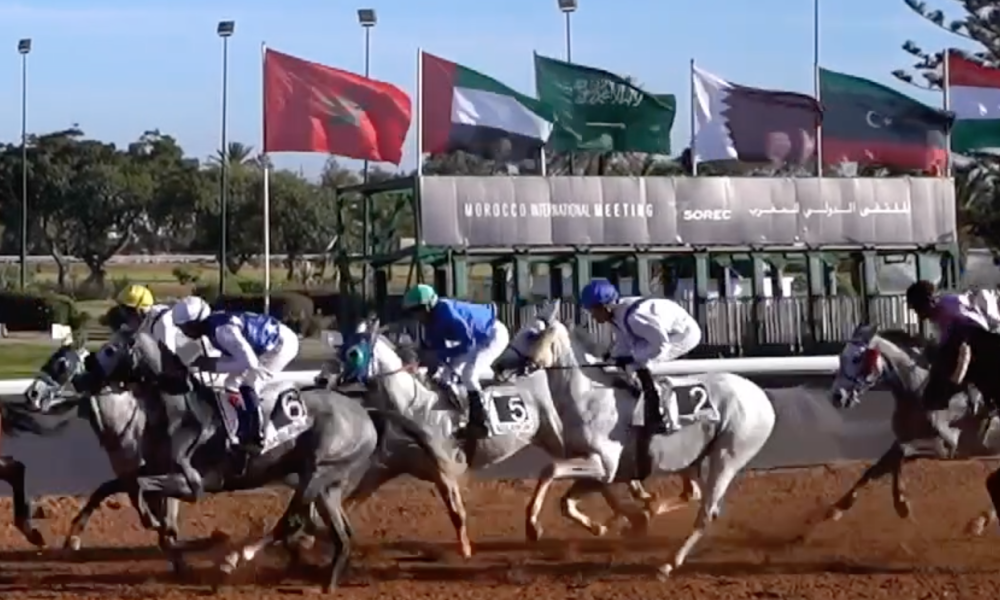 1/ST CONTENT, the leading provider of premium content for North American horse racing, has broadened its dominant global footprint outside of the Americas with the announcement of a new venture into Moroccan racing.
Having won the international distribution rights, courtesy of Société Royale d'Encouragement du Cheval (SOREC), for this Saturday 18th November's prestigious Morocco International Meeting (MIM) at the famous Hippodrome de Casablanca, 1/ST CONTENT will continue to widen its influence across a raft of global racing content in 2024 with a burgeoning international portfolio of racetracks and marquee meetings.
The Morocco International Meeting is now in its ninth year, and this breakout deal begins as as a one-year agreement relating to tote betting into local pools across 8 elite international races this weekend (featuring prominent horses, jockeys and owners from the UK, France and Spain) with scope and an option to renew and evolve the partnership across other pools and fixed-odds formats in the years ahead.
Aside from 1/ST CONTENT's unrivalled network of North American racetracks, which provide over 3,300 race-days each year, the company also manages the international distribution rights for many of the top tracks in LatAm amongst an ever-growing portfolio. Accordingly, Morocco's Hippodrome de Casablanca now joins other world-renowned venues, such as Hipódromo de San Isidro in Buenos Aires and Hipódromo da Gávea in Rio de Janeiro. It's the latest move in 1/ST CONTENT's unfolding strategy of locking up more and more cornerstone tracks and big-race meetings across emerging markets as it widens its international footprint.
A spokesperson for Société Royale d'Encouragement du Cheval (SOREC), said: "We are glad to announce our partnership with 1/ST CONTENT, a collaboration that underscores our commitment to elevating Moroccan horse races on the global stage, which will enhance our ability to attract international participants for our prestigious races.
"The data and wagering technology from 1/ST CONTENT, along with broadcast and video streaming rights, make them the most suited provider for betting formats via their EasyGate integration, thus contributing to growth in the international racing sector."
Simon Fraser, Senior Vice President International at 1/ST CONTENT, added: "We're delighted to announce to our growing group of worldwide partners that we've secured the distribution rights for this jewel in the emerging Moroccan horse racing scene. The opening day of the festival features 8 elite international races, comprised of many intercontinental challengers for a more familiar feel, as raiders from Europe, backed by a truly global ownership group, all converge on Casablanca.
"Our friends at SOREC have pulled together the best resources to organize this event in accordance with the highest equine-welfare standards, as MIM continues its mission to bolster awareness of Moroccan horse racing on the world stage. The racing data and broadcast media are all set from the usual sources, with a simple integration available via our market-leading EasyGate API."
Sky Bet, TPD and 1/ST Content Officially Launch In-Running Betting on North American Racing at the Belmont Stakes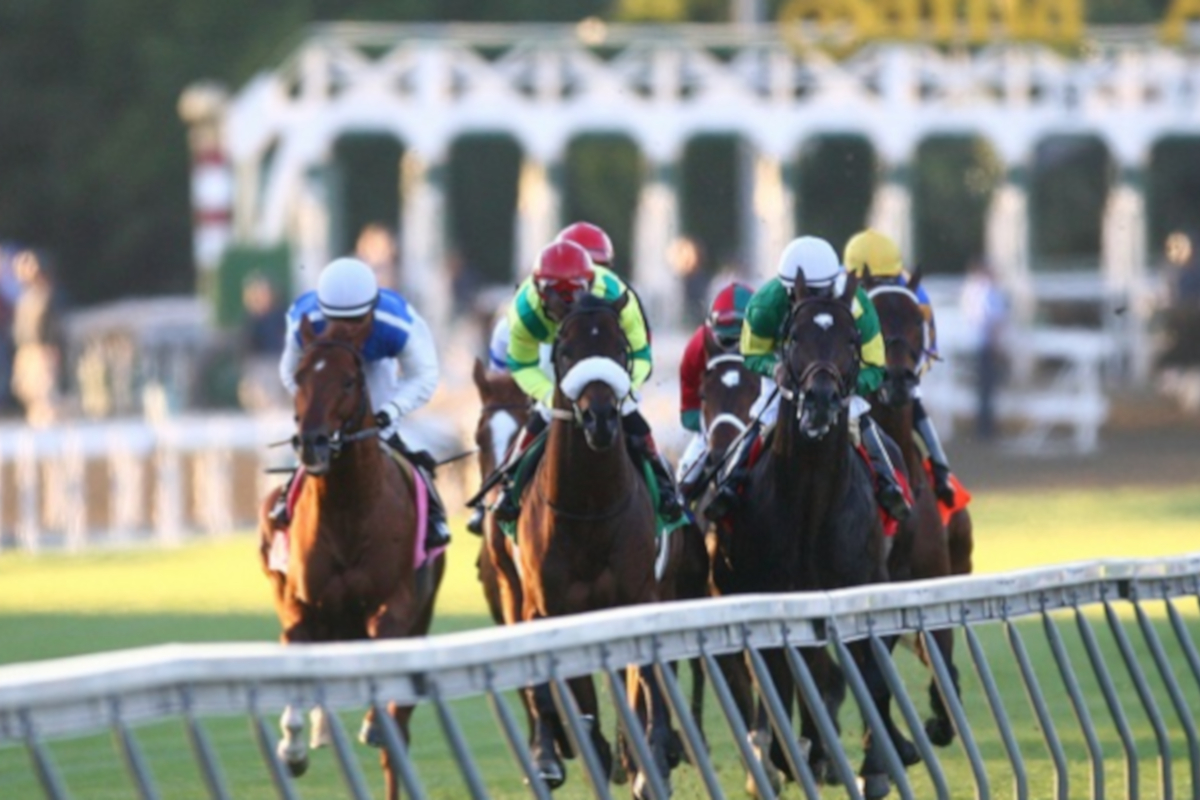 Leading operator teams up with premier stateside suppliers for ground-breaking in-running product on a weekend of Belmont firsts
1/ST Content, the leading provider of premium content for North American racing, has launched a United States racing-first, in-running betting product in partnership with Total Performance Data (TPD), the definitive source of live data for horse racing. This rollout has already seen the partnership successfully deliver a new in-play service for Tier-1 operator Sky Bet, part of Flutter Entertainment.
The United Kingdom-based operator initially soft-launched this standout innovation across a range of races last autumn. That trial run produced immediate spikes in player engagement and turnover for Sky Bet, who has now released In-running racing across an array of 1/ST Content and TPD-participating racecourses stateside.
Last weekend's Belmont Stakes in New York, the final jewel in this year's 'Triple Crown' for champion three-year-old thoroughbreds, provided a marquee venue at which to officially showcase the boosts in new revenue from this watershed innovation. And the feature race did not disappoint with markedly improved turnover for Sky Bet, defined by a daring in-running move up the inside on the home-turn from Arcangelo, whose trainer Jena Antonucci became the first woman to train a United States 'Triple Crown' winner.
This revolutionary feed couples 1/ST Content's starting price with the best of automated trading via TPD's astonishing array of consequential in-running analytics including stride length, stride frequency, overall race-pace and sectional timings enabled by saddle-cloth GPS tracking. These variables are accordingly harvested in-play by TPD's machine-learning trading tools whose algorithms train themselves on race pace for precise pricing that delivers a distinct step-change in live fixed-odds wagering.
The complex variables of horse racing have meant this sport, for so long the retention backbone of many operators, hadn't previously been able to seize the opportunities that other sports have secured through in-play. After all, nowadays, betting products must smoothly transition from pre-play to in-play, which is why operators must employ the latest trading tools and reactive in-play odds to attract modern-day audiences.
To this end, 1/ST Content's operator partners can now benefit from the following advantages to put North American racing's rapid-cycling, quick-fire betting opportunities back near the top of the totem pole for improved commercial turnover and engagement:
* In-running prices available
* Win-only in-play betting from 1/ST Content racecourses
* Over 1,500 race days per year and rising
* Improved in-running engagement, featuring:
o Extended betting windows
o Cash-out functionality in-play (fair-margin, lowest latency)
o Visual-tracking animations to enhance the user experience
o Live tradeable prices up until the final furlong, even the wire
o Fail-safes: manual trader correction (trader wrap) plus in-play oversight of every race
It's just the latest innovation from 1/ST Content whose wider modus operandi is to ensure the most comprehensive and responsive pricing service for North American horse racing, featuring odds that track every stage of the betting life-cycle – from early quotes to starting prices and now, of course, the most sophisticated in-running pricing feed. These fully-automated pricing solutions offer true differentiation to drive betting revenues and help attract new audiences.
The announcement adds yet more muscle to 1/ST Content's leading end-to-end solution, which grants its clients access to many of the planet's most prestigious races including highlights from January's Pegasus World Cup through every race of the storied 'Triple Crown' and on to the season finale at the Breeders' Cup World Championships in Santa Anita (November 3 to 4).
"The jury has long been in, when it comes to the significance of in-play turnover for sports betting," the International Senior Vice-President for 1/ST Content, Simon Fraser, said. "So, it was high time racing narrowed the gap with a legitimate and robust product of its own. Working with a respected brand of Sky Bet's scale alongside TPD's team of analytical experts have allowed top-notch traders from our respective teams to finally position the missing piece in a new product for North American racing.
"Thanks to Sky Bet's responsive flexibility and determination to get this innovation over the line, we've now delivered an 'in-running' industry-first for North American horse racing across the 'Triple Crown'. This product solves for the riddles of live betting on racing by supplying reliable pricing on a popular sport, which has traditionally struggled to maintain pace with a broader sportsbook marketplace where over 70% of turnover is generated in-play. Now, however, Sky Bet, TPD and 1/ST Content have combined to produce a dependable in-play offering that crystalizes accurate odds for the most solid in-play, fixed-odds pricing available.
"This isn't about incremental gains. It's an automated product revolution that gives the operators and customers the live service that they've been demanding. TPD has seamlessly incorporated its API with our own, ensuring total peace of mind and speed of integration for any operator looking to add this breakthrough feed."
"This is our first North American in-play racing deal with an operator," the Chief Executive Officer for TPD, Will Duff Gordon, said. "We are thrilled to partner with 1/ST Content to bring this innovative product to market and excited about the prospect of teaming up with Sky Bet.
"At TPD, we have always been committed to pushing the boundaries of horse racing data. Our live-odds model revolutionizes the industry by leveraging GPS-tracking devices integrated into the horses' saddle cloths. In a matter of milliseconds, we can generate real-time in-play odds. Additionally, our tracking data enables captivating live-race visualizations and comprehensive statistics, thereby enhancing the overall live content experience for racing, allowing it to compete on equal footing with other sports.
"With TPD's tracking system now installed at top racecourses in the United Kingdom, United States, Canada, Chile, Saudi Arabia and India, we're confident that the racing's data revolution is only just getting started."
"We're thrilled to partner with 1/ST Content and TPD in the United States to provide the only fully automated in-play solution on the market," a Sky Bet spokesperson added. "As with any live sport, you must have a service that keeps up in-play, harnessing the most accurate and lowest-latency data feeds to secure genuine market innovation. Our prices process the key variables in real-time and leverage neural networks to create the best possible in-play price.
"1/ST Content's unparalleled racetrack coverage in North America coupled with its strong heritage in managing content rights, data and odds meant that it was the logical partners in a shared vision that challenges an outmoded mindset around horse racing trading. Deeper audience engagement is our collective goal.
"We're confident this in-play solution will bring a welcome new dimension to any of our growing cohort of customers following the top-class racing stateside. As we've seen with the dazzling displays from the likes of Flightline and a host of European talent at the Breeders' Cup, North American racing is returning to its zenith in terms of record turnover and setting the tone for global horse racing."
BetMakers Signs Deal with 1/ST Content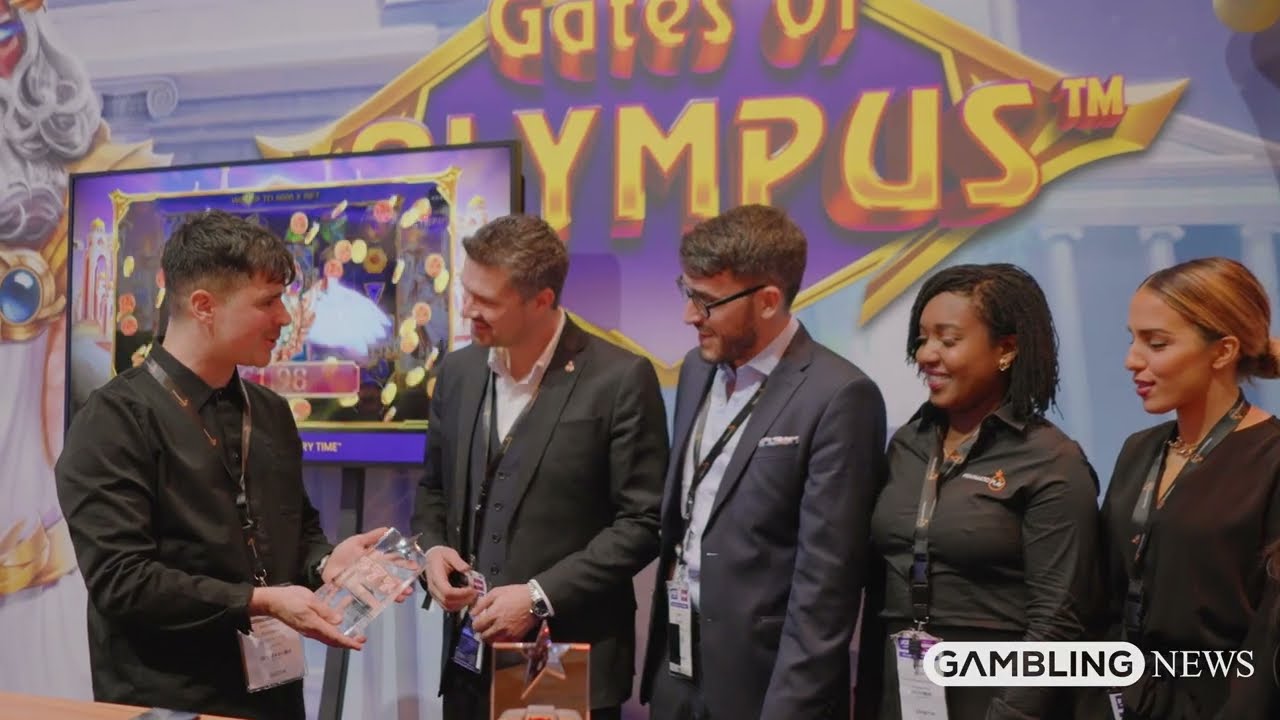 BetMakers Technology Group Limited announced that it has executed a non-binding term sheet with The Stronach Group's 1/ST Content business (1/ST Content) for the distribution of BetMakers' Global Racing Network's (GRN) race meetings into international wagering markets, including the UK and Ireland.
The deal, which is subject to long form agreement completion, is scheduled to launch from May 1 and intends for BetMakers' GRN feature racing content from racecourses at Kentucky Downs, Charles Town, Mahoning Valley, Penn National, Sam Houston, Zia Park and Monmouth Park to be available for 1/ST Content's broadcast schedule. This includes through Sky Sports Racing in the UK and Ireland, as well as across other international media partners' websites.
BetMakers' Chief Executive Officer, Jake Henson, said: "The partnership with 1/ST Content is designed to be an important addition to BetMakers' Global Racing Network, further broadening our global racing distribution base with a strong and credible partner in expansive markets, which can deliver enhanced returns to our racetrack partners."
Also, the company has announced a major change to BetMakers senior leadership. This is that Christian Stuart, CEO of the company's North American business, will depart from his position on 6 April 2023.
Mr Henson said: "On behalf of BetMakers' board and wider international leadership team, we would like to thank Christian for his service and commitment during his time in the business. We wish him all the best for his next challenge, of which I'm confident he will be a tremendous asset."
Christian Stuart said: "It has been a pleasure working with the team and advancing the interests of the Company here in the US. I am confident we will see the Company go from strength to strength as the US market expands."
Las Vegas-based Executive Chairman, Matt Davey, said: "Whilst we are still in the early phase of our restructuring, I am pleased to see the progress the team has made both internally and with our key industry stakeholders. At our core, we rely on great technology and strong relationships, which Christian has delivered well on both fronts. I am proud of what he has achieved during his time with us. Moving forward, we will continue to execute on market expansion and a relentless focus on optimising our business."
Additionally, BetMakers announced the promotion of Chelsey Abbott to its Executive Team as the Chief People Officer.
"This is an incredibly well-deserved promotion, and we are excited about the positive impact that Chelsey will make in this new capacity," Mr Davey said.
"As Chief People Officer, Chelsey will centralise the global People & Culture team and continue to drive the development and execution of our People and Culture strategy. She will also play a crucial role in shaping BetMakers' capability by driving an engaging workplace culture that empowers our employees to thrive."
The company also announced that it is relocating its headquarters to Melbourne where the CEO, along with other executive members, are now based.
Powered by WPeMatico